"Never smile before Christmas."
That's the notorious slogan shared with aspiring teachers in Teacher's college, even today. The thinking is that you must scare children a little and keep them in an atmosphere of contrived seriousness or they'll "walk all over you" as one teacher's blog puts it.
No wonder so many kids view school with dread. But now a school in a remote Northern Ontario town is turning that whole concept on it's head. "Every day is Smiling Day" could be the slogan at St-Michel Catholic School. Because smiling and laughing are part of the daily curriculum and that's either insane or revolutionary.
Maybe it's because St-Michel's is 150 kilometres north of North Bay in tiny nordic New Liskeard, or that it serves the Franco-Ontarion community, but this one isolated school could be unleashing something that could actually help kids like school.
I was there in February to host the first ever Kids' Laughing Championships, held at St-Michel, to cap of an inaugural laughing term. While the Kids' Laughing Championships was a blast (I should disclose I co-developed the format), what was really amazing, was to see the way a laughter practice had been integrated into the every day classroom. In fact it was deeply moving.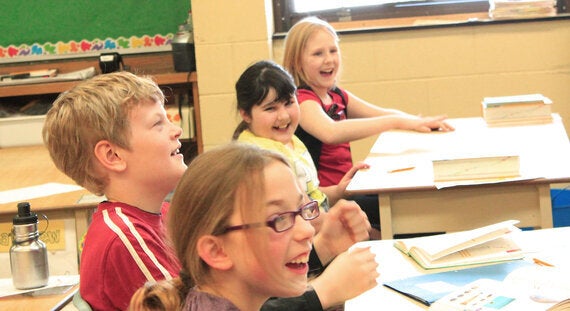 I had the opportunity to see a group of grade threes engaged in "Laughter Class." I left almost in tears. School was so stressful and terrifying for me that when I enter any school I usually flashback to the same feeling of anxiety and worry I enjoyed in my youth. But when I walked into Melanyse Labonté's class at St-Michel I felt something else.
The teacher was leaping up and down in concert with the kids. They were all cracking up. The 25 or so kids were laughing, smiling and clapping to a seeming unending parade of loud, laughs in rapid succession. It was kind of like callisthenics with guffaws. They did classic Laughter Yoga forced laughter games and many of their own invention.
They were laughing back to back and even rolling on the floor. One of the laughs, "The Carey Price" was named after the Gold Medal wining goalie of the Canadian Olympic Hockey Team. The teacher would whip laughing sounds at the kids who would catch them with mock goalie saves. It was ridiculous. It was fun. And this would normally be a teacher's worst nightmare. But I saw happy, inspired kids.
"Laughter is associated with losing control," said Suzanne LeFebvre-Martin who pioneered the laughter program at St-Michel. "The way teacher's judge each other is by the way they handle a class. And if the kid's are laughing that means you've lost control and you may be incompetent."
LeFebvre-Martin who deals with troubled students at her school, said she was inspired to integrate laughter after reading research about how laughter exercises reduced anxiety in children.
She trained in Laughter Yoga, an exercise method developed by Indian doctor Madan Kataria where people try to trigger laugher with forced laughter techniques. LeFebvre-Martin says the idea wasn't exactly greeted with delight by teaching staff.
"Some of them were horrified," she said. However, it was a key meeting with the principal, Karyne Labonté, where everything changed.
The young and dynamic principal was skeptical at first, but experienced a kind of "aha" moment when faced with a litany of facts supporting laughter exercise.
"She suddenly got it," said Lebvre-Martin. "She actually opened her door in the office, stuck her head out and started laughing loudly. The whole office cracked up. Then she said "let's do it." Right then and there she made laughter a mandatory element of the curriculum." At the next meeting she told all the teacher they were going to introduce 10 minutes of laughter exercises a day.
"While not everyone was hostile, some just didn't know where to start," Said Lefvbre-Martin. "But the principal would walk the halls to see how people were doing. And the more experienced people would go into classes to help out." The teacher's were not the only ones weirded out by the sudden arrival of laughter exercise.
One young student told Radio-Canada that he "thought my teacher was crazy when she said we were going to be laughing regularly in class. But now I really like it."A few weeks in to the process, some the teachers began to notice a change. "The kids were in better moods. They had more energy," said Labonté, the teacher. But here was the kicker. "The kids have better concentration." When I saw it, the kid's seemed to have a zest you don't normally associate with the school classrooms.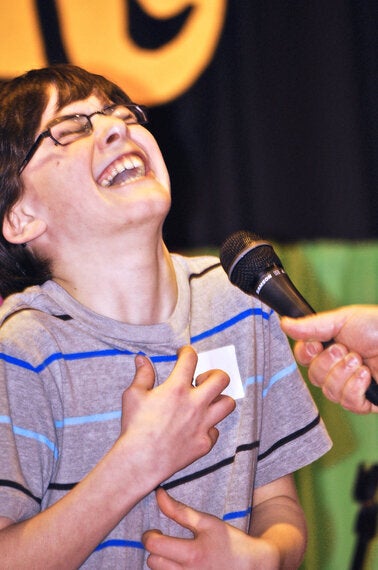 When the Kid's Laughing Championships was announced, the whole process amped up.
Some of the classes we're laughing for 20-30 minutes a day.
When the contest arrived in the school's massive gym, it was pandemonium. Each class has chosen a laughter champion to compete in a series of challenges based on laughing skills -- the ability to laugh on command and more likely the ability to crack everyone up. The event must have sounded a bit like a Justin Bieber concert with hundreds of frantic kids cheering hysterically for their champions. My ears were ringing.
The aptly named Zackery Lajoie, 11, would come out on top, displaying the ability to laugh naturally a dozen different ways. When he won the entire school was on the their feat cheering. If laughing kids means you've lost control, then this was a riot.
But here is the the really crazy thing. They were cheering for a behaviour that until that moment had been discouraged in schools just about everywhere on Earth. But then they got into a line, and obediently filed back to class.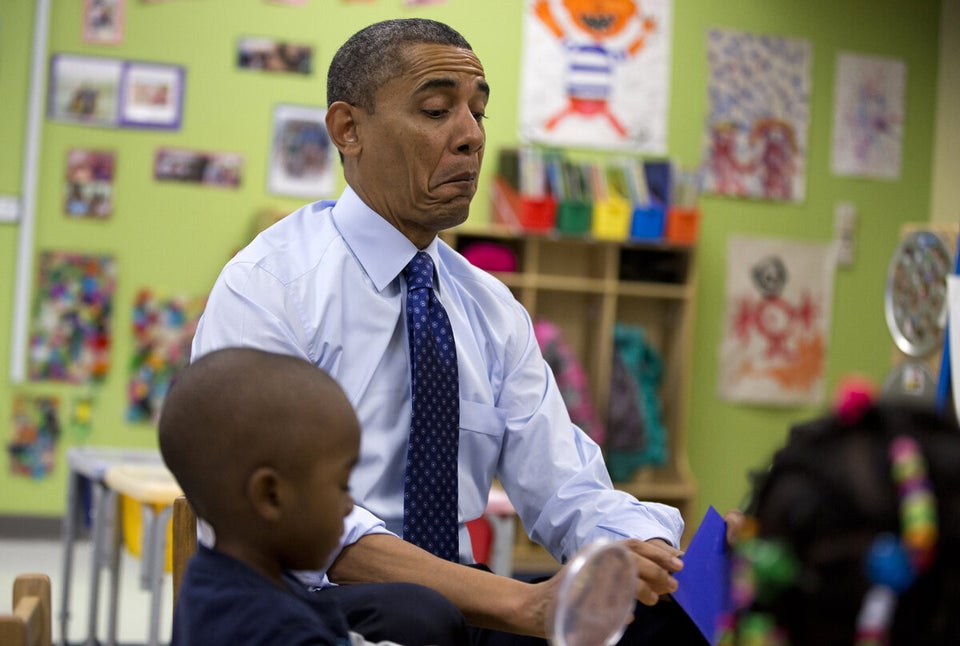 Obama at pre-kindergarten classroom at College Heights