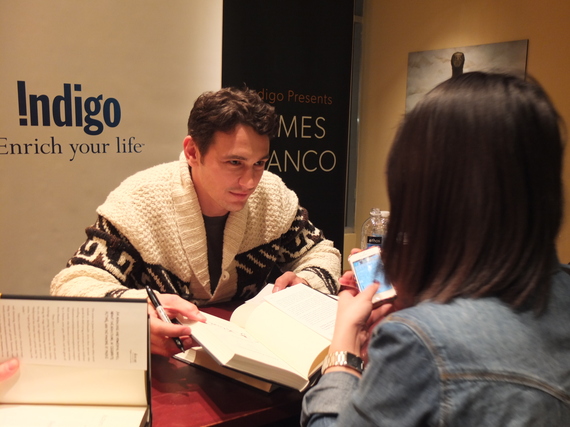 Maybe it's because he Instagrams pictures of himself saving puppies, or that his metallic-toothed character sang a Britney Spears song at a white piano in Spring Breakers. It could be his charming yet devious smile, his intriguing artistic ventures, or his willingness to share his off-screen personality with the public.
Whatever the reason, more than 500 people were willing to stand for hours in below-freezing temperatures last week for a chance to meet James Franco, and I was one of them. By "meet" James Franco I mean, in the bluntest terms, buy his critically-shunned novel so he could scribble his name on it and maybe smile at me for a few seconds. That's a bleak way of describing a book signing, but when you turn a mirror on the concept of standing in the cold so long your toes go numb and you can't use the touch-screen on your phone, all for a signature and a selfie with a (handsome) stranger, it sounds a little absurd. It sounds even crazier to do this if you are not even a Franco fanatic, just a bit of a fan, like me.
Thursday's event at Chapters in downtown Vancouver was held to promote Franco's novel, Actors Anonymous, which itself is said to be an examination of Hollywood and celebrity fame. To go to the book-signing, fans needed to be one of the first 500 people to buy a copy of the book from the store after it opened at 9 a.m. Those people received a wrist-band which granted them entry to the actual book-signing at 7 p.m. that night. Then they would get their book signed, and they would meet James Franco.
The problem was that the line would be outside, where the temperature was minus five degrees Celsius. When I arrived at the book store before 6 a.m., wrapped in layers of knitted, quilted and padded attire, a handful of people who camped out overnight were still tucked in to their makeshift beds. By 8 a.m. there was a line of hundreds, jigging and dancing around to keep warm, pulling their fur hoods tight and stomping to get the blood flowing in their feet.
I spoke to some of the other fans about their motives for joining the line yesterday, and what they expected to happen when they met Franco.
A group of young acting students, who put their exam preparations on hold for the event, wanted to read his book to gain an insight into his acting methods.
One woman, who had driven with her daughter from North Vancouver for a chance to meet the actor, respected him as an intellectual.
The universal sentiment, however, shared by all of the people I spoke to, and by me, was that they hoped he would be nice, as charming and down-to-earth as they expected.
It's true, there seems to be more to know about him than other celebrities, more that you want to know, and he is more willing to share it.
Since the signing, Franco has used social media to share a selfie from the book-signing, a shot of him shirtless in the shower, and a link to an article he wrote for Vice magazine about film director Gus Van Sant.
As a writer, director, comedian and soon-to-be the star of his upcoming reality TV show, James Franco Presents, he's always offering something new to consume, more creative expressions for the public to analyse and explore.
When Franco arrived at Chapters for the book-signing, he seemed as amiable as his fans could have hoped for.
Although the rules didn't allow it, he smiled for pictures with every book he signed.
The group of young actors I met that morning walked past with their signed books and one of them beamed as she told me "It was worth it!" Another sighed as she described how he winked at her.
When I reached the front of the line he looked a little frustrated. A young woman ahead of me was fumbling with her phone, trying to line up a picture with the actor, and for a moment his exhaustion showed and the fan apologized. He must have realized he'd given his thoughts away because, in an instant, he gripped and held her by the shoulders, leaned into the camera and flashed an exquisite smile for her photo.
When it was my turn to meet him I'd just witnessed this exchange and I felt a pang of guilt, like I was taking part in a circus where I had exchanged money for a performance. Then he smiled at me, an impenetrable smile that felt 100 per cent genuine, and I felt stupid for pitying him. I realized this was James Franco, bitches. He was probably analyzing the whole exchange and storing up the memories to express creatively in the future, and for that reason I was glad to be a part of it.