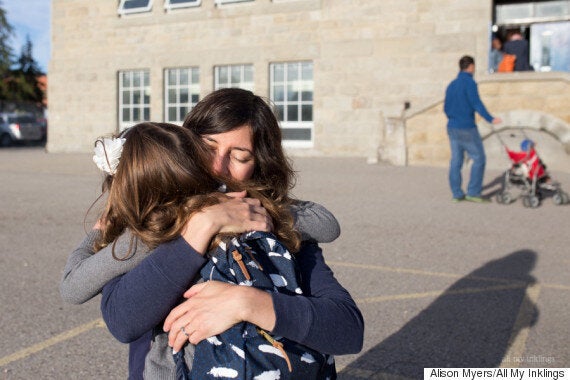 In the days leading up to this moment, all I could think about was how the hell I would ever get the Queen of Stall Tactics to school on time.
I've been ruminating on that point since about May, back when we learned school would start at the ungodly hour of eight o'clock in the morning. I imagine it was my brain's way of creating a diversion from the actual task at hand: letting go.
Friends had told me how they melted into puddles of tears the first day their little one marched off to school. I couldn't imagine why. It's not like we're shipping them off to boarding school. It's kindergarten. It's less than three hours long. You can't even do Costco in that time.
Then it was my turn. My husband Luke stayed home late that morning to bear witness to this rite of passage. In my mind, he was also there to help get everyone out the door on time.
As I mentioned, I was worried I would be dragging a half-dressed, underfed fit of defiance to the school yard to greet the new teacher. On this day, she was standing by the side of the bed, fully dressed and raring to go before I had both eyes open. Excitement, fear, nerves, whatever we were working with, it certainly made my life easier.
It all seemed rather idyllic. We walked hand in hand in hand, the three of us, towards the schoolyard we know so well. She has spent many an afternoon exploring its playground or running through the field. It's where she learned to ride a bike and where she flew a kite for the first time. Despite my agonizing over school options, I think we always knew she'd someday join them on the inside.
The teachers stood outside in front of the swarm of nerves. Parents and children alike staring silently as they waited for a name to be called. Some ran to stand in line without looking back. Some ran the other way. All of them with their massive, snack-filled backpacks smacking the backs of their knees.
E had a few last-minute tears, then walked up the steps and disappeared. All of a sudden, it was just the parents, standing there watching the doors close behind kids that two minutes ago were taking their first steps, saying their first words or eating a grape for the first time without it needing to be cut into a million pieces.
How the hell did that happen so fast? Why the hell did I want it to? Now it's all coming crashing down around me, all this time that I can't get back, and I finally empathize with the ugly cry set.
We're not sad that they're growing up (we all talk about how wonderful it will be when they can get their own lunch or walk to a friend's house without a secret service detail), we're sad that they're doing it at the speed of light.
We're sad that with each new milestone, the previous ones seem to fade in our memories. We long for the feeling of their baby soft skin sleeping against our chest, for the fuzz of their hair tickling our nose, for the squeak of their voice as they learn how it works.
We long for them to be small and vulnerable and close just a little while longer. Then they let go of our hand and walk away.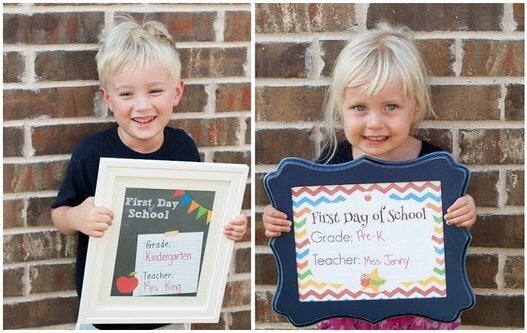 Cute First Day Of School Photo Ideas