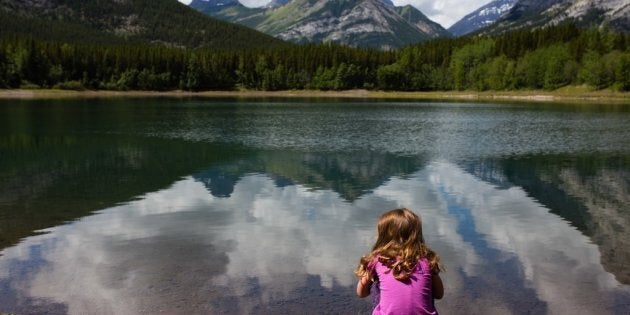 This week marks the dawn of a new reality. It could either be the start of something so glorious it can't be put into words or it could be the beginning of a long journey through wet sand while carrying bricks on your back. It all depends on how much your kids like each other. Welcome to summer vacation.
The past month has been a total gong show for us. We ate no less than four grocery store chickens over the course of three weeks. Other culinary highlights included pizza, noodles, scrambled eggs, oatmeal and even just Rice Krispies. Yes, for dinner. We were late for school almost every day and a pile of clean laundry lived unfolded on the floor of the hallway for two weeks, along with the vacuum cleaner that was transported there in a brief fit of optimism one Saturday morning.
The kids rarely got to sleep before nine and rarely slept until seven. Everyone was tired, grumpy, and emotionally unstable. Or maybe that was just me. I felt like a hamster that lost its footing in an overly enthusiastic wheel, bouncing around ass over tea kettle as the damn thing kept merrily spinning, ignorant to my need for reprieve. Stop the world, I cried. I want to get off!
Through it all, there was a feeling of familiarity. Didn't this happen last year? Oh yes, the school year is coming to a close and everything is wrapping up in a spectacular, flaming tail spin. I remember now. At which point present self says to past self, "Why the heck didn't you warn me?" Past self gives a half-hearted shrug and goes back from whence she came.
Past self has a history of slogging through the same ordeals year after year without much consideration for future-self's sanity. Christmas is a good example. Halloween is another. Any of those times when I might benefit from being on top of the situation before the situation is on top of me. Somehow, it never occurs to me to put a warning in my calendar. Something to the effect of: Take heed. June draws nigh. Hell cometh forth. Bring in reinforcements and, for god's sake, sign up for Chef's Plate.
It all sounds very dramatic, yet here I am, having survived with only a few pounds of water retention and an extra knot or two in my shoulders. Better yet, it's the start of a new week and I am not in a panic over what to pack in their lunches or whether her uniform is clean or whether I signed permission forms or whether there's gas in the car.
(Again, this is an area where past self likes to screw with future self. I have, on more than one occasion, turned on the car in the morning to see the number of kilometres left in the gas tank only slightly outweigh the distance between our house and the school. And let me tell you, that gauge is a liar. An optimistic, bold-faced liar.)
We have all been waiting impatiently for this day. Finally, she will be able to get up in the morning and start an art project without me breathing fire down her neck about eating breakfast and getting socks (what is it with socks). Finally, he will be able to start a puzzle without me telling him to get his shoes on so we can get his sister to school on time, for once in our bloody lives. Finally, they will be able to play together for more than twenty minutes a day without someone yelling, "Go to bed!" or "Come for dinner!" or "Get your socks!"
People think summer vacation is all about giving the kids a break. No way, man. I couldn't wait for this day to come. Not only am I off packed-lunch duty, I also no longer have to be in the car for more than an hour and a half every day AND I don't have to be the jerk who keeps telling my kids to drop whatever enjoyable thing they're doing so they, too, can get in the car.
I have so much I want to do with them. Hikes, bike rides, adventures, experiments, spend oodles of time in nature. I want to give them as many opportunities to throw rocks in water as is humanly possible in 73 days. This week, though, we will stick close to home. We will go to the community pool. We will chase an ice cream truck. We will play with neighbourhood kids. We will take a moment to come back to earth and fall in love with that wonderfully simple life called summer.
Follow HuffPost Canada Blogs on Facebook