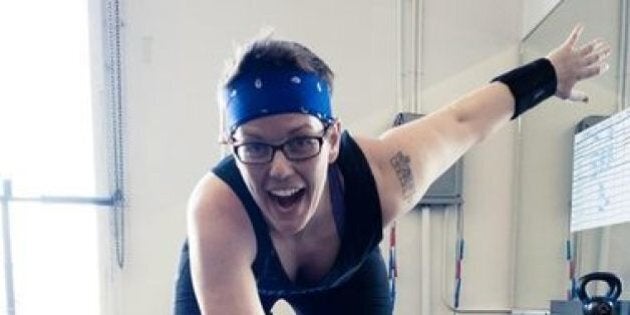 Michele Burmaster of Disrupt Your Diet is a body positive blogger, an entrepreneur and an international role model in the fitness industry. Her influence stretches to Canada through her blog and body positive support groups she moderates. She shared her journey and a recent appropriation of her trademark
How Did You Get Where You Are?
I started martial arts and learned the business before becoming an instructor. I lost 70 pounds and was inspired to help others. I ended up with the skill set required to open and run a successful gym.
What inspired you to create Disrupt Your Diet?
I was at MGM in Las Vegas in June 2014 when Shakeology was holding their annual event. I couldn't walk to my room without being told how Shakelogy is changing someone's life. I've NEVER endorsed "weight loss products" and always stood behind sustainable habit change. I wondered if I could spread the truth about weight loss and undermine the diet industry at the same time: Disrupt Your Diet was born.
What do people get wrong when they imagine the life of a body positive blogger and gym owner?
People assume I'm a maniac, owning four businesses, working a day job and maintaining a healthy marriage. I'm good at streamlining processes. I enjoy being an entrepreneur -- it's a creative outlet. Some people paint. Some people sing. I build businesses.
People assume I'm a billboard for my own body positivity. I am a work in progress. 30 years of body negativity takes more than a year or two to reverse. I battle my own body image, while trying to help others take pride in what they can do versus what they look like.
What do you find rewarding?
Every day I get somebody telling me I'm opening their eyes and I've helped instill a sense of freedom. That's why I do this.
What do you find challenging?
This is David versus Goliath. The weight loss industry is a $60-billion a year industry in the U.S. alone. There are a handful of body positive fitness professionals working to breaking down barriers the diet industry spent time and money putting up. Will there be a day where diet pills don't exist? Probably not in my lifetime, but this is the foundation for a better future.
What advice do you have for women who want to pursue a career path like yours?
Have patience. Do what you can, where you are, with what you have. Every action counts. Small actions lead to big ones. Do good and good will come. Set your sights on the greater change and you can't go wrong because everything you do will count.
How do you take care of yourself while teaching people how to take care of themselves?
I do NOT compromise on sleep. I try to unplug a few hours every Sunday. I like to put on a record, strap on my guitar and pretend I'm the front-woman of Fleetwood Mac.
Your blog name was used to promote concepts opposing your philosophy. How did that feel?
It was soul crushing. To work so hard on something and be disregarded and disrespected rightful owner of "Disrupt Your Diet" took everything out of me.
I didn't sleep for about 20 days, anxiety was through the roof. I didn't know if we'd be able to stop them. I imagined worst case scenarios. I thought my entire year of work was done and they were going to take Disrupt Your Diet out from under me. I paid thousands of dollars and man hours to repair damage to my SEO.
How has Collectively.org responded?
They complied with the cease and desist after about seven long, slow days. They refuse to reimburse damages incurred.
Collectively.org is a "millennial sustainability blog" who claimed to be non-profit with "partners" from the world's largest corporations including Facebook, Twitter, Nike, Unilever, Coca-Cola, Microsoft, Google. The CEO is the VP of Global Marketing Projects for Unilever. Their website claims editorial independence from brand partners.
We are working to recoup costs selling awesome T-shirts. You can also help spread the message we are not what we look like but what we can do!
We started Body Positive Fitness Alliance to band together fitness professionals and individuals who believe in making mainstream fitness free of extremes, accessible and approachable. We are working to change the fitness industry. Disrupt Your Diet will continue to spread the scientific evidence based truth.