shutterstock
I had the opportunity to interview Jeni Janover, travelling pole dance instructor and originator of Liquid Motion, one of the hottest sensual movement programs around, which she is bringing to Allure Fitness in Hamilton, Ontario in upcoming workshops. She is a courageous eating disorder survivor who makes a living helping women appreciate their bodies.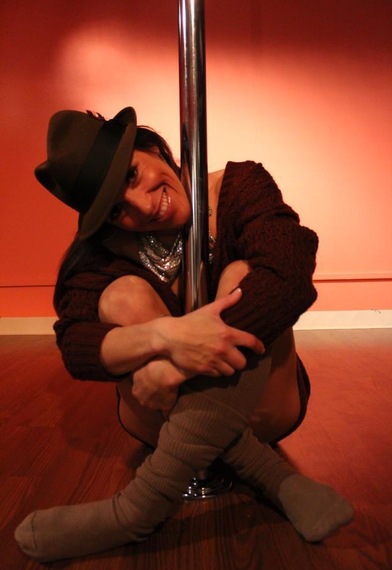 What do you enjoy most about working in a female focused environment?
The aerial arts and exotic industry is so different in terms of the lack of envy, jealousy, cattiness and cliques. It lacks the negative things that people associate with female relationships.
How much do you travel? How do you stay connected?
I travel regularly and stay in touch via Skype. I struggled with "mommy guilt" and the need to push past it to have an identity outside of my kids. My schedule is supported by my husband and my nanny. There is pressure in being a working mom and being expected to "have it all." Roles and expectations haven't evolved as quickly as available opportunities. When I'm home, I'm focused on my kids and includes them when I can in my career.
What got you hooked on pole?
It was love at first sight! I loved having an outlet to explore crazy shoes and fun outfits in an environment that encourages and celebrates scandalous attire and shenanigans. I was excited for an opportunity to combine my love of sensual movement with my formal dance training.
Was this your original career plan? If not, what was?
I danced growing up then transitioned from performing to visual arts. I graduated with honours from art school and was an accomplished sculptor. I felt pressure to conform and produce marketable pieces and decided not to compromise my artistic values for profit. I was a stay at home mom and also worked in the fashion industry.
What do you find most rewarding and challenging about being an entrepreneur?
I love being independent. The financial insecurity of entrepreneurship worries me sometimes, but I am determined not to return to a regular nine to five. Because of my non-traditional career path, I try to protect her children and worries sometimes how they will view my choices when they are older. I insulate myself from the negativity of others by surrounding myself with supportive people.
Are you for or against pole in the Olympics and why?
The reasons I love pole has nothing to do with competition. I respect that others do want to be able to compete at that level, so I'm not against it, but it's nothing I'm personally invested in. I see the growing divide between camp "sexy" and camp "fitness" among pole dancers and believe there's room for both to coexist.
What are you most proud of professionally?
I am proud that people let me into their lives. I am privileged to have the opportunity to tell women I struggle with the same things they do. I worked hard to advance in my field without competing on stage or off by comparing myself to others.
What advice do you have for other women starting out as entrepreneurs?
Thicken up your skin. You will find out quickly who your friends are and who is just using you. The more you succeed the more people will look to you to find fault or discredit you. I have felt taken advantage of, used and under appreciated. Don't look for your self-worth in others or look for recognition in them to avoid disappointment.
What do you think people get wrong when they imagine the life of a travelling pole dance instructor?
Everyone thinks my husband must be so lucky, when in reality he could care less about pole or exotic dance. People think I hang out in a French maid costume and have sex every 20 minutes. My life involves more laundry, cleaning and cooking. My wardrobe: baggy sweat pants and t-shirts (for when the kids or home) or just plain nudity (when they aren't). I don't wear much makeup and my tooth brushing compliance is sketchy.
How do you make time for you while you are building your brand and caring for your family?
I always knew I needed my "me-time" and I'm fortunate my career of choice fills that need. I have a hard time not working. I'm not one to nap or watch TV and have to set an egg timer to focus on a bath.
I am thankful for Jeni and her role in the pole dance community as a mentor and an example of triumph over adversity.
This post originally appeared on Sparkly Shoes and Sweat Drops.
ALSO ON HUFFPOST: