Chris Tobin via Getty Images
Winter is one of the best times of year to visit Vancouver. Unlike many parts of Canada, Vancouver boasts not-so-freezing winter temperatures that average 4-degree Celsius in the coldest month of January. Vancouver is a city that encourages you to get outside with outdoor activities ranging from days at some of the world's best ski resorts to romantic evenings ice skating under the stars.
The following five activities are ones that you can only do during a Vancouver winter, so pack your bags and plan your Canadian getaway today.
Ice Skating at Robson Square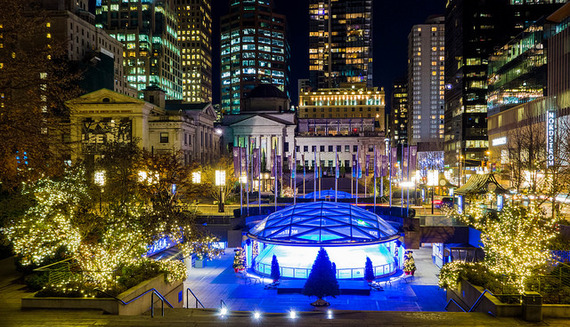 Photo credit: Imogene Huxham
Vancouverites and the city's visitors can find plenty of holiday cheer at the Robson Square Ice Rink in downtown Vancouver. However, the open-air rink at 800 Robson St., is open well beyond the holidays and into the end of February. The rink features live music every day from mid-December to Christmas Eve, so lace up your skates, or rent some on site for just $4, and admire the city lights from one of Vancouver's favourite squares.
Ski or Snowboard Grouse Mountain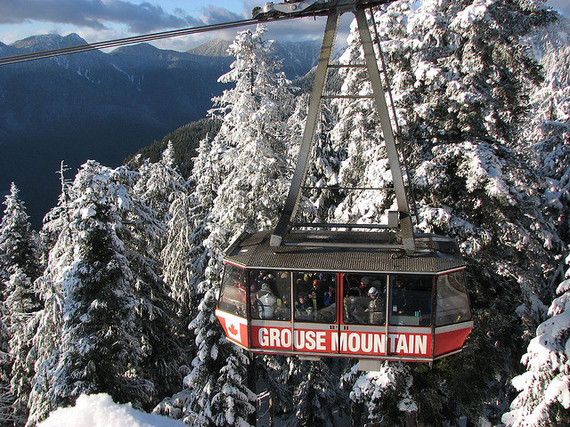 Photo credit: Andrea Schaffer
A short 15-minute drive north of downtown Vancouver is the winter wonderland of Grouse Mountain. The mountain resort offers some of the area's best ski and snowboard terrain with an elevation of 1,250 metres and plenty of terrain for everyone from beginners to adrenaline junkies. Although, you don't have to be a skier or snowboarder to enjoy Grouse Mountain. The resort also features snowshoe trails, a skating pond, zip lines, the Skyride gondola and a variety of special Christmas events, including the Gingerbread Village, Santa's Workshop and more.
Save Your Shopping for Boxing Day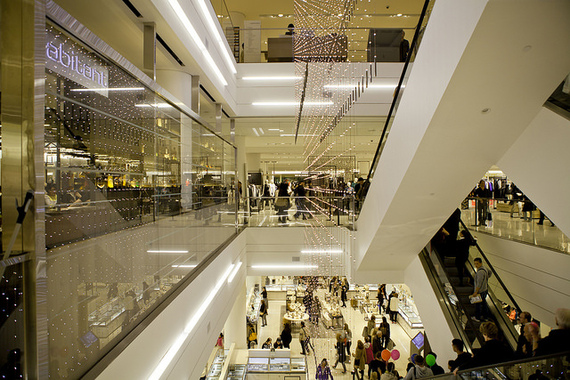 Photo credit: GoToVan
Don't let yourself get overwhelmed by shopping before the holidays, because Boxing Day is one of the best days to hit the streets and shop until you drop. The day after Christmas, also known as the Canadian holiday of Boxing Day, is the day to find crazy deals on everything from home furnishings to the latest electronics, clothing, appliances, toys and accessories. Get in the heart of the Boxing Day action by heading to the Pacific Centre Mall or Robson Street to see the crowds and join them in finding deals that only come around once a year.
Check Out the Chinese New Year Parade
The Chinese New Year Parade is the ultimate Vancouver event. Vancouver's Chinatown district is known as one of the best in the world, providing authentic Chinese culture in the Great White North. The annual Chinese New Year Parade is anticipated by Vancouverites from all parts of the city, and it's known as one of the biggest and best parades of the year. This year's parade will take place from 11 a.m. to 2 p.m., on Feb. 8, and you'll want to arrive at the Chinatown entrance early to find the perfect spot for admiring the parade's colourful dragon, costumed performers, floats and bands. Plan to linger around Chinatown all day for even more Chinese New Year festivities, and plenty of delicious eats, after the parade has passed.
Cross-Country Ski at Cypress Mountain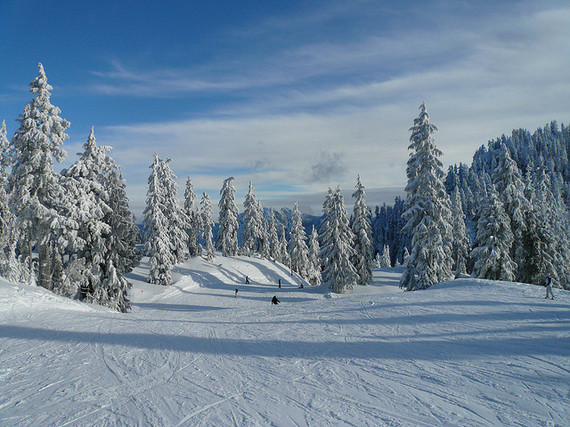 Photo credit: Craig Nagy
Similar to Grouse Mountain, Cypress Mountain is a place to get outside and experience the best that winter in Vancouver has to offer. The resort offers excellent ski and snowboard conditions but is just as famous for its famed cross country skiing and snowshoeing trails. Nineteen kilometres of groomed trails will help you enjoy Vancouver's surrounding mountain scenery while burning off those hefty holiday meals. More than 7 kilometres of the network of trails are lit for night skiing, so don't have to limit your activities to daylight hours.