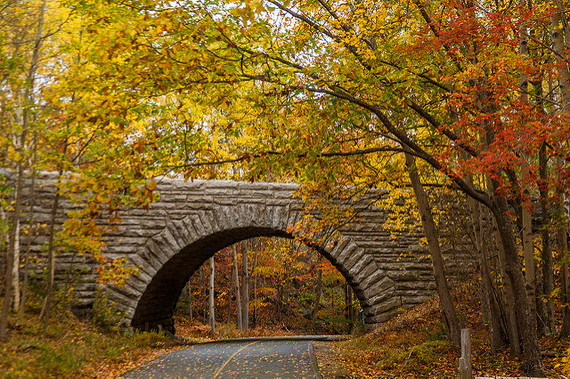 Photo credit: Me in ME
America's Northeast isn't a long haul from major Canadian cities like Montreal, Ottawa and Toronto. Even better, the Northeast is one of the best areas throughout the United States to admire fall's photogenic colours. Planning a getaway to the following must-visit fall foliage destinations throughout New Hampshire, Massachusetts, Maine and New York is easier than most Canadians think, and the region offers far more than colourful leaves.
Acadia National Park, Maine
Maine's Acadia National Park offers a snapshot of America's East Coast in roughly 19,000 hectares of space. Visitors can admire the changing colours while overlooking the deep blue Atlantic Ocean, offshore islands and steep granite peaks. However, you don't have to just sit back and admire the fall colours in Acadia National Park; you can hike, climb, bike or even take a carriage ride among them. Fall is one of the quieter times of year in the park, but lingering summer temperatures and uncrowded trails make this park worth the wait.
Adirondack Mountains, New York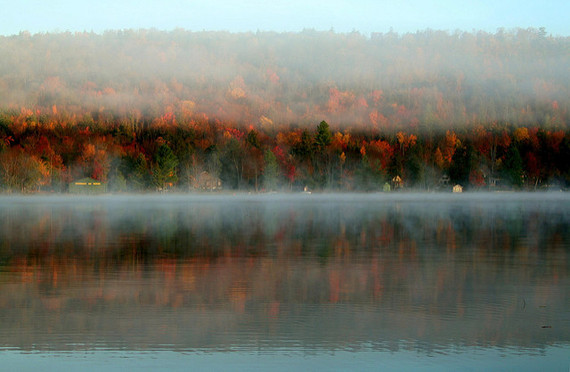 Photo credit: Lida
The fall colours are even more enjoyable when you're sipping a beer at Lake Placid's annual Oktoberfest or cruising the Adirondack Coast Wine Trail. New York's Adirondack Mountains cover a massive 2.4 million hectares of land, making Adirondack Park larger than Yosemite, Yellowstone and the Grand Canyon national parks combined. Lake Placid is just one of many picture-perfect home bases for hiking, mountain biking, climbing, driving and camping adventures among some of the Northeast's best fall scenery.
White Mountains, New Hampshire
New Hampshire is one of the Northeast's most underrated states. However, those who are in the know (and that's millions of people) visit the Granite State when the reds, yellows and oranges show. New Hampshire's White Mountains are far from white in the fall months, when visitors enjoy the area's scenic railways, the famous Mount Washington Auto Road, the Cannon Mountain Aerial Tramway and numerous other attractions that turn admiring the fall colours into big adventures.
The Berkshires, Massachusetts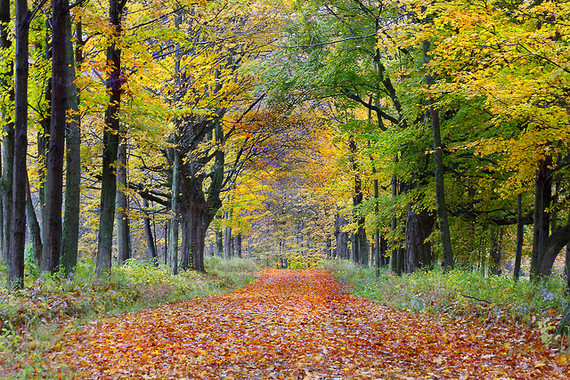 Photo credit: Massachusetts Office of Travel and Tourism
Western Massachusetts is the place to be for family-friendly fun this fall. The Berkshires are a highland region known for their vibrant fall tourism scene, complete with its Berkshire Botanical Garden Harvest Festival and numerous other opportunities to take in the local art, music and culinary scenes. Visitors can admire the fall colours from places as mellow as scenic roads and adventurous as hiking trails and ziplines. The area's local farms are fun for activities like pumpkin picking, hayrides, cheese tastings, beer and wine sampling and more.
Stowe, Vermont
Stowe, Vt., is a true vacation destination in all times of year. However, the town seems to come even more alive when the sugar maples of the Worcester and Green mountain ranges change colour in late September and October. Fall foliage enthusiasts can visit the area's Foliage Central webpage for continuously updated fall foliage reports. And when you're not hiking, kayaking or biking among the bright fall colours, you can be submerging yourself in Stowe's live music scene, funky shops, craft breweries, award-winning restaurants and more.
Follow HuffPost Canada Blogs on Facebook
MORE ON HUFFPOST:
America's Best Towns for Fall Colors