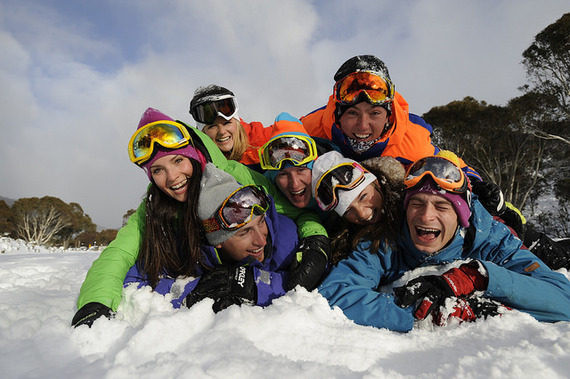 Photo credit: Roderick Eime
The holiday season is here, and families just like mine are packing their layers into suitcases for another trip to Whistler, Sunshine VIllage, Lake Louise, Revelstoke, Kicking Horse, or one of Canada's more than 100 ski areas. This year, we chose Whistler, and while my husband and two sons are far more excited about terrain parks, bowls, and chest-deep powder than Santa Claus, I'm going through my annual pre-ski-trip blues.
I'm dreading the parking space I'll find that feels light years away from the ticket booth, the lift lines that will make my knees ache more than any black diamond, and the crowds of people I'll be dodging fearfully with my mediocre skiing skills.
However, thanks to Google and a few lessons I've learned over the years, I think this trip may be different. I've been diligently researching the best ways to beat the crowds at popular ski resorts during the insane holiday season, and I'd like to share my findings with all of the other overwhelmed ski moms out there.
Pack A Lunch
This tip is one of my own. I dread lunchtime at the ski resort before I even step into my bindings. The moment we arrive at the cafeteria, my boys dart in opposite directions in search of pizza slices, hot chocolate, french fries, and all of the delicious junk food served at every resort we've ever visited. I don't mind letting them indulge in their favorite foods while on vacation, but I don't want to wait until the food is cold to pay for it. I've been packing our lunches for full days on the mountain for several years now, which means we all get to eat long before we get "hangry."
Ski on Christmas Day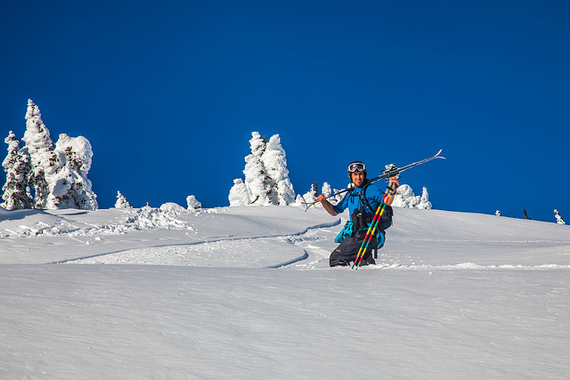 Photo credit: Murray Foubister
Now that my boys are more interested in fresh powder than Santa Claus, we plan to spend Christmas morning a little differently. Heather Balogh, the author of a 2014 blog post for Liftopia, suggests heading to the mountain while everyone else is sipping coffee and opening presents at home or in their rented condo. We're going to pray for fresh snowfall and open our gifts several hours later this year. Who knows -- this could become a new family tradition.
Buy Lift Tickets Ahead of Time
I've been skiing since the early '80s, long before sites like Liftopia and Get Ski Tickets existed, so I never even considered foregoing the dreaded lift ticket lines during the holidays. This year, I logged onto the Whistler-Blackcomb website and booked our passes online. That's one less line to worry about, and to me, that's a pretty big deal.
The Closer the Better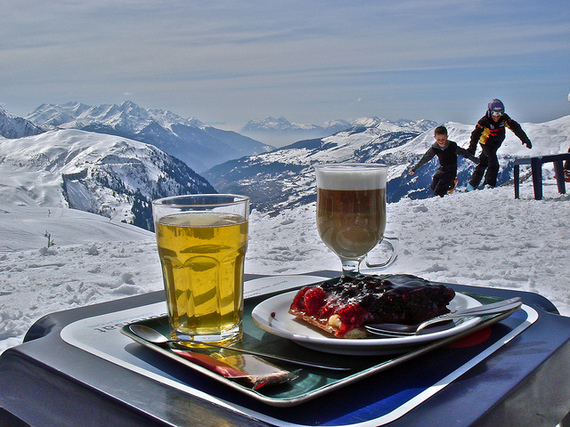 Photo credit: Patrick Nouhailler
We're not the type of travelers that have to stay on top of the attraction if there's a more affordable option nearby. We didn't stay at a Disney resort on our trip Orlando, Fla., and we always choose a budget-friendly hotel just slightly farther from the sand to save money in Puerto Vallarta.
However, on ski vacations, closer is most certainly better. Stay within or very close to the village of the ski area you're visiting, and you'll find the extra money you spend on your room is recuperated elsewhere. You can forget about costly cab fares for dinner and drinks, you can park your vehicle for the duration of your trip, and you won't have to dodge traffic in the lot for a parking space that's 3 kilometres from the chairlift. After all, the goal is to spend more time on the mountain with your family and less time worrying about the unrelenting holiday ski crowds.
Follow HuffPost Canada Blogs on Facebook