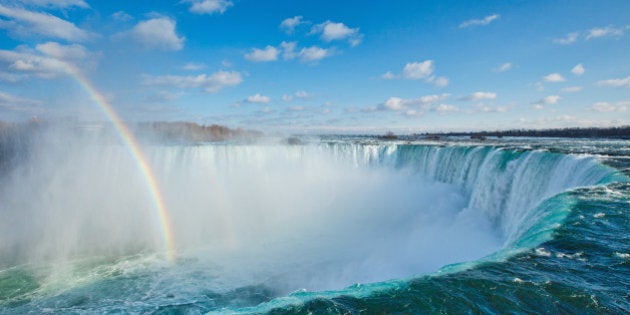 It's difficult to peel your eyes away from the beauty of Niagara Falls, but the world-renowned attraction has become far more than a natural wonder. Niagara Falls, the Canadian city, is home to everything from action packed tours to year-round water parks, renowned eateries and out-of-this-world casinos.
A trip to the falls is more than visiting the incomparable natural wonder, it's about experiencing the nonstop action that happens around the legendary attraction. These five awesome things to do are ones you don't want to miss on your visit to Niagara Falls.
The Maid of the Mist Tour
You've probably seen the Maid of the Mist when browsing through brochures and photos of the falls. That's because it's one of the most iconic and action-packed Niagara Falls tours available. You can't be afraid of the water if you hop aboard this tour, because you're bound to get soaked in the coal-powered steam boat that takes you as close to the thundering rapids as possible. Although, you won't have to wear your bathing suit, because you'll be outfitted with a rain poncho.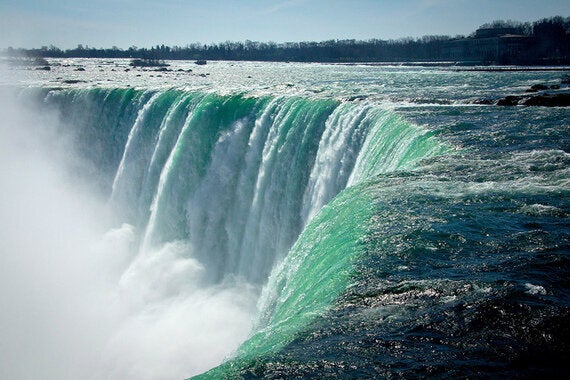 Every tourist at Niagara Falls sees the pounding Horseshoe Falls from the front, but Journey Behind the Falls takes you where the water finally comes crashing down at 65 kilometres per hour. Visit the Table Rock Welcome Center at the Canadian Horseshoe Falls to take an elevator 45 metres down into tunnels that lead to the Great Falls Portal and Cataract Portal. You'll find yourself behind a massive sheet of water, which amounts to 2,800 cubic meters of water per second during the summer months.
Spend a Day at Clifton Hill
Clifton Hill is Niagara Falls' most famous downtown street. It's know for the nonstop action that suits everyone from toddlers to party-goers and thrill seekers. The street is home to the 175-foot-tall Niagara Skywheel, Movieland Wax Museum of the Stars, 70,000-square-foot Great Canadian Midway arcade, Niagara Brewing Company, Club Mardi Gras Niagara, and countless other attractions, eateries, and places to let loose. Clifton Hill keeps the excitement of Niagara Falls going well past dark.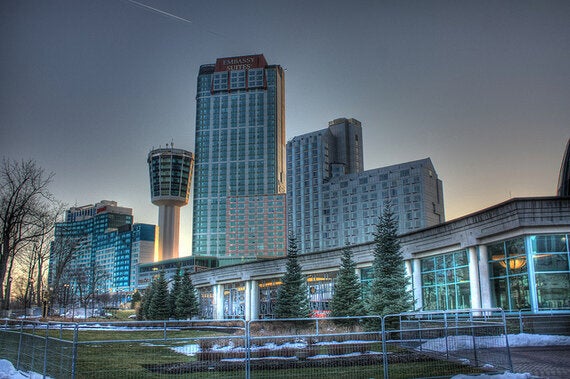 Visit Canada's largest gaming resort without taking your eyes off the falls. The Fallsview Casino Resort is a lavish, world-class casino with a 1,500 seat theatre, 130 table games, 3,000 slot machines, and elegant hotel, and more than 20 dining options. Whether you're catching some live entertainment, trying your luck in the poker room, or dining on steaks and seafood, you'll find it hard to leave this over-the-top resort.
Stay and Play in the Water
Families love Niagara Falls, and that's because there's absolutely no chance of getting bored. The Fallsview Indoor Waterpark is one of many places that guarantees nonstop fun, whether you stay at the park's on-site resort or just come to play. This elaborate indoor water park offers 1.2 hectares of thrilling water slides, pools, hot springs, play areas, and adults-only jacuzzis. The resort grounds span 8 hectares of prime real estate minutes from Horseshoe Falls, providing a prime location for kids and adults to experience the ultimate Niagara Falls vacation.
Follow HuffPost Canada Blogs on Facebook