David Henderson via Getty Images
Sure, New York City has a magical feel when the lampposts are covered in greenery and storefronts are donned with bright holiday lights for Christmas. But tromping through inches of wet snow and feeling the howling wind rip through the shield of your jeans can make a visit to the city less enjoyable. Visit the Big Apple in the summer months, and you'll experience outdoor theatre, festivals, street fairs, flea markets, and warm days in the city's green spaces, when they're actually green.
Whether you're into hitting the beach, catching some live music, or walking the neighborhood streets, shopping and dining outdoors, New York City is the place to be this summer. The following are five events, festivals and activities you don't want to miss on your visit.
Experience A Pop-Up New York Street Fair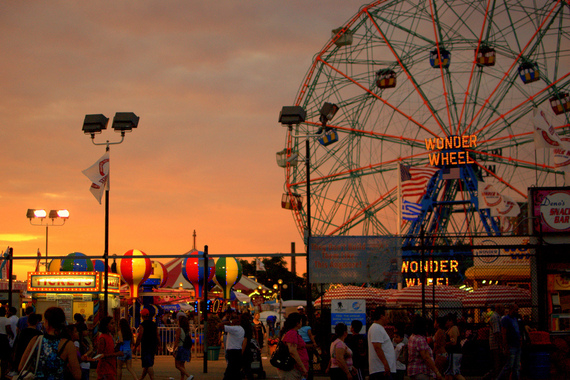 Photo credit: Chris
There's no better place to find unique souvenirs and one-of-a-kind gifts than at a pop-up street fair in New York City. If you stumble across a collection of vendors serving everything from donuts to fresh-brewed coffee and men's socks, you're probably at a street fair created by Pop Up New York. Pop Up New York has created street fairs across the city, showcasing up-and-coming artists, restaurateurs, musicians, designers, crafters and more. Log onto PopUpNewYorkEvents.com, and you'll know where to be for every street fair from April through October.
See A Show At Central Park's SummerStage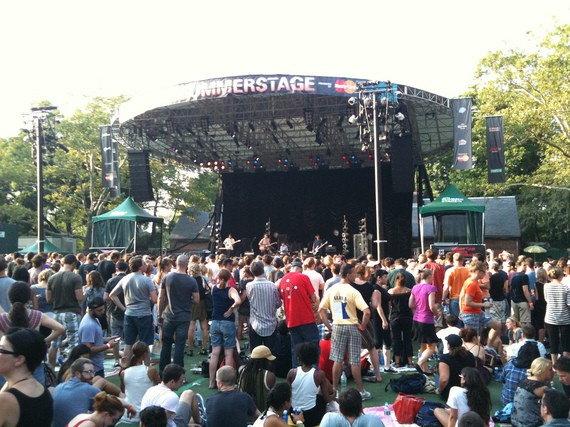 Photo credit: Michael Galpert
Even better than Central Park's people-watching is its SummerStage. Backed by the City Parks Foundation, the 31-year-running series presents events nearly every day of the week from June 4 to Sept. 23. Events include live theatre, paid and free concerts, ballet, dance parties, outdoor opera and more. Log onto NYC's City Parks Foundation website to view the full summer schedule.
Spend Some Time At the Beach
Traveling to the city this summer doesn't mean you can't enjoy some beach time. Even better, many of New York's beaches are accessible by the subway, so you won't have to spend big bucks on a car rental or taxi. Rockaway Beach in Queens offers a boardwalk, surf lessons on some of the city's best waves, and the famous food stand Tacoway Beach. If you're looking for even more family fun, Brooklyn's Coney Island Beach features a full theme park, Nathan's Hot Dogs, summer lifeguards, and some of the city's best people-watching. Visitors seeking a little more seclusion can find it at Fort Tilden Beach, which is best accessed by bicycle.
Root For The Home Team At A Yankees Games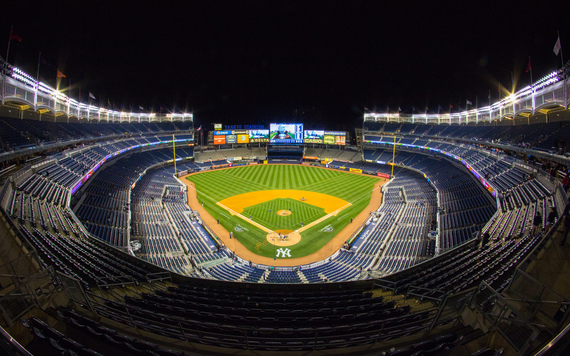 Photo credit: Dex(07)
You don't have to be a fan of New York City's famed Yankees to have an unforgettable time at one of their games. Observe the Yankees fans in their natural habitat, feel the magic of Yankee Stadium, stock up on souvenirs, and taste some of the world's best ballpark eats. The Yankees' season spans from April to October, and the team plays every couple of days, so it's likely you'll be able to buy some tickets and catch a game during your summer visit.
Catch An Outdoor Movie
Forego a night at the pub for a night at one of New York City's many green spaces instead. A number of NYC parks present outdoor movie screenings for city locals and tourists during the summer months. From the Rooftop Cinema Club at OfficeOps to Films on the Green at Central Park, Washington Square Park, and McCarren Park, it's likely that wherever you find yourself in the city, there's an outdoor movie playing nearby. Bring some comfy lawn chairs, prepare a picnic, and make an evening of it.
Follow HuffPost Canada Blogs on Facebook