Zephyr18 via Getty Images
Bali is different than any other island in Indonesia. Its people practice a different religion, elaborate ceremonies are abundant, the arts and crafts are out of this world, and it's far more than a tropical vacation destination.
When you tell your friends you're travelling to Bali, images of coconut palms and picture-perfect beaches may come to mind. While Bali does offer all of those things, you won't want to spend your entire vacation sipping frozen drinks on the beach. The following four experiences are ones that can only be had in Bali, and they'll leave every visitor with a better understanding of what makes this Indonesian island such a special place.
Meet the Balinese People and Learn the Four Balinese Names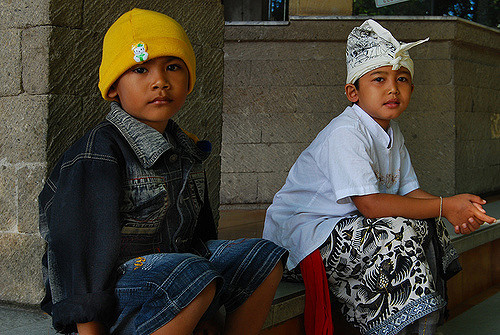 Photo credit: williamcho
When you arrive in Bali, you'll probably be a little confused by how many Wayans and Ketuts you meet. Most Balinese people are named one of four names, Wayan, Made, Nyoman or Ketut. Balinese parents don't buy books about baby names at Barnes and Noble. Each child is named by the order of his or her birth, and it doesn't matter if they are a boy or a girl. The first born is named Wayan, the second is named Made, the third is Nyoman and the fourth is Ketut. If a family has more than four children, the names start over again with Wayan.
You'll likely meet a Balinese person whose name isn't one of the four listed above. Some are given names that denote their caste, while others simply choose to use a nickname to set themselves apart. The naming system can be tricky to understand at first, but there's no better way to learn than to ask one of the many friendly Balinese people you meet along your journey.
Discover the Balinese-Hindu Religion
The majority of Indonesians are Muslim, but most Balinese people follow the Balinese-Hinduism religion. The moment you land at the airport in Denpasar, you'll discover that the lives of the Balinese people revolve around their religion. You'll find daily offerings to the gods everywhere from temples to street corners and car windshields. The Balinese people celebrate 60 religious holidays each year, and you'll find them worshipping, praying, and making offerings at all times of day.
Attend a Balinese Ceremony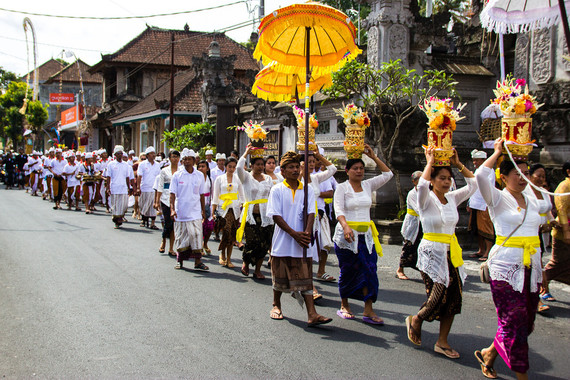 Photo credit: inspiring!
Dive deeper into the infectious Balinese-Hinduism religion, and you'll find yourself enjoying a once-in-a-lifetime experience at a cultural ceremony. Balinese people hold ceremonies for every milestone in a person's life, and with such tight knit communities, don't be surprised if your new Balinese friends are attending multiple ceremonies each week.
Whether the ceremony is celebrating birth, death, marriage, a teenager's entrance into adulthood, or a number of other life experiences, you're guaranteed to enjoy the jovial spirit, delicious food, traditional Balinese dress, heartfelt prayer, and so much more. The Balinese people are welcoming to those who wish to admire their ceremonies, and expressing a sincere interest in attending one is typically all you need to do to receive an invitation.
Stock Up on Authentic Souvenirs
With so many shop attendants attempting to lure you into their stores, it can be difficult to steer clear of the touristy shops along the streets of Kuta, Ubud, and other popular tourist destinations in Bali. However, it pays to experience the hustle and bustle of a Balinese street market, like the Sukawati Art Market in Sukawati, the Kumbasari Art Market in Denpasar, and the Badung Market in Denpasar. They're some of the best places on the island to stock up on traditional Balinese jewelry, paintings, handicrafts, and batiks, but you'll have to be prepared to bargain.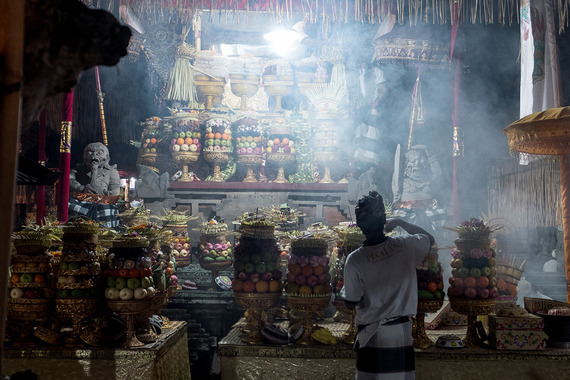 Photo credit: mripp
Follow HuffPost Canada Blogs on Facebook