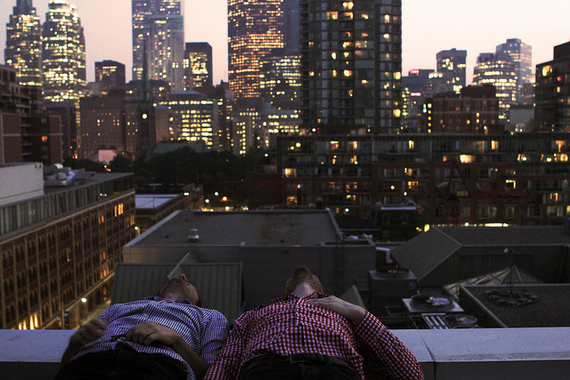 Photo credit: CRUSTINA!
Summertime in Toronto means it's practically a requirement to spend as much time outside as possible -- especially when you're eating and drinking. Hogtown is home to more world-class eateries and trendy pubs than can be named, but these five rooftop bars and restaurants take the cake for summertime dining while overlooking the city's sparkling skyline and happening neighborhoods.
Harvest Kitchen
You may not be able to escape the hustle and bustle of the city as much as you'd like in the summer months, but the upper level deck of Harvest Kitchen can help. Located at 124 Harbord St., Harvest Kitchen features seasonal, consciously-sourced and delicious brunches, lunches and dinners for affordable prices. Find your way to the upper patio, and you'll enjoy your meal in an atmosphere that feels more like a treehouse than a farm-to-table restaurant. The treetop patio is surrounded by large, lusht trees that will transport you to the countryside while you sip Harvest's famously creative cocktails.
The Porch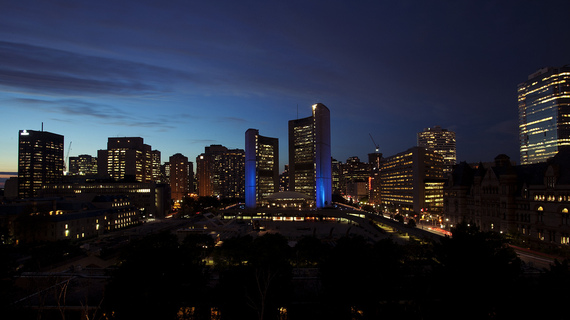 Photo credit: Mycatkins
You've probably heard about the Rock 'n' Horse Saloon, but you may have missed the popular rooftop patio perched above it. The Porch is located on Adelaide St. W., within batting distance of Toronto Blue Jays games at Rogers Centre. Other spectacular features are weekend brunches and upscale pub fare that can be enjoyed while taking in Toronto's skyline and snapping photos of the CN Tower.
Sky Yard -- Drake Hotel
If you're a sucker for crave-worthy cocktails, you'll love the Drake Hotel's famous Sky Yard. This ultra-trendy rooftop eatery and bar features late-night dinners and an impressive list of seasonal craft cocktails. Even better, the picturesque views can be taken in at the Sky Yard during any time year. This all-season patio hotspot simply alters its menu (think hot cocktails in December) to accommodate the wants of its never-ending flow of customers. You can find the Sky Yard perched atop the Drake Hotel at 1150 Queen St. W.
Pauper's Pub
The Annex is a melting pot of a community that's loaded with restaurants, bars and nightclubs aimed at pleasing the ever-changing population of students, business people, artists, professors, families and people from all backgrounds and professions. Pauper's Pub offers a laid-back patio atmosphere that appeals to the neighborhood's diverse crowd. The food and drink options are affordable, the terrace is secluded and the setting is unpretentious. Whether you're looking for a place to party on a summer weekend or a relaxing drink outdoors after a long weekday at work, Pauper's Pub is ready to suit your mood.
Rooftop Lounge -- Thompson Hotel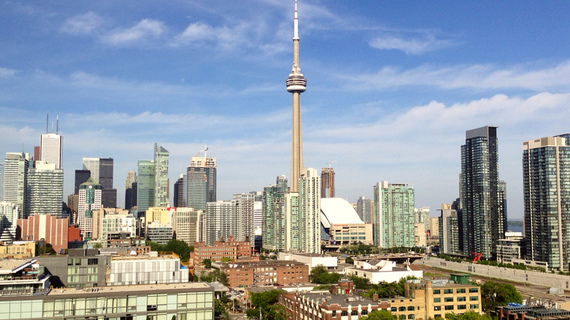 Photo credit: Julie, Dave & Family
Unless you have a lofty budget, the rooftop of the Thompson Hotel isn't a place you'll frequent throughout the summer, but it's also a place that should be visited at least once a year. The rooftop lounge is described on the Thompson Hotel's website as, "chic and exclusive," and those words describe it well. However, you don't have to be rich and famous to enjoy the 360-degree views of the Toronto skyline or the opportunity to take a dip in the hotel's infinity pool (only during daytime) with a swanky cocktail in hand. The Thompson Hotel's Rooftop Lounge enforces a strict dress code of, "smart evening attire," so don't be afraid to overdress.
Follow HuffPost Canada Blogs on Facebook
ALSO ON HUFFPOST:
New Toronto Restaurants For Summer 2016