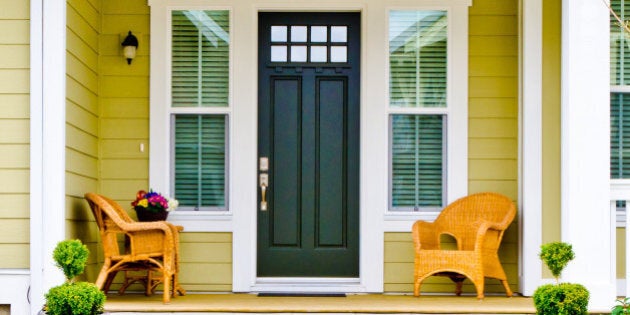 I don't know about you but if my entryway isn't tidy and free of clutter it doesn't matter how clean the rest of the house is, it just feels messy. Call it what you want, the vestibule, mudroom, foyer, it's the first impression you have of a home and if you don't have a good organizational system setup that works for you and your family you will constantly be fighting a losing battle.
Much like any other room that needs organizing there are many factors that come into play that will help determine what is going to work for you.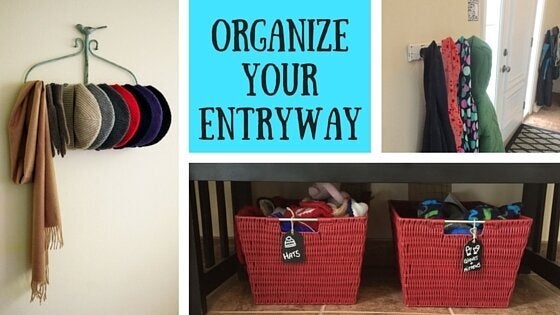 Who are you organizing for?
Do you have an adult only home? A few small children? A very wide age-range of people living with you? Do you have visitors over often? Really stop and think about the needs of the room and the people that pass through there.
Using the vertical space in a given room is a great way to increase your storage space. This is especially true in the entryway. A row of hooks on the wall for extra jacket storage, a shelf to store baskets; both can really help you get the most out of your space. Just be sure that your are factoring in the height of the people who live there. Hooks at the right level for children can really help encourage them to hang up their coats on their own and easily get them before leaving the house. If you don't have a lot of wall space, think about the vertical space you do have. Look at the inside walls of the front closet. You may be able to put some hooks there. You can also try using a closet doubler (basically a rod that hangs from your existing closet rod) for increased coat storage.
Accessibility Based on Frequency of Use
You really want to try to make items that are used frequently as accessible as possible. In the winter this means your hats, scarves, gloves. In the warmer months those items will switch over to the sunhats, sunglasses and sunscreen. You can store these items out of the way while not being used. While they are in high demand you can try open baskets or bins or even cute bags on wall hooks.
Try to think of defined spaces for your things in the same way that directions help us to get from point A to point B. When a path is clear it is easy to follow. This can be as simple as having a mat for shoes and boots, or labelling the storage containers. It is hard to blame the members of your house for leaving stuff all over the floor when they come in if it isn't clear where to put it. For your older kids, whose school bags end up all over the house, having hooks with their names or open-concept lockers may do the trick. Pinterest is my go-to website for inspiration. You can find all kinds of ideas depending on your decor and budget.
When organizing your space don't forget to have a bit of storage wiggle room for friends and family. This can be as simple as extra hangers (and enough space for what you will be hanging) in your front closet. I'm a "no shoes in the house" person. I blame it on my microbiology background and knowing how easily gross outdoor bacteria can get tracked inside and then directly into my children's mouths as they drop their food on the floor and then eat it. For that reason I keep a basket of slippers in the front closet in varying sizes for guests. That way I have something to offer them when I kindly ask them to remove their shoes before coming in.
When it comes down to it, this high-traffic area is just like any other space in your home. You want to try and think through how you are using it and what specific organizational issues you are having. Try not to go against your natural tendencies. Instead, find a way to work within them. If junk mail ends up in a pile near the door, then perhaps that would be a good place for a wastepaper basket. If your kids take off their socks as soon as they walk in, then consider having a small laundry bin handy. Organizing is personal and unique to each space and family. You just need to find what works for you and it will be nearly effortless to maintain.
Have a burning organization question? Get in touch here.
Follow HuffPost Canada Blogs on Facebook