It was supposed to be a commemorative photograph for a highly valued senator from a grateful prime minister. It seems to fit the bill: Mike Duffy and Stephen Harper are there on stage, Canadian flags behind them, and a lovely silver cursive inscription reads:
"To Duff, A great journalist and a great Senator. Thanks for being one of my best, hardest-working appointments ever! Stephen Harper"
But the photograph -- blown up to a 14-by-20-inch poster size by Duffy's defence team -- isn't really about Duffy. Much like the senator's trial, this is about the other man in the picture. The man standing in the centre of the photograph. The one in focus. The one with a smile on his lips and perfectly coiffed hair. Harper.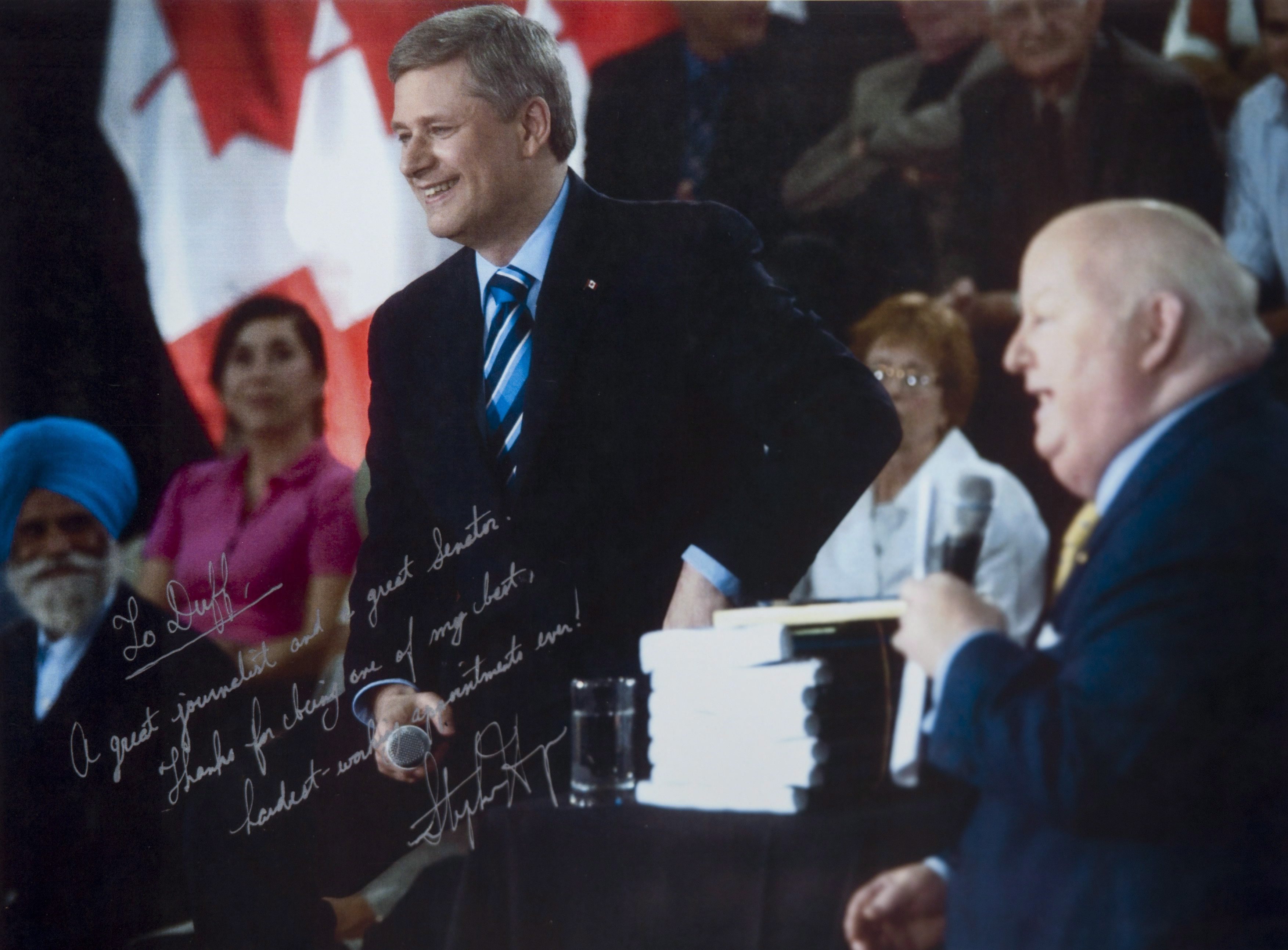 Duffy is there too, of course. He's sitting in the corner in a blurry unflattering shot with his mouth open, double chin and neck fat on display.
Mike Duffy's trial began Tuesday with stunning comments from the Crown and the defence. Duffy is accused of multiple charges of fraud and breach of trust as well as one bribery charge related to that $90,000 cheque from Nigel Wright.
Despite what Donald Bayne, Duffy's impressive lawyer, promised Tuesday -- "It's not a book of common sense, but it is a book that governs the Senate" -- this trial isn't really an indictment of the confusing Senate rules and policies (though that may be what gets his client off on several of the charges). This trial is going to be a long, drawn-out examination of the prime minister's role and vast influence.
Harper will take blows from both sides. The Crown has already said it believes Duffy wasn't qualified to sit in the Senate -- that the former CTV journalist and longtime Ottawa resident didn't meet the basic residency requirement to represent his native Prince Edward Island and that he should never have been appointed to the upper house. So why did Harper appoint Duffy?
Bayne has answers. Duffy was appointed to be a political tool for the prime minister, he suggested in his opening remarks. Was Duffy so valuable that the prime minister and those acting on his behalf would have bent the rules -- not once, but several times -- to protect him?
During the first three days of trial, Duffy's counsel laid the groundwork for a narrative that could prove quite damaging to the prime minister.
Duffy, or perhaps it was others around him, worried that the journalist didn't meet the Senate's constitutional eligibility requirements. The day of his announcement, a newspaper report quoted some Conservatives questioning Duffy's residency -- he summered at his cottage near Green Gables -- in the province.
Questions were raised. By whom? We don't know yet. But they were concerning enough for the aide of Marjory LeBreton, the Government Leader in the Senate, to write a memo to both Duffy and Pamela Wallin describing the Senate's residency and property requirements. Wallin was another former television star who was called to the Senate to represent her home province of Saskatchewan but who more accurately resided in Ontario.
The aide, Chris McCreery, said his understanding was that as long as a senator owned property in the province, he or she could represent the region in the Senate, even while living "in Ottawa 99 per cent of the time."
The court heard testimony this week from former Senate law clerk Mark Audcent that only the Senate can revoke a senator's seat and declare it vacant.
Bayne suggested the defence would allege that someone in the Prime Minister's Office told Duffy that the Conservative-dominated Senate would trump an independent audit process and disqualify him if he "didn't do certain things." Bayne called it a "very viable threat."
Audcent confirmed that the Conservatives have, as Bayne put it, a "political majority all the way down the line" from the Senate's committee on internal economy, budgets and administration, and its steering committee to the Senate itself. (Although the Tories didn't officially get the run of the place until the fall of 2010, they acted like it years beforehand.)
"If, in fact, you were receiving such threats, it wouldn't even be a matter that you would take to the courts, because it is a purely Senate decision," Bayne said.
Audcent doesn't seem to believe Duffy qualified as a resident of Prince Edward Island -- he didn't have a P.E.I. driver's licence or health card, his doctor was in Ottawa, his social circle was in the nation's capital -- but those residency "indicators" are found nowhere in any Senate documents used when Duffy was appointed.
Regardless of what he may have thought, the former law clerk told the court his job wasn't to police decisions. The Prime Minister's Office and the Privy Council Office were satisfied that Duffy met the constitutional requirements so they appointed him, and the Governor General signed off on it.
Once appointed, Duffy was told he needed to declare his primary residence as the place where he lives in the province he represents. So he declared his cottage at 10 Friendly Lane in Cavendish. The form to claim expenses also refers to that primary residence in the province a senator represents. On that basis, Bayne seems to suggests that Duffy not only thought he was entitled to the financial benefits -- the ability to claim per diems while in Ottawa and a nightly accommodations while he ate Swiss Chalet at his "Kanata bungalow" -- but that he had no choice.
Of course, Duffy could have chosen not to file expense claims at all. But as of Friday morning, the Crown had not made that point.
So Duffy did what he thought was right, Bayne would have us believe.
He was a "rookie senator," his lawyer repeats over and over in the courtroom. He was just trying to be a good foot soldier and please his new boss.
Why else would Duffy spend so much time away from his home in P.E.I. -- or the one in Ottawa -- to fundraise for Tory MPs? Why else, would he, as his diary entries suggest, discuss his role in the upcoming election with now- deceased Tory election chair Doug Finley or his participation in events with Harper with the prime minister's long time aide and now- chief of staff Ray Novak.
Duffy appears so consumed by his new role as captain of the Conservative cheerleading squad that he records in his diary the number of times his colleagues praise him in an April 2009 caucus meeting: "National caucus -- MD gets 4 positive mentions for speeches in MPs ridings."
Two months later, Duffy takes the stage with Harper to sell the Conservatives' stimulus plan in Cambridge, Ont.
Bayne showed the court that photograph on Thursday -- blown up to poster size, and with extra copies for the media in the room -- not because it has anything to do with the case. It doesn't. None of the expenses related to June 2009 are being questioned. But Bayne wanted to link Duffy's allegedly illegal expenses to the prime minister.
Duffy was travelling so much -- on allowable partisan business -- because he wanted Harper's approval, Bayne said. Audcent testified in turn that "there can't be a higher interest than helping the prime minister, especially if you're a senator on the government side."
The now embattled senator was just trying to keep his $132,000 job. Plus perks.
Maybe.
It is at least the groundwork for the suggestion that Duffy never put pressure on anyone for any money, that he always thought his expenses were on the up and up and that he went along with the plan to protect himself from the wrath of the Conservative party and the possibility that his former Tory friends in the Senate would boot him out.
That, of course, happened anyway. In the fall of 2013, the Conservatives in the Senate acted as judge and jury and suspended four of their colleagues without pay - Duffy, Wallin, Patrick Brazeau and Liberal Mac Harb.
Almost a year to the day after Duffy's expenses were publicly revealed, they had become too damaging to the prime minister and the Conservative brand Duffy had been appointed to promote.
This week, the focus was squarely on Duffy. Unlike in the picture, it was probably he, however and not the prime minister, who ended it with a smile.
ALSO ON HUFFPOST:
The Charges Against Mike Duffy