Getty
A country retreat for city-folk dating back to the early 1800's, call her old-fashioned but there is nothing stodgy about the beautiful Berkshires. Elegant homesteads and gilded-age mansions, gardens-a-plenty, picturesque Americana towns, antique shops and a food trail to rival any farm-to-table culinary destination. Pack your bags and your kids and head to Massachusetts!!
Here is a custom 48 hour itinerary for young families visiting the Berkshires: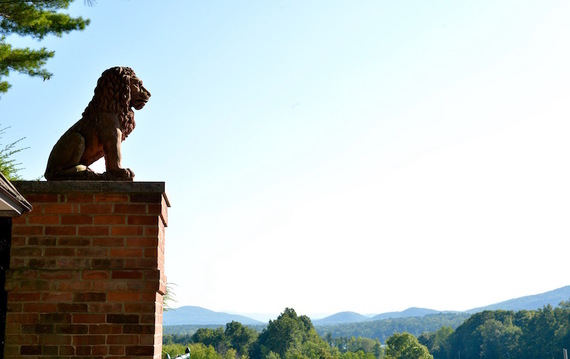 Views of the Berkshires and the bowl from the gates of Tanglewood, photo taken by author
Day 1:
Break-your-fast: at the Red Lion Innwhere the blueberry pancakes reign supreme. Add a side of local Berkshire pork sausage - obviously. Be sure to pay a visit to the house cat and ride the old-timey elevator for a glimpse back in time.
Morning Activity:Norman Rockwell Museum: a visit to Stockbridge is incomplete without spending some time in these history-filled halls. Norman lived and painted for much of his life in this community and the largest representation of his work can be found lining the walls. Kids will appreciate the paintings of children their own age.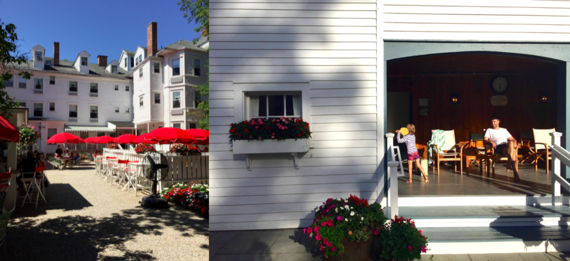 The Red Lion Inn, views from the garden patio, magic hour by the pool, Photos by author
Caffeinate: at Stockbridge Coffee & Tea - their housemade roasts are some of the best in the Berkshires!
If Tanglewood is in season (June - August), be sure to catch a matinee at Seranak Cottage, the summer home of the Boston Symphony Orchestra since the 1930's. You can order a picnic online via their website, or head to Ne Jaime's Wine Cellarsin Stockbridge for the best in gourmet fare - pre-packaged picnics or self-curated. They'll even pack your wine or beer on ice and provide serviettes and silverware!
Post-nap activity: Tour the guilded age mansion and gardens of Naumkeag. If you happen to visit over a Thursday evening, stay for the live music and food. If not, make your way to Table Six at the Kemble Inn for an early dinner. Grab a table on the grass and let your kids run amok across the vast lawn - it's enormous & inviting - while the adults enjoy a *moment of peace & tranquility *moment being relative of course.
Patio at Table Six and a selection of cheese from Ne Jaime's Wine Cellars, Photos by author
Day 2:
Good morning: breakfast at Haven in Lennox is a must - local, fresh and homemade.
Shop: Head to Great Barrington to poke around the sweet shops that line Main Street. One Mercantile for copper mint julep mugs, ceramics & salt water taffy, Rubiner's Cheese Mongers & Grocers for some funky fromage and of course, Tom's Toys.
Caffeinate: at Fuel and be sure to satiate any sweet tooth craving with a scoop or two of the inspiring flavours at SoCo Creamery up the road.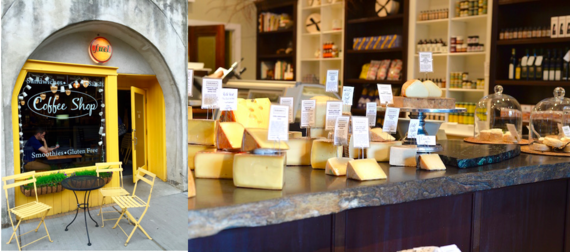 Fuel Coffee shop and a selection of fromage from Ruiner's, photos by author
Post-nap activity:Jacob's Pillow is an iconic dance festival and historic landmark nestled in the berkshires. Next year will mark their 85th Anniversary and performances run from June 17 - August 27. If you are lucky enough to plan your visit during these summer months, be sure to attend an Inside/Out performance - free and open to the public showcasing a wide range of dance companies and dance styles. Each performance wraps up with an audience question and answer period. Running Wednesday - Saturday.
Spend an evening channeling the life and times of Edith Warton at The Mount & Gardens (her beloved country estate). Fridays and Saturdays throughout the summer offer live music and jazz as part of their After Hours program on the terrace (5:00 - 8:00 PM), while Fall is a great time to take a ghost tour of the home and property. Admission for children is free.
Other family-friendly dining options worth a visit:
Widow Bingham's Tavern, Stockbridge: this century old Dining room is part of the Red Lion Inn, the pub has been satiating appetites for lunch and dinner since the 1800's. You'll enjoy hearty soups, fresh fare and savoury classics - plus a kids menu for picky minis.
Prairie Whale, Great Barrington: Former brooklynite and well-known restauranteur, Mark Firth, has brought his farm-to-table cuisine closer to the farms themselves. Serving delicious, seasonal, hyper-local meat and produce, the menu changes daily. Better than Brooklyn!!
Frankie's Ristorante Italiano, Lenox: Casual and fun American Italian cuisine - very welcoming to young families.
The Scoop, Lenox: for heartbreakingly creamy ice cream.
Family-friendly Lodging:
The Red Lion Inn: for history buffs and vintage lovers, there is no greater place to lay your weary heads than this great American Inn. Full of an impeccable collection of antiques, charmingly creaky floors, an epic porch with rocking chairs to watch the world pass by and a blazing hearth for chilly evenings in the lobby. Rooms start at $265/night.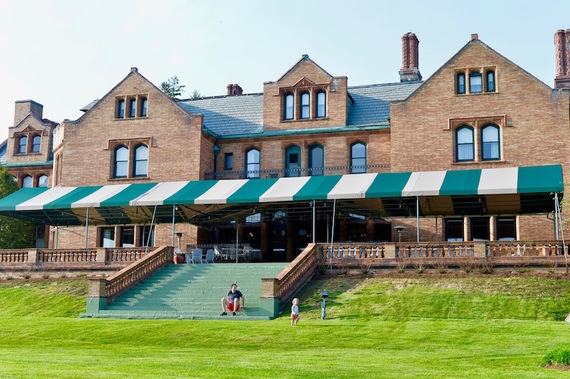 Cranwell Inn, photo taken by the author from the vast lawn
Cranwell Inn & Spa: a former gilded-age mansion to a once wealthy industrialist - turned boarding school for boys, nestled on 380 acres amidst the Berkshire hills, is now a resort for all four seasons that has been upgraded with comfort in mind. Lots of space for families to spread out and enjoy the elegant surroundings. And with an 18 hole golf course, full-service spa, indoor swimming pool and exquisite cross-country skiing throughout the winter, there will always be something fun to do as a family. Rooms start at $199/night.