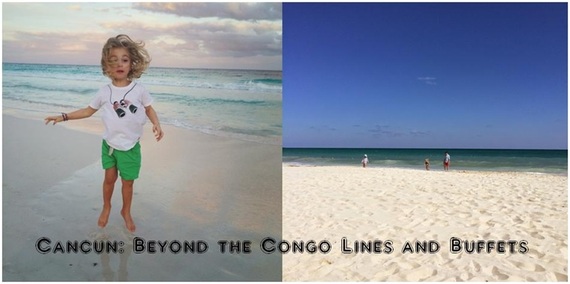 It's hard to believe that less than 40 years ago Cancun was but jungle and deserted beaches. This resort town quite literally rose from the sand thanks to the enterprising Mexican government.
By the late 1970s, the promise of tourism had attracted the prospectors, developers, hotel chains and restauranteurs who all waged a war against the tropical conditions to bring us an artificially augmented paradise. Condominiums went in like cockroach colonies, multiplying by the month.
They worked fervently to overcome the inhospitable jungle terrain. Shortly thereafter the tourists arrived -- sun seekers and beach bums from all across North America and beyond. Bringing with them their foreign currencies and buying power.
The hotels, resorts and gated communities evolved to give them what they wanted and expected from their packaged tours and vacation properties. The buffet lines formed, the nightly entertainment, a mockery of the local and national culture, set a certain expectation that was mimicked repeatedly until these vacations became formulaic. Soon Cancun was a hub of debauchery and budget-friendly holidays for merrymakers.
But what lies beyond Cancun is a treat for the traveling family in search of luxurious accommodation, five star service and tropical flora and fauna. The cheerful turquoise waters beckon at the following destinations:

For the family looking for discreet and thoughtful lodgings, opt for a sanctuary pool villa at the Banyan Tree Mayakoba. This luxury resort located down a windy cobblestone drive, amidst jungle fauna, feels miles away from Cancun and Playa Del Carmen, but that's exactly the point. Your kids will enjoy the privately chauffeured golf carts that collect guests from their rooms and the elegant boat ride to and from the beach. The walk-in closets are roomy enough to accommodate a crib so that mom and dad can bask in the luxury of the stunning bedroom privately. Spend the morning by your private piscina, sipping espresso while your kids watch cartoons on the big screen tv in the designated living room that opens onto the private pool and courtyard. If you can tear yourself away from the lounge chair, be sure to book a family cooking class led by one of the resort's celebrated chefs.

There is something for the whole family at the Fairmont Mayakoba. Book a signature casita overlooking the lagoon, with a huge bathroom that easily accommodates a crib or rollaway cot for your little(s). Special touches will make this a memorable getaway for everyone, but your children will enjoy the miniature versions of standard hotel issue slippers and robes, fresh-baked chocolate chip muffins and milk before bed and a full-service discovery club (ages four to 12). Think epic adventures in the sacred Mayan jungle and hands-on opportunities to create locally-inspired handicrafts. Children of all ages (and mom and dad too) won't want to miss the eco tour by boat to discover all the wildlife who call this intricate channel of waters surrounding the resort home.

Originally a coconut plantation, the elegant Maroma Belmond is the only historical property along the Riviera Maya. It's rooms and suites are all built parallel to the ocean so no guest need walk any further than 60 metres to arrive at their pristine beach front (awarded best beach by Travel + Leisure). Families will appreciate small details like the anti-chamber off the master bath that can be used to safely accommodate your littles or tweens. Also on offer are age appropriate toys for the kiddos to enjoy throughout their stay, a healthy menu created by award winning chef Juan Pablo Loza who is himself a father of three, and a bike tour through the jungle to behold the natural beauty of their 200 acres. The spa is a favorite of Condé Nast, be sure to book in for one of their unique treatments even if you are staying down the beach. Same goes for their themed evenings - taco night, mezcal tasting in the Mexican Cantina, and even a bbq beach party.

The grand entryway definitely sets the tone for the grand property and epic stay that is sure to follow. For families in search of a luxurious and relaxing beach resort vacation, the Grand Velas is a sure bet. Part of The Leading Hotels of the World, the service and amenities are top! The family concierge is a nice touch - in charge of everything from your dinner reservations (5 restaurants to choose from) to your daily itinerary (all beach activities are complimentary) and questions around childcare (no problem, thanks to their roster of in-house, certified babysitters). The rooms are large which make accommodating a crib or rollaway cot a breeze. Plus, poolside popsicles, wine carts at dinner (chock full of every varietal you could possibly desire), and special events like a seafood beach bbq will all help to make your stay even sweeter. And speaking of sweet, your kids won't want to miss the cupcake decorating workshop hosted by some of the resort's chefs as part of the amazing roster of events held in their kids club.

If you don't mind heading further south along the coast, you will be rewarded for your effort with an epic beach that has more of a local feel, Xbu-ha, the only stretch of coast along the Riviera Maya that has not yet been developed. Among a few properties here, you will find the ultimate hideaway, Hotel Esencia. In the former private home of an Italian Duchess, where the guiding principle is still to provide a place of leisure for nobility (or those who feel they deserve the same treatment), book a suite or villa (only 29 in total) and check-in for a memorable family escape from reality. Be sure to take your afternoon tea (complimentary) or book a babysitter so you can enjoy the sunrise yoga.

Slightly farther afield (80 miles south of Cancun) but well worth the effort, you will find a small family-run beachside hotel that feels more like tree-house living than a resort stay. An intimate property deep in the jungle, Sueños Tulum, meaning 'dream', was and continues to be a labor of love conceived, designed, built and updated over the past 10 years by it's warm hotelier family. Along this stretch of beach, a lack of air conditioning and electricity are huge selling features to the gypset traveler attracted to this chic little beach town. At night, fall asleep to the sound of the crashing waves from your perch in the trees. With bamboo shades on the windows, the morning light will peek through to rouse you at dawn, just in time to take in a glorious sunrise with a steaming cup of coffee. With several friendly dogs on the property and lots of beach toys for your kids, this is the perfect place to unplug and reconnect as a family.
You can see some of our family photo album from our Riviera Maya frolicing on the blog.