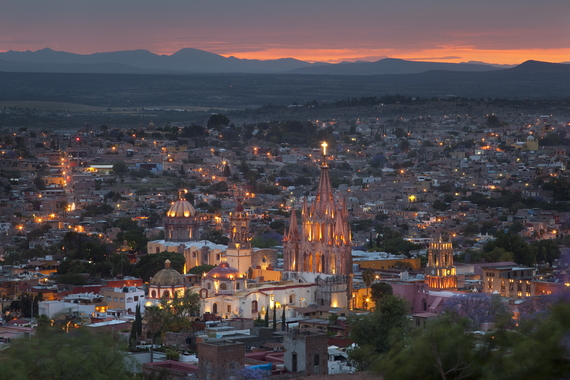 After our car collected us from the tiny regional airport in Querétaro, we snaked our way out of town and began to take in the landscape beyond our windows. Gone was the cold tundra of Ontario with its grey January skies and roadside snowy mounds stained by exhaust. Before us was the most spectacular light (especially for 3 p.m. on a winter afternoon), the arid terrain of the desert, and the spiky, spiny plant life that grows abundantly in these parts. My travel companion was my two year old Atticus (a man of few words) who surprised me by declaring enthusiastically: "Mexicooooo" as he looked out the window in wonder.
No, we weren't headed to some coastal gated community or beachside all-inclusive. We had touched down in central Mexico. And when I say central, I literally mean the geographic center of this beautiful country (they even have a statue erected to memorialize this fact). Curiously, 70 per cent of all Canadian tourism to Mexico is to its coastal towns.
We were bucking the trend of beachside cabanas and contained kids clubs in favor of the rich colors, magical sights, picante flavors, cross-cultural interactions and intoxicating scents of colonial Mexico, the world heritage site of San Miguel de Allende to be specific. I was determined to make this an adventure my son would not forget. As is fitting to our experience, the account of our travels is broken down into five categories to reflect each of the five senses. Let the adventure begin.
Hear:
When I close my eyes and think of San Miguel, I immediately hear the morning call of the roosters, church bells chiming, children's laughter, and crickets buzzing at dusk. I also hear the Spanish language rising and falling with it's unique rhythm and melody. However, if there was one thing that struck the biggest chord with Atticus, my wannabe rockstar, it was all the live, and at times, spontaneous musical performances.
From multiple mariachi bands in the main square (El Jardín) to singing duos popping up at the many markets. We also encountered professional musicians playing in the numerous cafés. You could say that music is in the San Miguel air. Toddler Tip: Hang out in the Jardín on weekends and evenings for Mariachi and live band spotting, and be sure to visit Buen Día Café on Sunday mornings (10-11) to hear an acoustic set by Ernesto Auerbach. Bonus, owner and barista Juan Carlos makes the best cappuccinos in San Miguel!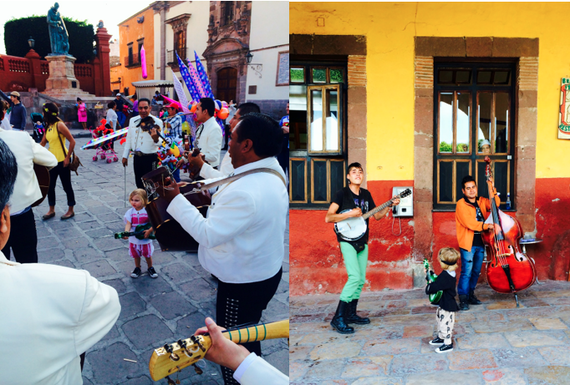 Smell:
From the smell of grilled meat that fueled our hunger, the sweetness of ripe mangoes at the market to perfumed bougainvillea crawling up the ancient walls, our noses were alive with deliciousness the whole trip.
Toddler Tip: Follow your noses to the taco stand at the corner of Calle de Mesones and Pepe Llanos. Atticus loved watching the all-male team prepare our tacos from the roadside perch. This food truck was a food truck before 'food trucks' were a thing and has a fun eat-in bar. The tacos and quesadillas are outstanding. It also doesn't hurt that it was once included on a list of the world's best street food by Conde Nast Traveler.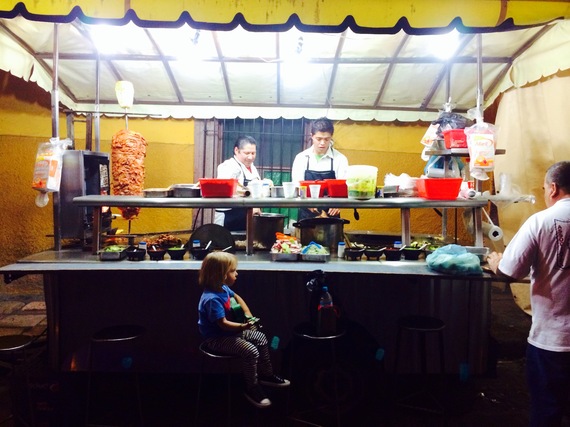 See:
San Miguel is known for its great light which has been attracting artists and photographers for years. As such, the town is filled with galleries and artisan markets (both permanent (Galeria Ensueños) and semi-monthly -- The Arts & Crafts Fair held at the Instituto Allende) featuring local art and handicrafts. Of note, we always visit Fabrica La Aurora, a converted fabric factory now full of galleries and artists workshops.
I was determined not to let the colors of Mexico become commonplace. A trip to the local fruit and vegetable market was a visual feast for the eyes of any child (or adult for that matter), and a daily reminder that we were NOT in Canada. The well-worn cobblestone streets appear golden at certain times of the day and the vibrantly painted buildings were an ongoing lesson in color theory.
Toddler Tip: Be sure to visit the Parroquia -- allegedly this religious monolith overlooking the Jardin served as inspiration for Walt Disney's castle when he visited in 1951 while shooting a movie. It is magical at dusk -- after the sun slips out of site and the lights slowly twinkle. For a killer birds-eye view, head to Luna, the rooftop bar at The Rosewood Hotel and ask the wine steward, Elias, to help you choose a glass of local vino.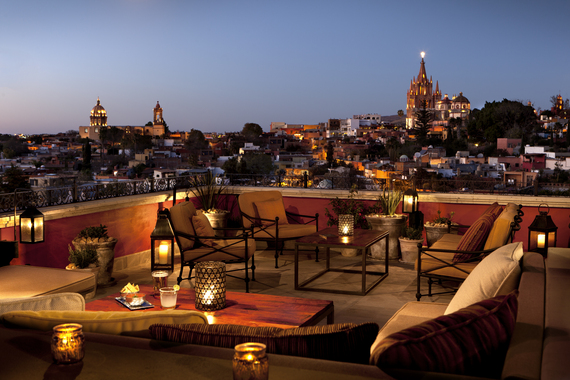 Touch:
The Latin American culture is so warm and nurturing. The amount of head pats and hair ruffles doled out to Atticus by sweet locals was heart warming. Few cultures match this respect and appreciation for parenthood and family. Which is why I rarely felt the need to apologize for any over-exuberant toddler behavior while in public.
Toddler Tip: For less than $5 make your child's day by letting him choose something special from one of the many toy sellers in the Jardín. From balloons to snakes and little toy dogs on leashes, the tactile fun is endless. Another favorite pastime was to visit Parque Juárez - the tropical plants and pathways are a beautiful place to roam, and we always ended the visit with a romp around the amazing playground to climb aboard the big metal turtle and play the toy instruments (drums, shakers and horns).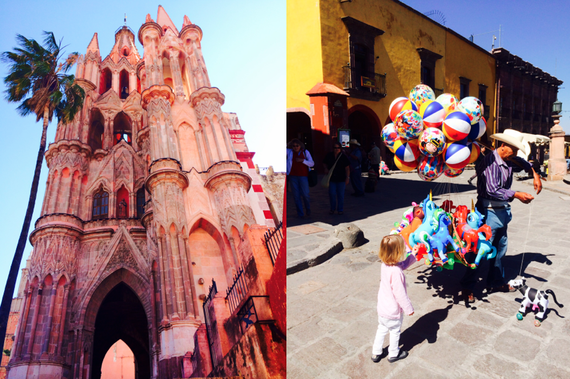 Taste:
These days, Mexican cuisine is experiencing a bit of a renaissance with trendy taquerias and cantinas popping up in the world's most fashionable cities. While you can certainly find a mean bowl of guacamole in San Miguel, it also happens to be a culinary treasure trove of all types of food and flavours. Our days always began with a sweet and juicy mango. It was also fun introducing Atticus to some of my local favorite meals and snacks. From traditional pozole (a rich pork and hominy soup), coconut and other fresh fruit gently dusted with chilli powder, fruit popsicles called paletas, street tacos, and for special -- warm churros straight out of the deep-fryer rolled in sugar and cinnamon.
Toddler Tip: Be sure to try a traditional Barbacoa. It's a Sunday feast (equivalent to our "brunch") hosted in a temporary roadside tent. The meal consists of a succulent and extremely tender roasted lamb served with homemade tortillas, pico de gallo, fresh lime, hot sauce, onions and cilantro. Its the Mexican version of make-your-own tacos, and you and your kids will love it equally!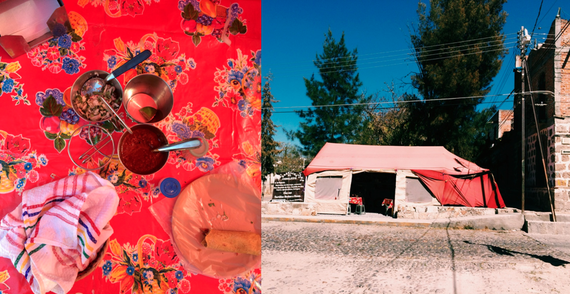 After a couple weeks of the vibrant colors, mouth watering tastes and scents, the varied sounds and warm vibe of San Miguel, it was time to pack up and head home to Canada. I can tell you that our cab ride from Pearson in the cold, dark night was a bit of a let-down after such an exquisite and overwhelming trip. But no denying there's no place like home!
--
Where to lay your dizzy heads. Because this city is such a feast for all the senses, the following suggestions provide easy access to the energy and excitement, while still offering a refreshing oasis to unwind: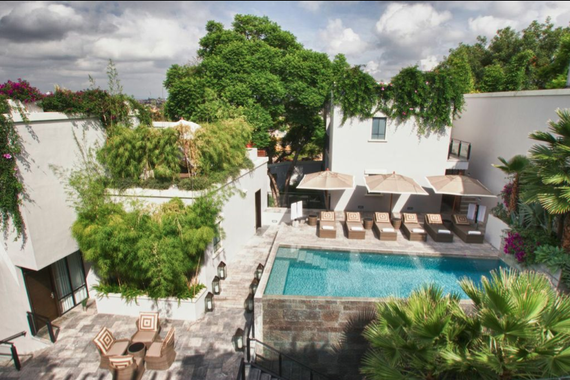 This elegant boutique hotel doesn't scream family-friendly, which is exactly what piqued our initial interest in the property (nothing worse than an over-crowded kid-zone). But what won us over was their warm welcome and the way they accommodated all of our unique needs. Atticus was always greeted by name when coming and going, which was a personalized touch that added a welcome intimacy to our stay. We were both fascinated by the hotel's original contemporary art collection which spawned much conversation (well...gibberish) between us. And most helpful, we were generously granted a late check out to accommodate Atticus' nap schedule.
Pssst Parents: Be sure to take advantage of Hotel Matilda's babysitting service and indulge in a treatment at their award-winning spa. Having just launched their own apothecary, I enjoyed a facial completely customized to my skin. Ask for Ledia Cámara.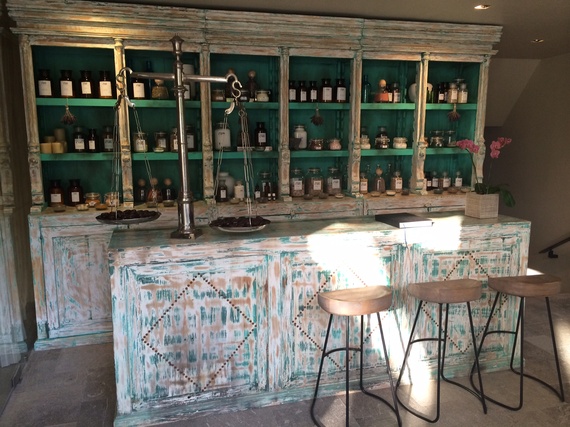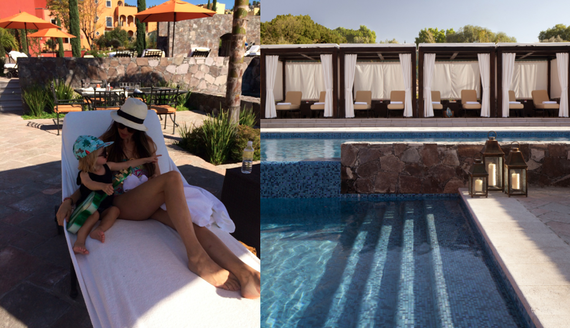 A warm welcome awaited us at The Rosewood San Miguel. To say this hotel caters to families would be too glib. We were welcomed with drinks and homemade cookies in the elegant lounge while they prepared our room. The suite was enormous and very well appointed complete with standard kid-friendly amenities like a full-sized crib, fridge to store milk, even a high chair. But where they really went above and beyond was with the diaper genie, bottle sterilizer, bottle warmer, mini robe and slippers for Atticus, and best of all, a kid-friendly mini-bar full of local handmade toys and treats. The bathroom had extra diapers as well as natural baby products - perfect for the neurotic mom! It was so luxurious to have a relaxing oasis to retreat to every afternoon, and we spent many hours enjoying the facility. The food and service at Luna (the rooftop bar) and 1826 Restaurant were exceptional, but despite how elegant it was, I never felt uncomfortable bringing my toddler to dine. Atticus particularly enjoyed the shallow kiddie pool, while I appreciated the plush lounge chairs covered in large terry cloth and shady cabanas to escape the sun's midday rays.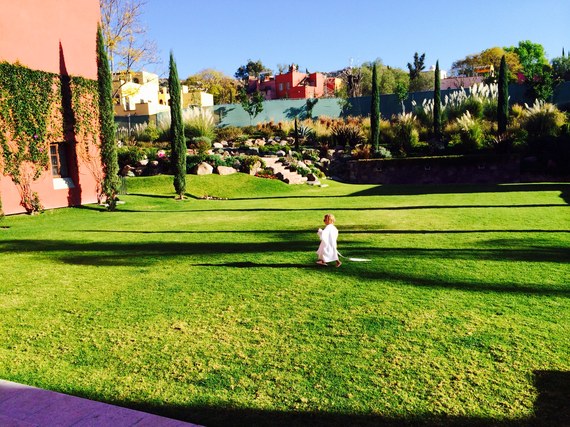 For a comprehensive list of our San Miguel recos and tips, visit our CITY Guide.
MORE ON HUFFPOST: