Nikki Gardner
As the season rapidly changes, we have to say farewell to both warm days and the beloved seasonal fruits that go along with them. Goodbye, juicy watermelon. So long, luscious strawberries. But chin up fruit lovers, there's a new star in town!
One sweet fruit that's taking centre stage this season? Pears! The imagery that comes to mind involves an autumn afternoon in western France, sitting beneath a tree with a good book in one hand and a perfectly ripe pear in the other. Can't quite afford the plane ticket to Europe? No need to worry -- the deliciously fresh and lightly sweet quality of pears can be enjoyed in countless recipes and served in the comfort of your own home this fall season.
Buy
It is best to select pears that are hard on the surface with the slightest give when gentle pressure is applied around the stem. So, if you're purchasing pears in preparation for a mouth-watering recipe in a few days, make sure to buy slightly firmer or under ripe; hard pears will ripen to the perfect sweetness if left on the counter at room temperature. Or, if you're walking past a market and suddenly crave a sugary snack, pick up a pear that's supple to the touch!
Store
Pears are best kept at room temperature while they ripen. Leaving them in a bowl or basket on the counter in regular light are perfect conditions to allow their soft and delicious potential to come out! Once ripened, it's best to store in the fridge, in a single layer to ensure that no bruising or discolouration occurs.
Prepare
Another great attribute that pears possess? They are so adaptable in their uses and fit into such a wide variety of recipes, the options are endless! They can be boiled into an applesauce consistency, baked in a chip form, caramelized with spices like cinnamon, and of course enjoyed raw.
Fun Facts
The Greeks adored pears, too, it seems. They were both eaten in ancient Greece as well as used regularly for curing nausea and flu-like symptoms. Pear leaves were also commonly smoked in Europe before the introduction of tobacco.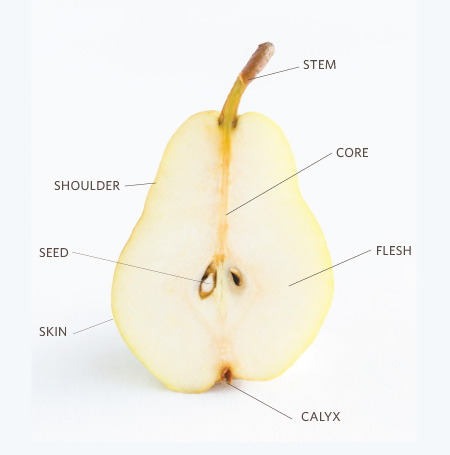 Anatomy of the Pear