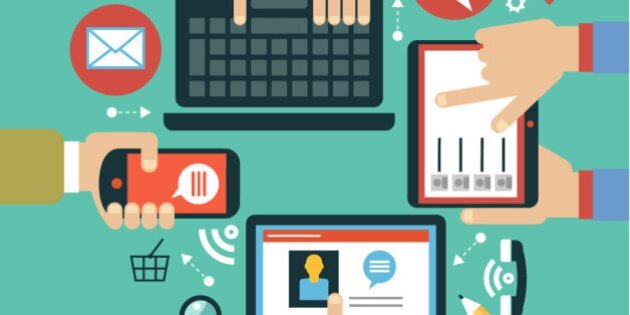 "Why is summer mist romantic and autumn mist just sad?" English children's writer Dodie Smith describes in her first novel what many of us feel around this time of year. We squeezed in too much during the last few months, thanks to long warm days and endless summer festivities. While it's hard to say goodbye to flip-flops and BBQs, September is an ideal time to get your life back on track. As a technology lifer, I can best explain the necessary steps to do so using a computer metaphor.
When you're running multiple programs non-stop on your laptop, there is a good chance that your device will slow down and eventually freeze up. In the summer months, humans react similarly. We've been overeating, overspending, and under sleeping. Fortunately, as all good geeks know, a clean restart will often solve 99 percent of your problems. And, with a little help from some apps, you might even enjoy that autumn mist this time around.
1. Take the 7-minute-a-day workout challenge.
Time is our enemy, so a 7-minute workout app should be our friend. The 7 Minute Fitness Challenge is an award-winning download that aims to help people with busy lives. The team behind the app used scientific research to develop 12 high-intensity exercises that can be performed in a short time frame. With more than one million users, the app provides step-by-step instruction and tools to track your progress.
2. Turn lunch making into game time
If you're a parent of a school-age kid, you know that September means it's time to start packing lunches again. For many people, this can be a frustrating process. Chances are that your kids have eaten a lot of sweets over the summer months so it's tough to get back on track. LaLa Lunchbox turns everything from grocery shopping to choosing healthy foods into a fun family adventure, monsters included!
3. Keep your finances at your fingertips with mobile banking.
It's a bit too easy to overspend when you're traveling in the summer months and hanging out on patios long into the evening. Fortunately, Canadian banks are doing a good job on the innovation front in terms helping you to manage your money on the go. Scotiabank's mobile banking app tied (with CIBC) for the highest overall score in Forrester Research Inc's Canadian Mobile Banking Functionality Benchmark. Thanks to features such as Scotiabank's Quick Balance and live in-app customer support, you can always have your budget at your fingertips and better manage your finances on the go.
4. Track your sleep cycle for a better night's sleep.
Long summer days most likely meant less sleep. With cooler weather and earlier bedtimes, we can all finally get the shut-eye we need. The Sleep Cycle app allows you to take your rest routine one step further, this app uses your phone's accelerometer to track different phases of your sleep. With its built-in alarm clark, it will wake you up in the morning when you're most ready (based on a 30-minute alarm window that you set in advance). And don't worry, if you desperately need a few more minutes of sleep, you can shake to snooze.
5. Log your meals to manage your health and nutrition data.
Research studies show time and time again that weight lost and weight management is easier when you track what you eat. Although there are plenty of apps available to help you do so, Cronometer is one of the most robust. Aside from integration with Apple's Health Kit so you can export your data to the Health app, this download also makes it easy to input what you eat on a daily basis and hit your nutrient targets.