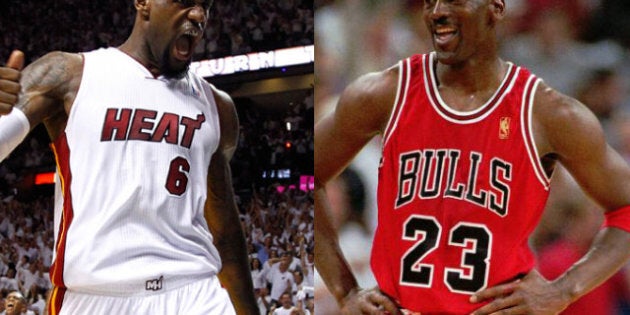 I was in Grade five when I fell in love with basketball. Michael Jordan fuelled my over-the-top obsession with the sport. The Bulls felt like they were my family members. Each victory of the Chicago Bulls felt like my own. Being a kid with a disability didn't stop me from dreaming of dunking or playing one on one with Michael Jordan. I couldn't participate in my school's winning basketball team, but every gym class I attended, I kept score with a chalk in hand as though it was my basketball.
To quote Jay-Z, "Psycho, I'm liable to go Michael. Take your pick. Jackson, Tyson, Jordan, game six." Going Michael meant, you took life by the horns like Jordan in game six of the 1998 NBA championships. That game taught me how to persevere and make every second count. Because those few seconds could be the difference between winning and losing -- as was the case in the 1998 NBA Championships.
Gatorade had an amazing commercial that featured Michael Jordan, it spoke to my soul:
Sometimes I dream

That he is me

You've got to see that's how I dream to be

I dream I move, I dream I groove

Like Mike

If I could Be Like Mike

Again I try

Just need to fly

For just one day if I could

Be that way

I dream I move

I dream I groove

Like Mike

If I could Be Like Mike
Where am I going with this nostalgia, you might be asking? I smile as I write this, because I really did believe I could do anything as a child. My disability might've hindered me physically, but the truth of the matter is you are only as disabled as you think you are. That is how I have lived my life.
Defying people's expectations has been one of my missions in life. When I was young, I was made to believe that I couldn't do a lot of things. I couldn't walk, I couldn't go to school, I couldn't have kids, and I couldn't drive. With the help of Shriners' hospital, and an incredible family I was able to defy all of the odds that were against me.
When someone meets me, their first impression might be that I am disabled, but that is not the last impression they will leave with. With all this oozing self-confidence, I should be good, nothing should bring me down. I am done proving myself to the world. Take me as I am. Amber can take on the world. I know this, but do my kids?
Here's the reason for me writing this article. Kids don't recognize your list of accomplishments. Kids out of their curiosity and boldness do say the darnedest things. I have three. I hear the darnedest things three times more than I'd like to in a day.
This past month my kids went zip-lining for a school field trip. Something I've wanted to try out for years, but haven't gotten around to it yet. The first thing that my two oldest children said to me when they got home was, "Mommy, zip lining is awesome, but you can't do it."
YOU CAN'T DO IT. Those four words are the Joker to my Batman, kryptonite to my Superman -- I hate them! Because I take those words as a challenge, they make me want to try harder. I will zip-line one day. To my husband's' dismay I also plan to skydive -- he's afraid of heights.
Coincidently the day my kids went on that field trip, was the day I was going to a women's blogger conference -- She's Connected, in Toronto. At the conference there were a lot of brands engaging blogger feedback. The title sponsor for She's Connected 2012 was Ford Canada.
Ford did something unique, they had us Make Your Escape video. Standing in front of a blue screen, with the direction of the Ford team, I made my Escape. I got to skydive. Little did Ford know, what was a fun exercise for them, was a monumental event for me.
I came home from the conference pumped and full of excitement. The first thing I did, was show my naysaying children, that mommy can't be told what she can or can't do. My 10-, and 11-year-old argued with each other for a bit, about the legitimacy of my skydiving adventure. I didn't jump in to say, it was a fake.
Until I skydive for real (or until my kids learn to Google mommy, and find this article), the Ford Make Your Escape video is my "Like Mike" moment. Shhhhh... it's our little secret.