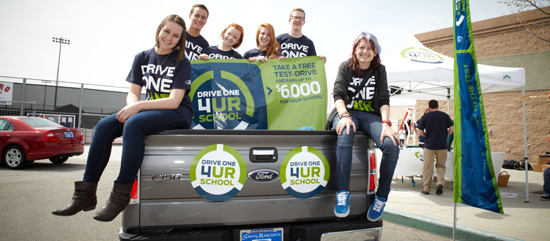 *Credit: Ford Motor Company
Recently I was invited by Ford Canada to attend the Montreal auto show. I got to check out all the new Ford and Lincoln cars and trucks. I also had the opportunity to meet two key players from the Montreal Canadiens -- Carey Price and Josh Gorges!
All in all I had a great time, but what I really enjoyed about hanging with Ford is how customer focused and down to earth they all are. They are really trying to understand the needs of Canadians and how to make a difference in our everyday life. Their desire to make a difference isn't limited to products and services. They are working very closely within our communities to make a difference by giving back.
This isn't uncommon for a large brand, but what I love about how Ford does it, is how locally focused their work is. There are countless corporations that are dedicating a large chunk of their profits for different causes. But Ford really does it well as they have a global strategy that integrates very well locally.
Ford started "Drive one 4ur community" or "drive one 4ur school" to fill a great need. This program partners up schools and communities that have Ford dealerships to do a fundraising event. This is a community-based event that allows a very unique form of fundraising/awareness campaigns that helps communities raise money without asking the people to dig into their own pockets.
"Since 2010, Canadian dealers have raised more than $2 million for schools and community organizations across Canada."
One driver per household can test-drive a Ford vehicle, and for each drive, Ford donates $20 up to $6,000!
Imagine how easy and fun that is, and you don't have to put a penny down. Participants have the opportunity to drive one of the following vehicles; the Ford Edge, Escape, Focus, Fusion, Mustang, Super Duty and other models available to the dealerships. I would love to drive a Mustang and make a difference at the same time!
This is a wonderful and unobtrusive way for Ford to introduce it's new cars to people who may not have tried them otherwise. Some may ask "Why doesn't Ford just write the community or school a $6000 check?" We ask, "How else are YOU supposed to raise awareness about your cause, without your community getting involved?"
Since the Drive One initiative came to Canada in 2010 there have been more than 1,000 events which lead to over 160,000 test-drives. Crazy cool eh?
The Ford Drive One events have been used to raise funds for local sporting groups, gyms, help fund housing projects, and mentorship programs for at-risk youths.
According to media team in the U.S.:
"Drive 4 UR Community is very similar in concept to Ford's successful Drive 4 UR School initiative, which has raised more than $12 million for local schools since its inception in 2007."
Ford's Drive One events have helped with relief efforts for communities that were hit by natural disasters including tornadoes and hurricanes. Many schools needed money desperately to recover from loss and damage.
Perhaps the most inspiring story has been a Canadian one. In 2012 a Ford dealership in Abbottsford British Columbia, Magnuson Ford - made a joint effort and partnered up with several schools and broke the record for most funds raised by one dealership. They raised a total of $148,000 for their schools!
Learn more about this amazing local in the video below.
(video credit to Ford Canada blog by Rannie Turingan)
This is a fun and easy way for a community to raise money for a cause they care about. It allows for a dealership to learn more about their community, make a difference and introduce new and upcoming Ford cars and trucks.
This is an amazing example of a brand putting their money where their mouth is and helping people help themselves. Ford literally puts you at the helm of your favorite causes.
"We are proud of the impact this program has had in bringing together community members to support their students and neighbors in Quebec. The commitment of both Ford of Canada and Quebec dealers to give back to their communities is something we take seriously and that's why the program is back in 2013." says Bert Lessard, General Manager for the Quebec Region at Ford.
So next time your community is looking to raise funds for a Women's shelter, play ground or gym, ask yourself this, "have you driven a Ford lately?"