Four-thousand. That's the number of children currently orphaned as a result of the Ebola virus in Guinea, Sierra Leone, and Liberia, according to UNICEF. Several hundreds of thousands are affected in other ways: witnessing the death of relatives, school closures, quarantines, and the lack of safe spaces to play. Ebola has robbed thousands of their good health but has robbed thousands more of a normal childhood. Sierra Leone and Liberia in particular - both countries that only very recently overcame years of civil war,, where the use of child soldiers was common, are particularly at risk of further psychosocial damage that disproportionately affects children.
Much has been written about the role of international development in the Ebola crisis and funds raised from a controversial song that paints a bleak and desperate depiction of the entire continent of Africa, still 30 years after the songs initial release. Indeed, while some organizations have taken a humanitarian lens that echoes themes from Joseph Conrad's Heart of Darkness, others have more appropriately addressed the need to empower local communities. The focus has, appropriately, been on infection control. At this time, at least in Liberia and Guinea, it seems the infection rate is stable, though it could get worse, with Sierra Leone still being widely affected. Canada has committed $113.5 million to addressing Ebola, with $10 million dedicated to children's efforts, through UNICEF. These have been primarily allocated for infection prevention and control, in addition to medication and vaccine delivery.
Yet for the children in the Ebola-stricken regions, it is crucial that further resources be allocated to the delivery of other aspects of child health. Similar to war, such a severe epidemic can wreak havoc on the mental health and well-being of children. Many of these children have witnessed deaths in their family, are transitioning to new living environments, missing school, and not given the opportunity to play in safe spaces. Further, there are others, who after being orphaned, are now facing severe stigma and anxiety. These can all result in a variety of sequelae, such as post-traumatic stress disorder (PTSD), dissociative conditions, depression, attention problems, and behavioural issues. PTSD in particular can have severe consequences immediately and later on in the life course. The closing of schools - a place to learn and play and be a 'normal child' is also having a severe effect, with many schools estimated to be closed until March 2015 at the earliest. The 21-day home-based quarantine, that reflects the incubation period of Ebola, has the side-effect of preventing socialization and other forms of stimulation that can be found outdoors and interacting with other children, not to mention the mental stimulation offered by schooling.
There are efforts to address these more subtle "shadow" conditions that Ebola has created, while also being sensitive to the need to contain spread of the virus. For instance CODE, an Ottawa-based NGO I have had the opportunity to come to know well, has over 55 years of experience working on global literacy issues. Their programs in Liberia and Sierra Leone fund and produce children's books written and illustrated locally that reflect the lives of local children. In the past, topics covered by the writers have been a mix of contemporary issues (for instance child soldiers) and playful topics (for instance the joy of taking a bath). This initiative represents a partnership between champions from those countries who are most familiar with those issues, and a partner in Canada that can help with the logistics of printing and distribution.
This year, at the request of their partners in Liberia, CODE has created "Homeschool Kits of Hope" -- packages of books and school supplies for distribution to the children who are currently quarantined or living in centers as a result of the Ebola crisis. A total of 60,000 books will be distributed, along with materials to help families protect themselves from Ebola, created in a style sensitive to the already low literacy rates in the country. It is hoped the kits will help keep children healthy and engaged while waiting to attend school. In addition, CODE will be distributing 60,000 books in Sierra Leone and their US based affiliate the International Book Bank (IBB) has shipped 86,000 books for Liberia, for a total of more than 200,000 books. Canadians can visit CODE's website to learn more about contributing to this campaign.
Further, Hamilton, Ontario's Leo Nupolu Johnson, a brilliant community champion whom I was lucky to meet several years ago, has also made strides in addressing children's issues in Canada, the Liberian diaspora and in Liberia, primarily through empowering youth through literacy and education. Johnson himself was a Liberian refugee for 8 years prior to moving to Canada and excelling at McMaster University. Since arriving, he has taken leadership roles on Liberian issues while here in Canada, changing the narrative on what it means to truly partner in an international development project. In response to Ebola, Johnson has used his organization, aptly named "Empowerment Squared" to re-tell the development narrative, primarily by raising funds for a Learning Centre in Liberia, which will house the first public library in the country. Canadians can visit the project website here to learn how to become involved and donate to this important initiative. He himself wisely cautioned that sustainable efforts to combat the virus will require partnering with local leaders to change cultural practices around attitudes and practices involved in caring for those affected by the virus.
The Ebola epidemic is far from over. At this time children are severely affected both by the disease itself and the other sequelae that tragedies such as infectious disease and war leave behind. These children are in need of not just a biomedical approach to Ebola but a "whole-child" approach that addresses other issues that affect child wellbeing -- primarily safe spaces to play, stimulating material to use while away from school, engaging in physical activity, avenues to express emotions (such as arts, writing, talking to trusted individuals). In the end, the affected countries will come through the Ebola crisis, but the scars and challenges left behind will linger on for a long-time, as the media begins to focus on other crises and efforts are allocated to rebuilding infrastructure and health systems. To date Ebola's path of destruction has robbed the lives of thousands of children. We cannot allow it to completely rob the childhood of many others in countries where the seeds of a better future post-civil war had been nourished for years.
**Special Thanks to Leo Nupolu Johnson (Empowerment Squared) and Natalie MacLellan (CODE) for their thoughts and suggestions on the initial draft of this article**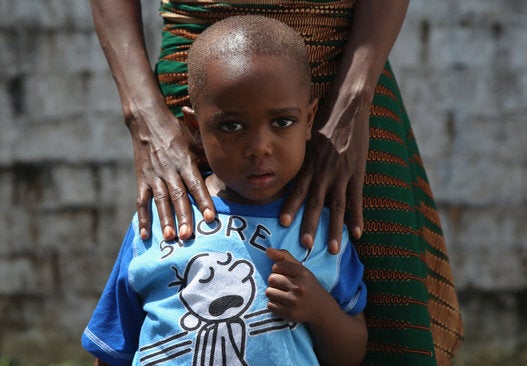 The Survivors: Portraits Of Liberians Who Recovered From Ebola