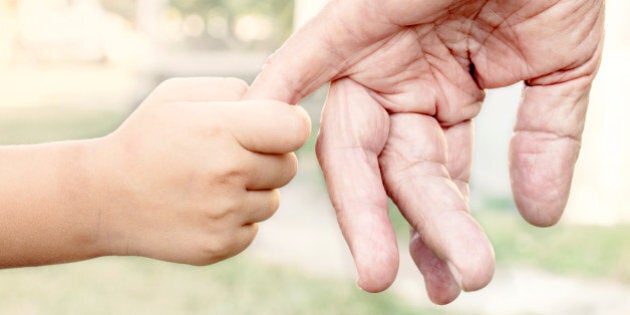 It's a well known fact that it is customary for adult children of certain ethnicities to continue to live with their parents...well, forever.
There's no concept of moving out once you hit 18 or even farther into the future of setting your parents up into a nice retirement home when they're too old to care for themselves.
It's like a never ending pact, we raise our young, only to grow up to care for those who raised us.
It's a nice sentiment, isn't it? To have such a high regard for our elders that we keep them close no matter what.
There's more of a familial unit. A responsibility to put back into the world what was given to you, complete the circle of life if you will.
Now this is all fine and dandy under one extremely important circumstance. In order to all live under one roof, everyone has to be mutually respectful of one another.
No one family member should have precedence over the other.
I see a whole lot of people treating their grandparents like second hand family members. They grumble and moan when they ask them for anything or to be taken anywhere. Their request is usually for a five minute trip to one of three places - the temple, doctors office, or the bank. How hard is that? It doesn't have to be such a nuisance.
I remember being the exact same way with my grandmother. But then her days became numbered and I realized I shouldn't take her presence and wisdom for granted. I realized that when she looked in the mirror she didn't see a demanding old lady.
She saw the lady who built things with her own hands, singlehandedly fought off home invaders in her beloved home in India, worked day in and out for her family, and raised and watched four generations grow from her name.
Each "old person" has a story to tell. Each moment of crankiness, or request, or repetition of the same story has meaning behind it. Don't be too young and naive to appreciate that.
I think where it's all going wrong here is that we are staying together for the wrong reason. Because we care more about what people outside our homes think rather than those inside. We keep our parents and grandparents close because well that's just the norm. But no one sees how they're being treated behind closed doors.
Pensions are being cashed in by the youngsters in the house, groceries not being adequately provided or shared, huffs and puffs are exclaimed when "bothered." They're spending their last days bound to their homes because no one has time to take them anywhere. They're forced to ride the bus, their bikes, and walk in the rain because once again no one has TIME. The only reason you're on this earth capable of having any time is because of them so the least you can do is spare a few moments for them too.
It is no fault of their own that they can't adequately care for themselves any longer. They are our roots and were our wings when we needed them to be, now it's time to return the favour, and for all the right reasons.
Don't make them feel like a burden. Help them remember their youth by sharing your own. Bring them into your world. Don't shove them into a corner of ostracism and unkindness.
Follow HuffPost Canada Blogs on Facebook