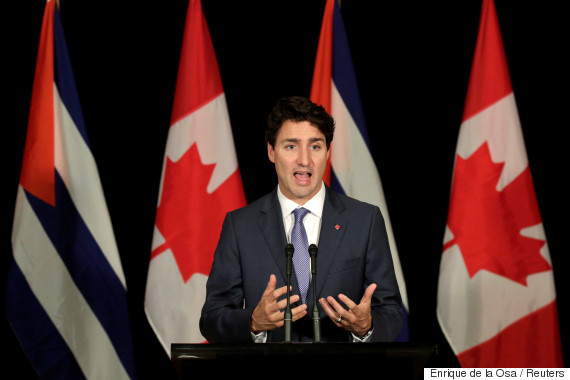 Canada's Prime Minister Justin Trudeau talks during a news conference in Havana, Cuba Nov. 16, 2016. (Photo: REUTERS/Enrique de la Osa)
Dear Prime Minister Justin Trudeau:
I am a Cuban exile. I am a Canadian citizen. And I voted for you. I want to tell you how I feel about your homage to Fidel Castro.
My father grew up as a believer -- not of the man, but of the socialist system. It took many painful years of reflection for him to accept that the system he had admired since he was a child was the very thing that was destroying his country. My family did not flee in 1959. They stayed. They saw everything.
I immigrated to Canada with my parents in 2002, when I was 10 years old. We came here to leave the shadow cast by the man with the beard. And even after living here for 14 years, as I sit here protected by Canada's freedom of expression, a part of me hesitates to write this letter. A part of me knows that if it is read by the wrong people, I might not be able to visit Cuba again.
The fact that this thought is not completely irrational should tell you enough about the regime of the man you call "a larger than life leader."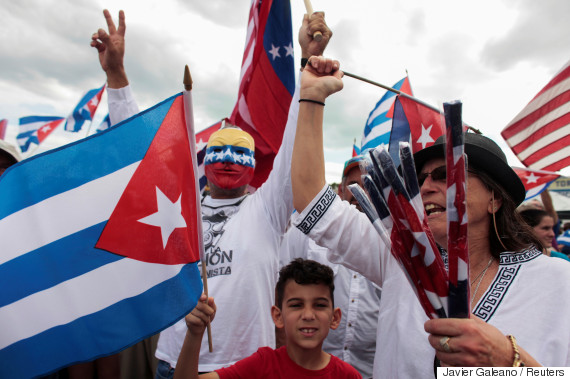 People celebrate after the announcement of the death of Cuban revolutionary leader Fidel Castro in the Little Havana district of Miami, Florida, U.S., Nov. 26, 2016. (Photo: REUTERS/Javier Galeano)
I cannot claim to have all the answers. I know there are many Cubanos mourning his death and there are many celebrating it, both on and off the island. This is a man who was able to irreversibly shape the lives of five generations, six decades of people -- their health, their education, their families.
I know that I am neither mourning nor celebrating his death. He did not matter to me before and he does not matter now. But I accept that each Cubano is allowed our own flawed, complicated and ultimately tragic relationship with this man and what he represents. I accept this is a complication the Cuban people have to live with.
What I cannot accept is the way you have decided to honour and pay tribute to this man in the most public of ways. As a public figure who claims to speak on behalf of all Canadians, you do not get the luxury of expressing your complicated feelings about him. Why? Because you represent an entire nation of people. You are no longer only your father's son. You gave up that privilege when people like me voted you into the highest office in this country.
So when you say you speak on behalf of all Canadians, please remember the people you are speaking for. When you wonder out loud if a tyrant who took away human rights and dignity was "controversial," you do not speak for me.
Statement by Prime Minister Justin Trudeau on the death of former Cuban President Fidel Castro: https://t.co/70ZqAfVWCR

— CanadianPM (@CanadianPM) November 26, 2016
When you say that both his detractors and his supporters agree that he loved his people, you do not speak for me. When you erase the millions of lives who fled this man's regime, you do not speak for me. When you knowingly participate in shaping a history that will absolve a tyrant, you do not speak for me.
That man does not matter anymore. But you do. Your words do.
Acknowledge the propaganda. Acknowledge that merely scratching the surface of this history will not uncover the truth. Do not allow this kind of erasure to ensure that the 58 years of suffering the Cuban nation has endured have been for nothing. Dig deeper. Do your job.
I am a part of this country. So is my father. So is my mother. Do not erase our experiences.
I am a part of this country. So is my father. So is my mother. Do not erase our experiences. Do not claim that you can separate one aspect of this man from all the others. My family did not escape from under the foot of a dictator to live in a country where its leader praises and celebrates that same dictator.
We are Cubanos. We are Canadian. We are here. Please, do not forget that.
Also on HuffPost: