When families go on vacation, it's a given that parents and children will want different things out of the experience. In an ideal world, parents would want relaxation, luxury, great food and a stunning hotel room. Kids, on the other hand, couldn't care less about any of the above. Give them a variety of activities, a fun pool and tasty desserts and they are beyond content.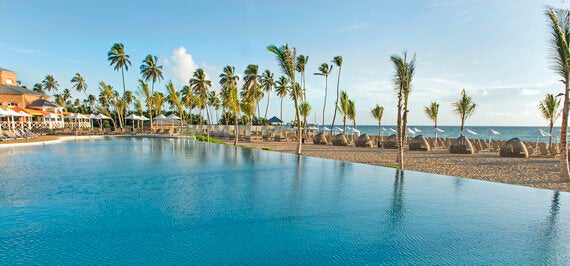 The infinity pool at the new Nickelodeon Hotels & Resorts Punta Cana. Photo courtesy of Nickelodeon Hotels and Resorts Punta Cana.
So the question persists, can one all-inclusive resort appeal to both generations of the family? The new Nickelodeon Hotels & Resorts Punta Cana tries to do just that. The resort is an extension of the Karisma Hotels & Resorts chain, a brand specializing in high-end, luxury hotels with upscale rooms and a focus on great food. In fact, Karisma brands itself as a "gourmet-inclusive," rather than an all-inclusive.
The new foray into the kids' space could have been risky but it seems to have paid off with the new Punta Cana location.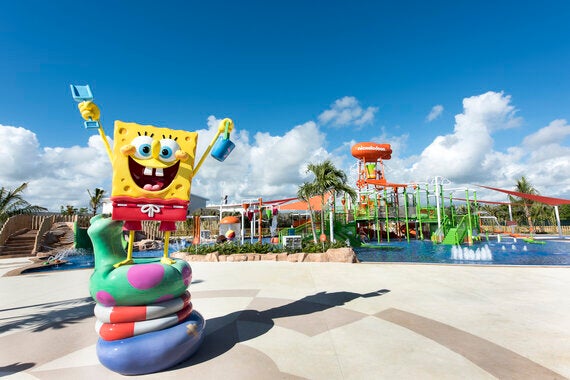 Aqua Nick has something for the whole family. Photo courtesy of Nickelodeon Hotels and Resorts Punta Cana.
The highlight of the kids' extension is Nickelodeon Place, home of Aqua Nick, a colourful water park with water slides, splash pads, spray grounds and a lazy river (although I'd wager that parents enjoy the lazy river more than their child). There's also a bench where families or individuals can sit and get slimed as the rest of the park watches and cheers.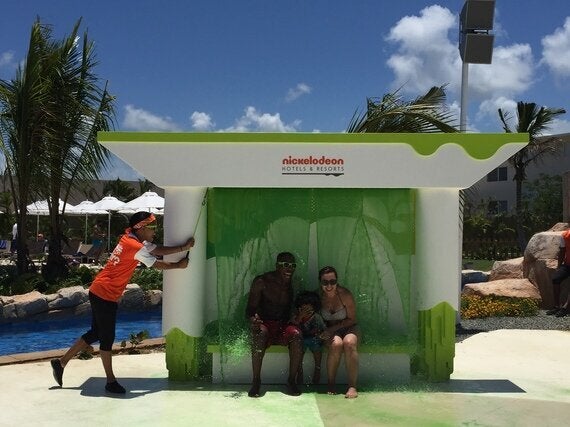 Who doesn't love being slimed?
Nickelodeon Place is also the home of Character Central, where Nickelodeon characters come out to meet and take photos with guests. If you have a toddler, prepare for them to lose their minds when Paw Patrol comes out. The older kids, meanwhile, get a kick out of hanging out with the Teenage Mutant Ninja Turtles.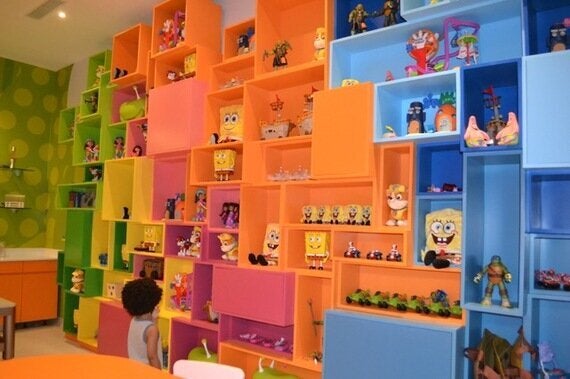 The wall of toys at Just Kiddin'.
If you want a little break from your young ones, you can drop them off at the Just Kiddin' kid's club where they can play in the indoor playground, complete with slides, a ball pit and every imaginable Nickelodeon-themed toy you can think of or take part in arts and crafts activities with the attentive staff.
Still, loads of hotels feature water parks or characters, right? So this resort takes it a step further. Leave your stroller, bottle warmer and other baby amenities at home because you can order them for your room free of charge. You can even order a crib or Gerber baby food for your little ones.
While it's easy to see this resort checks off all the requirements to keep your little ones entertained and taken care of, Nickelodeon Hotels and Resorts, Punta Cana is so much more than a fun hotel for kids.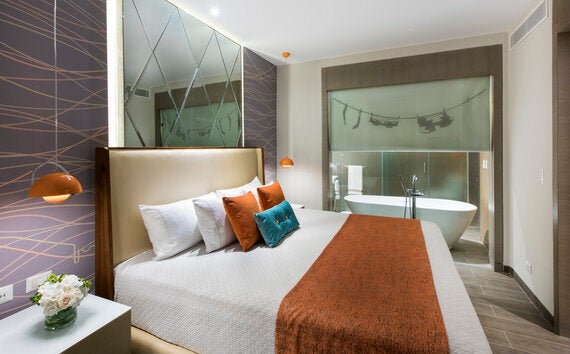 The view from the bedroom to the bathrooms can be controlled by a privacy screen. Photo courtesy of Nickelodeon Hotels and Resorts Punta Cana.
The first thing that will likely blow you away your room. The hotel offers a variety of classes of rooms, but whichever you choose, you won't go wrong. The rooms are all modern and large, with spa-like bathrooms featuring free standing tubs and rain showers. The balconies are generous and feature day beds for those who fancy a nap al fresco.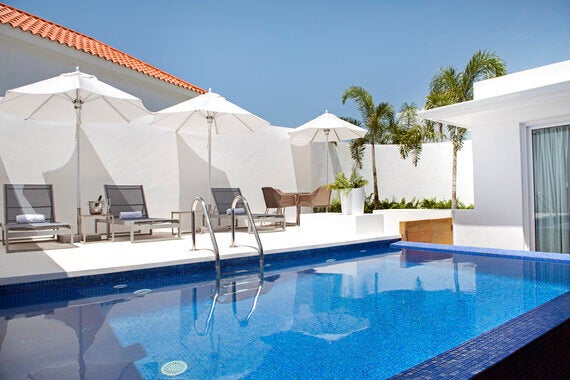 The Super Pool Villa has its own private pool and lounge area. Photo courtesy of Nickelodeon Hotels and Resorts Punta Cana.
The swim-up rooms, whether suites or villas, are in a league of their own, each with their own access to the pool surrounding all the hotel's buildings. The three "Pool Super Villas, meanwhile, are bigger than most houses, at 2,292-square-foot and feature a garden, outdoor court, private pool and sundeck and even a personal butler.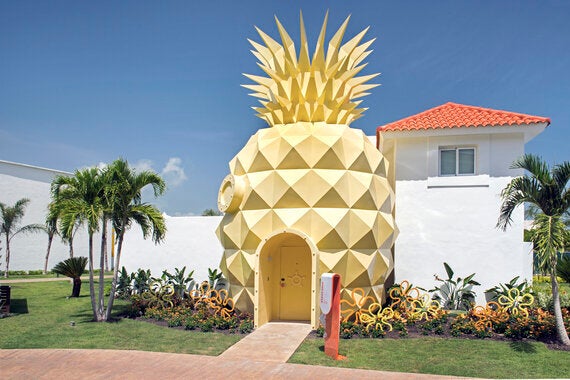 The Pineapple villa is unlike any hotel experience you've ever seen. Photo courtesy of Nickelodeon Hotels and Resorts Punta Cana.
The jewel of the resort, however, is "The Pineapple." The one-of-a-kind villa, also said to be Sponge Bob Squarepants' summer home, is beyond breathtaking, with two bedrooms, a private court and pool and even an outdoor shower and freestanding tub. It also comes with its own butler.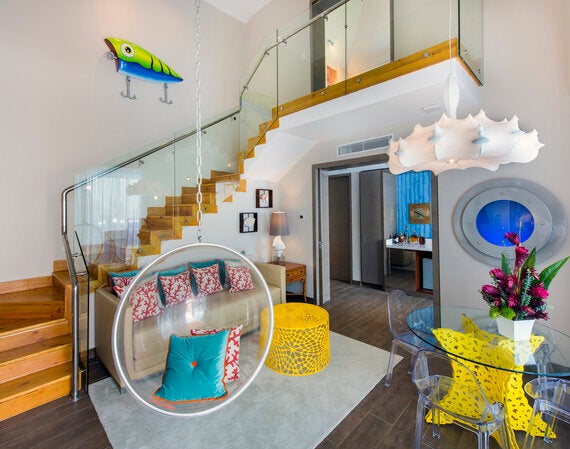 It's no wonder The Pineapple is the official summer home of Spongebob Squarepants. Photo courtesy of Nickelodeon Hotels and Resorts Punta Cana.
Each building also has its own concierge so you can reserve a cabana by the beach (no more waking up at 6 am to lay your towel on your favourite beach bed before others lay claim to it).
Since Karisma prides itself on gourmet food, the restaurants also take centre stage at this resort. The Sugarcane buffet, referred to as a presentation restaurant, emphasizes freshness. The adults will love the wide variety of food stations while children will be mesmerized by the "slime" chocolate fountains.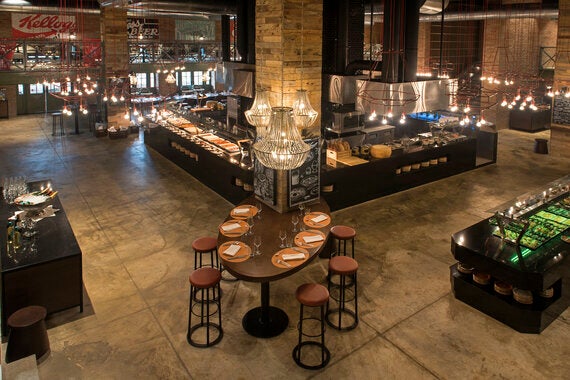 Sugarcane is a modern take on buffet restaurants. Photo courtesy of Nickelodeon Hotels and Resorts Punta Cana.
There are also eight restaurants, ranging from the simple Aqua Bite at Aqua Nick (try the grilled chicken) to the Verdello Sicilian Kitchen to the Spacewalker where you are served by interstellar waitresses dressed in costumes pulled from a science-fiction movie. Don't miss BRGRS.PH, with an indoor food truck. Ask for the Machete Burger. It's made for 6 people and is so massive that servers literally cut it with a machete.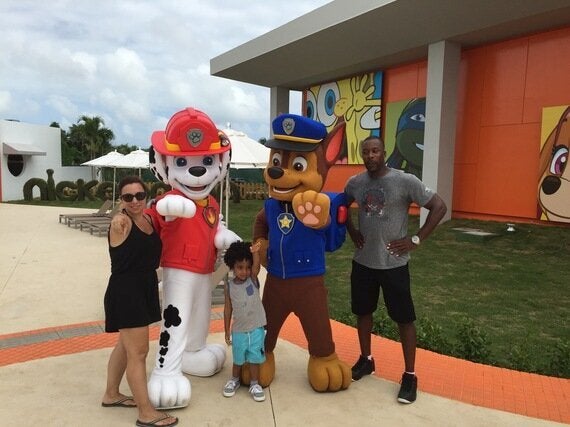 Even parents have to get into the action when The Paw Patrol arrives.
Families would be hard-pressed to say they can't have it all here. For our family, seeing our toddler reacting to his favourite Nickelodeon characters was worth the price of admission alone. Being able to sit on our private terrace with a drink from our stocked suite fridge while he napped in his room and eating fresh, gourmet-quality food (I swear I ate my weight in shrimp) were simply bonuses.
Follow HuffPost Canada Blogs on Facebook