TVO's first commissioned drama series, Hard Rock Medical, provides a fresh and entertaining look at the unique challenges of delivering healthcare in Northern Ontario. Hard Rock Medical follows the lives of eight medical students, their struggles to succeed, and the obstacles they face in adapting to practising rural medicine and living in the North. Patrick McKenna heads a Canadian ensemble cast in this series airing Sundays at 8 p.m., from June 9 to August 25 and at hardrockmedical.com.
The views expressed in TVO's Hard Rock Medical blog series are solely the opinion of the cast and filmmakers.
On the surface, you might find that Eva Malone and I have a lot in common. She's born in the North, she's Aboriginal, she's a singer, she cares about her people, and she's pretty grounded. However, you scratch the surface a little and you'll find the real difference between us lies in her desire to be a medical doctor in the North.
Eva left her life on the road as a singer to pursue a career in medicine: anatomy, health science, biomedical research, and medical technology, etc. Yikes! Do any of these things have to do with the creative arts? If not, Andrea Menard is out!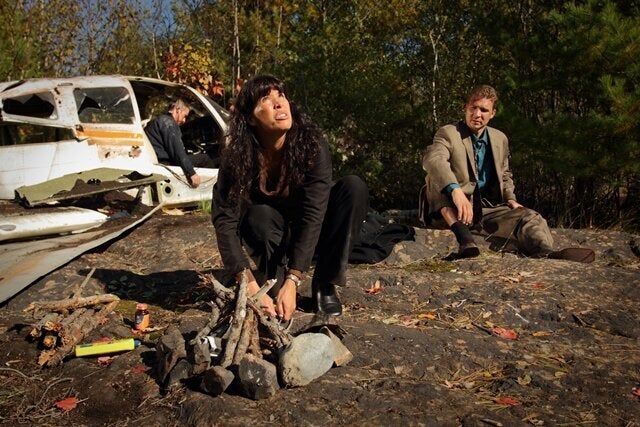 But to be fair, Hard Rock U is not your average medical school. I began to sympathize with Eva's decision to leave the arts because at Hard Rock U she is expected to use that creative part of her in all aspects of her training. Who knew that some of the skills she learned growing up in her Ojibway community, like survival skills and moose hunting, would be useful to her as a doctor in the north? Her cool head gives her a leading edge in the recruiting process and the moose hunt prepared her for some of the gruesome smells in anatomy class. Maybe that's another big difference between the two of us!
In getting to know the different characters, Eva realizes she has a lot to carry on her shoulders as the only local Aboriginal person in her class. In episode 3, half the students go on a field trip to Wide River First Nation for a moose hunt. The moose hunt helped some of them learn to expect the unexpected, gave them hands on experience with death, and introduced some of the characters to First Nations people and one of their main modes of survival -- hunting. You can't be a doctor in the north and not understand the ways of one of the main inhabitants of the land. Eva is the window to the Wide River First Nation. It is her community after all.
But Eva's been away a long time and things have changed. Or maybe they haven't changed enough. Eva loves her community and is back to help her people, but not everyone is keen on having the ex-musician -- hell-bent on cleaning up the community -- back on the rez. So far in Eva's storyline, her experience with the med school itself seems to be mainly positive but serves as more of a background to her conflicts of home. I've found that her main struggle is with the people from her home community and her past. Wait as the series progresses, folks!
I had a wonderful time in Sudbury, Ontario, with its crisp air, the evergreens, and the warm, friendly people. The characters from Wide River First Nation are very much like the folks from all over Northern Ontario. They are real people with real humour, and real struggles. I know viewers will come to care about Eva and some of the rez folk and see them as close friends, but I also think that it will inspire some viewers' love of the north as a unique and beautiful part of the world.
As for Eva Malone? I really like her. She is idealistic. She has the guts to speak the truth and she works hard. I have to admit, it is really nice to play a light-hearted person who truly cares about people! Now don't get me wrong, I love playing the "bitch" on Blackstone, but I also love to let Eva's natural exuberance bubble up in the scenes of Hard Rock Medical. If I was to be compared with Eva Malone, I think I would be honoured to say we are alike.
Andrea Menard plays Eva Malone in TVO's Hard Rock Medical.