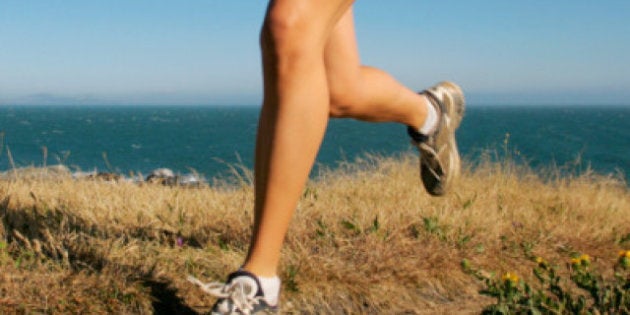 My last blog was a somewhat unusual one for me. I wrote about the son of a good friend who had, unfortunately, passed away from cancer. I mentioned I was going to dedicate my run to him the following day.
And, true to my word, I laced up my shoes. It was a beautiful sunny day; perfect for running. I headed out, doing my usual pre-run warm up, and thinking, this one's for you Jacques. With the inspirational words of some of my favorite authors drifting through my earphones, I started my run. Now I have to say that it has been more of a struggle over the past few weeks to get myself out the door for my run. Most runners go through a period like this where running seems like more of a chore than a pleasure. But this day that weight was lifted from me. I felt much lighter on my feet, and I could feel the grin on my face, and the spring in my step.
My appreciation of running had returned. My gratitude for this day was immense. I thought back on all those days, that had turned into weeks, where the voice of the energy I needed to continue this four times per week ritual was more of a whimper, where I would tell myself "tomorrow's another day". But as Mary Anne Radmacher once said, "Courage doesn't always roar. Sometimes courage is the quiet voice at the end of the day saying I will try again tomorrow."
This was my new beginning.
And new beginnings can be inspiring while being scary at the same time. Cancer survivors go through a new beginning following their treatment. They experience the joy of concluding their treatment, along with the anxiety of the unknown; what happens next?
Two people in my life are undergoing new beginnings at this time. My daughter, Stephanie, having just graduated from high school, is starting a new phase in her life in college. She is following her dream of entering the world of fashion design. This week she went to her new school to write language placement exams, arrange her schedule and get her locker. She had a much longer commute to her new school using public transportation. Her friends from high school are all going to a different school, so she would be meeting new people. Although this new start is exciting for her, the worry creases around her eyes were evident in the face of the unknown. But at the end of the day, she came home excited and bubbling with stories of the people she met, and her new school.
Erin, a colleague at work, has been my "wing man" for more than two years. Recently she accepted a new position in another office. For her it's a well deserved promotion, and one she has been groomed for over the past couple of years. We had reached that stage in the exercise of our respectful functions where we instinctively knew what the other would do. We were a well oiled machine. Tomorrow she will close the door in my office for the last time. Her new position, I'm sure, will be met with much anticipation and excitement. There may be days that she will be anxious in the face of the unknown, but when doors close, they make way for new beginnings and more opportunity.
And of these two individuals, I couldn't be prouder. As a mother, I am thrilled that my daughter had the tenacity and the drive to follow her dreams. It takes courage to face the unknown. As for Erin, I can say the same. In a somewhat proud maternal way, I am happy she has been tenacious as well. She put the effort and interest in her job, and that made the difference.
So I wish them much success, and turn to face my new beginning as well. Happier and more consistent runs, continued support and new adventures for my daughter in her continued education, and perhaps a new colleague at work whom I can inspire to be their best.
There is a happy and exhilarating place in all of us that we experience only when we are doing something we were truly created for. Find your new beginning today.