On June 25th, Vancouver City Councillor Andrea Reimer introduced a motion to recognize that Vancouver sits on the unceded territory of the Squamish, Musqueam, and Tsleil-Waututh First Nations. The motion passed unanimously. Vancouver's approach is grounded in the belief that municipalities have a role to play in reconciliation. It should be heralded as a model for local governments across the country.
Motion Grounded in Reconciliation
In 2010, Reimer and her colleagues at City Hall began to comb through the Vancouver data of the Urban Aboriginal Peoples Study released by the Environics Institute. According to Reimer, "It was the first time that someone had looked at not only views towards Aboriginal people, but the views of Aboriginal people themselves."
What they found were multiple levels of injustice. "In front you have the issue of missing and murdered Aboriginal women," says Reimer, "and behind that you have overrepresentation of homeless people, criminalized people, but behind that most urban Aboriginal people are just trying to get a job, find a place to live, get an education. And these people are experiencing daily discrimination."
Knowing that some of her constituents didn't have the same opportunities as others -- and much worse, were victims of violence and daily discrimination -- prompted Reimer and her colleagues to act. In 2011, Council voted to establish an Urban Aboriginal Peoples Advisory Committee. Since 2012, the 12-member committee has been advising council on how best to serve Aboriginal Vancouverites, and establishing a collaborative decision-making system.
The next year marked the beginning of Vancouver's Year of Reconciliation. Running from June 21st 2013 to June 20th 2014, Reimer says the year was a major catalyst for a number of reconciliation initiatives. For example, City Council formally invited the Truth and Reconciliation Commission to Vancouver in the fall of last year. "We felt that that was a game changing opportunity for us to have Aboriginal people and First Nations to be able to tell the truth about residential schools," Reimer says, "and equally important to have the non-aboriginal people to hear that, and understand what the experience of residential school was like."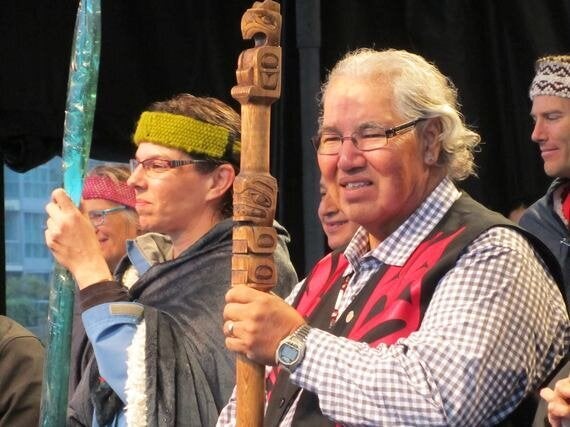 Councillor Reimer (left) and Justice Murray Sinclair of the Truth and Reconciliation Commission
Reconciliation Means Building Relationships
Reimer explains that reconciliation is a three-step process focusing on truth and reciprocity. First, a space needs to be made to hear the truth about what happened. Second, the truth must be acknowledged. "That's what the motion about unceded territory was about. This was the clearest, strongest acknowledgment of what we had heard over the past year," she says. Third, the parties need to find the path forward, which Reimer acknowledges is "probably the hardest part."
During the Year of Reconciliation, the City of Vancouver held the first official meetings with the Musqueam, Squamish, and Tsleil-Waututh -- now referred to as Vancouver's Host Nations, reinforcing the fact that Vancouver sits on territory that was never ceded. Even though these meetings are essential to moving forward with the process of reconciliation, Reimer admits that "every single minute is awkward. There's no playbook, so it really depends on the strengths of the relationships to develop a new protocol that allows both parties to feel like their rights have been honoured."
These meetings resulted in the first service agreement between the City of Vancouver and the Musqueam First Nation. "After twenty years of arguing about it, we finally managed [to negotiate the agreement]", says Reimer. This agreement is different from most service agreements. It doesn't just define the services provided by the City and what Musqueam will pay. It also includes a framework for moving forward in the reconciliation process between the two levels of government.
It's these kinds of milestones that enable Reimer to keep working. "Reconciliation is a process, so for people who like outcomes, it can be challenging," she says. "But that was one of those things that you could point to as a concrete outcome."
Urban Aboriginal Issues Are Municipal Issues
Even though it's clear that the City of Vancouver is beginning to take important steps towards reconciling with Aboriginal people, the work is far from complete. And in many respects, Vancouver's approach is unique in the region.
Reimer, who is the Director of the Greater Vancouver Regional District (GVRD), claims that other municipalities in the region still take a very paternalistic approach in their relationships with First Nations.
"At that level [the GVRD] we have an Aboriginal relations committee, and it has passed some brutal motions in terms of a relationship framework asserting absolute right of municipalities to control services," says Reimer. The problem is that many politicians define services as a zero-sum game, and they believe that "we have to look after our own people, and they have these needs, and we aren't willing to give an inch on that," she says.
But that's where many politicians get it wrong. As Reimer states, "urban Aboriginal people are our own constituents." And there are three very good reasons why municipal representatives should agree with Reimer.
First, Aboriginal people are urbanizing. In many Canadian cities, the urban Aboriginal population has more than doubled over the last 25 years; in 2006, the Census (which is often criticized for drastically underestimating the Aboriginal population) states that half of all Aboriginal people lived in cities. Aboriginal people make up close to 10% of the populations of Winnipeg, Regina, and Saskatoon, and 5% of the population of Edmonton. And as Reimer points out, this increasingly important constituency suffers marginalization and violence at a far higher rate than non-Aboriginal Canadians.
Second, a new legal reality is forming, which no longer leaves municipalities and provinces off the hook in responding to Aboriginal peoples' issues. According to University of Victoria law professor John Borrows, the recent Supreme Court decision recognizing Tsilhqot'in title over lands in BC also "removed interjurisdictional immunity, which at one time would have said there's a core of federal power to which the provinces can't apply. In the landmark decision, the Court has replaced interjurisdictional immunity with a jurisdiction that First Nations themselves have that interacts with both the federal and the provincial authorities." Put in plain language, Aboriginal people aren't just the "feds' problem" anymore. Since municipal power is delegated from the provinces, local governments need to start recognizing First Nations' overlapping jurisdiction.
Third, by engaging with urban Aboriginal people through respect and reciprocity, municipalities will save money on service provision. Aboriginal peoples' marginalization means that many require more services than non-Aboriginal residents -- and marginalization isn't good for the public purse. For instance, the proportion of Aboriginal people among Toronto's homeless is 25 per cent -- in a city where Aboriginal people make up between 1 per cent and 3.5 per cent of the city's total population. If Aboriginal people are using services at higher rates, doesn't it make sense for municipalities to take their concerns seriously when designing and providing those services? Service delivery improvements in tune with Aboriginal needs could mean a healthier urban Aboriginal population, one that will ultimately require fewer services. And that would be a win for all constituents.
In the wake of the Vancouver motion, municipalities across the country now have a clear path laid out before them: building relationships and engaging respectfully leads towards reconciliation. But, Reimer cautions, there's a lot of groundwork to be done first. "I wouldn't have my opening salvo be a motion recognizing unceded territory. I think you'd want to have some process that led up to it. And I'm guessing that there are some municipalities that are in that situation, but if you're talking about truth, it makes sense to lay some groundwork before you just throw it on the table." Many municipalities already have service agreements with First Nations, but what would it look like if they all included a clause requiring regular meetings between the two governments as equal partners?
Fundamentally, for Reimer, reconciliation isn't about the present. "It's really a gift to the future." So what will mark the end of the process of reconciliation? "When there's a future Urban Aboriginal peoples study, and everyone answers that their children have the same opportunities as everyone else's children."