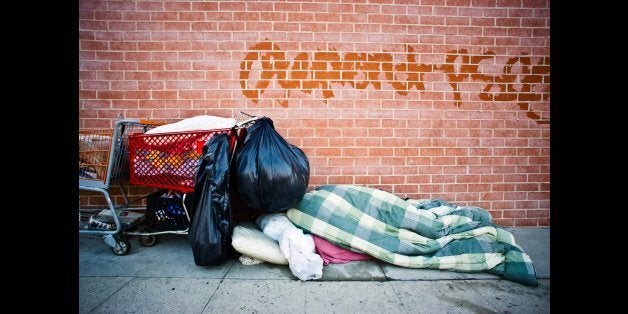 Sometime in 2015, Medicine Hat will become the first municipality in Canada to eradicate homelessness. How? By providing housing for people without it.
Beyond the fact that such an abiding problem in our society was solved by Medicine Hat in five short years, I was interested in what made Mayor Clugston change his mind about the program. I also wanted to know how he discussed this controversial approach with those constituents who disagreed with him.
Mayor Clugston describes himself as a fiscal conservative. "I was raised that if you want to get anywhere in this world, you have to get an education, you have to work hard, you have to show up," he told me.
When it comes to the homeless, he used to think that they just weren't working hard enough. "I used to say 'I have to get up in the morning, why don't they?' Up until a month ago, anyone could get a job in Alberta."
A few factors worked to change his mind about homelessness, and the Housing First program, which starts by providing homeless people with housing, and then begins to address the issues that led them to be homeless. First, he's already very open to thinking differently about his own preconceived notions. "It's always healthy to question your beliefs and value system," he said.
Second, while he might not care about homelessness in Toronto or Vancouver, he couldn't ignore "stepping over someone" on his way to work in Medicine Hat.
Third, the people who changed his mind were patient and determined to get through to him. Clugston described the staff at the Medicine Hat Community Housing Association as "the most caring, understanding people around. They aren't in it for themselves, and they don't get paid very well. But they care."
The mayor's change of opinion was partly due to his own personal political commitment to fiscal conservativism, and the realization that housing the homeless would save taxpayer dollars. "Treating homelessness as an acute problem was costing $100,000 per year, but once you treat it as a chronic problem that drops to $20,000," he said.
The other motivation for Clugston's change of heart was a shift in his view of homelessness. Rather than viewing homeless people as too lazy to get a job, he began seeing homelessness as a symptom of both a disease -- mental illness -- and of the stigma faced by those suffering from it.
"When you get cancer, your friends and family support you, the lasagna just shows up on your door step," he said. "But when you have a mental health issue, even your family can turn their back on you."
To illustrate the reality of the stigma around mental illness, Mayor Clugston tells a story about a single day not too long ago.
"One day I had to cut the ribbon at three different fundraisers. The first one was for cancer, and there were something like two thousand people there. Then I went to a run for diabetes, and there were three hundred people there," he said. "Later on that afternoon, I went to a Schizophrenia walk, and they had bought Tims for everyone, and the executive director of the provincial schizophrenia society was there, and they had volunteers to sign people up -- but not a single person showed up. When it comes to mental health, there's just this stigma attached to it."
While the mayor may be receiving accolades from media around the country, and even internationally, not everyone in Medicine Hat is happy about their mayor becoming a champion for the homeless.
"My brother, who is a family physician, is like 'Would you quit solving this homeless problem because it's driving me nuts!' All the other doctors in town, and some of his patients, are asking him when I became a socialist, and he has to defend me," Clugston said.
When the mayor is confronted with constituents who don't agree with the Housing First program, he just sits back and listens. Just like those people who convinced him of the program's merits, Clugston has learned the value of patience. "You've got to listen first, and figure out where they're coming from," he said.
But it's not just about listening -- it's also about determining what tack is most likely to influence they way they think about the issue. "For some people it would be emotions, like it's unconscionable to let people sleep on the street. For some people it's dollars and cents. And for some people, it's the mental illness issue." Above all, when the mayor is discussing this -- or any controversial issue -- he keeps his cool.
And he did eventually get through to his brother. "Just yesterday he bought 10 crock pots for our food bank to help teach people food security. He's very much a 'teach a man to fish' kind of guy."