A friend joked that all the photos he sees of my kids are of them eating. I can't help it; I get excited when my boys (ages four and one) try new foods for the first time.
Harrison's first bites of everything from broccoli and papaya to chicken feet and spot prawns are documented, as are Truman's introductions to banana, steak, and spring rolls.
Eating (like sleep, oh god the sleep) can be an obsessive parenting topic when kids aren't consuming exactly what all the books and experts say they should. As with everything in the minefield of parenting, I believe every child is different -- but I do partly credit baby-led weaning (BLW) for my children's eating gusto.
The term is a bit misleading because it has nothing to do with weaning your baby off breastfeeding or formula, but is about introducing solid foods at the baby's own pace. "Self-feeding" may be a better description. The concept has been popularized by Gill Rapley, a longtime British nurse, midwife and breastfeeding counsellor.
Basically, babies feed themselves fist-sized chunks of solid food that they can handle on their own, rather than being spoon-fed mush. BLW is just the latest term for something many parents have been doing for a while.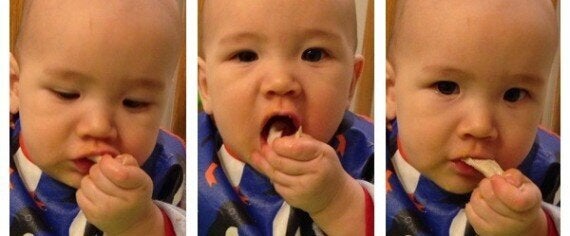 Truman trying out some turkey at eight months old.
Interestingly, this is a big part of updated guidelines released last month by Health Canada, the Canadian Paediatric Society, Dietitians of Canada, and the Breastfeeding Committee for Canada.
Instead of starting baby (at about six months old and not younger) on pureed foods, they now recommend a variety of textures and finger foods like finely minced meat, grated cheese or soft, ripe fruit.
Now, I can go back and tell my mother, "See? Health Canada says babies don't need mush!" When I first tried to explain BLW to her, she thought I was nuts and was convinced my son would choke. Also, I'm pretty sure she was forlorn that she wouldn't be able to spoon-feed her grandson.
But then she found she could boast about how well the boys ate and show off how independent they were at the dinner table. My husband and I are pretty darn happy too because it means we can actually sit down to a hot meal together, rather than take turns spoon-feeding a child, while dinner gets cold.
From me as a parent, here are some basics you need to know about BLW: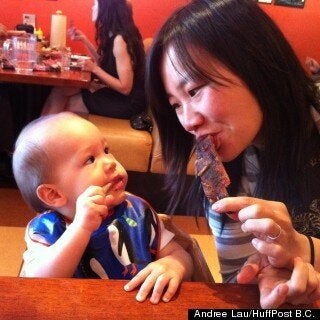 No, your baby won't choke.
They're not capable of directing food to the back of throats until they've mastered chewing. If they can't handle a piece of food, their natural response will be to gag and push it back out. This is not choking (though you will be just as freaked out). This safeguard works because it's the baby, and not you, putting the food in.
It's important to resist the urge to cut food too small. At six months, babies haven't mastered the "pincer grip" required to pick up small bits of food.
At the beginning of solids, your child actually needs large (but soft) chunks of food that he/she can manoeuvre, like steamed broccoli with "handles" or half a banana. (BBQ ribs are actually fantastic.) This allows them to recognize foods in their natural forms (rather than unidentifiable mush).
That sounds hippie dippy but baby needs to learn how to handle the food and put it in his/her mouth. Don't rush or force her to eat. Don't hand food to him.
The first few times, both my kids just checked out a chunk of banana or avocado like it was a new toy, but soon they realized how delicious it was. Some days they were super interested in eating, and other days not so much. Trust the pace they set. This teaches them to control their own portions.
I believe this sense of exploration also helped my boys be open to new foods, tastes, and textures.
Relax. Really, really relax.
Starting baby on solids is a big deal. We're worried about them choking, not eating enough, not getting enough nutrients... Babies can feel our stress. And no one eats well when they're stressed. So just sit back and let your brilliant baby do his/her thing.
Watch our video (above) for some tips I've learned on making BLW work for you. And if it doesn't, that's OK too.
If your baby was born premature or has medical conditions, check with your doctors first.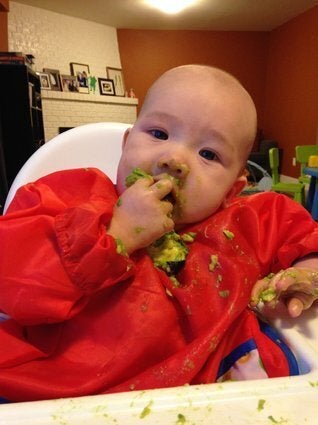 Baby Led Weaning First Foods