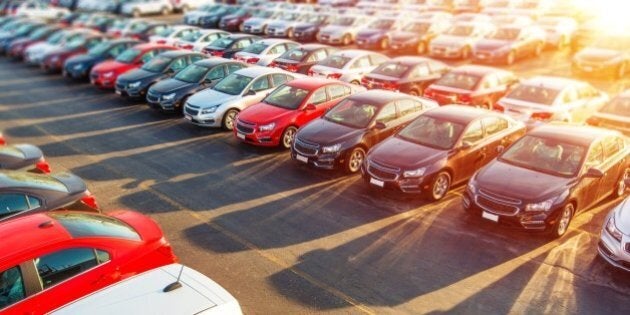 One of the worst mistakes you can make when purchasing a car is to neglect negotiating the price. It may be one of the intimidating aspects of the car-buying process, but by taking the opportunity to negotiate with a dealership, you can save yourself possibly thousands of dollars off the price of a brand-new car.
To help you out, we've put together this step-by-step breakdown to guide you through the process of negotiating and convincing a dealership to lower the price of a new car.
Step #1: Do Your Research First
Before even approaching a dealership, do your research in advance. First, figure out what year, make, model and trim of car would best suit your lifestyle. We suggest creating a "top 5" list and narrowing it down from there.
Next, you will need to research and write out a car budget. Be sure to account for your monthly income and regular monthly expenses, such as groceries, mortgage and so on. After that, factor in car-related costs such as repairs, fuel, maintenance, insurance and license/registration fees. Finally, consider your preferred payment option and the monthly payment you should expect based on vehicle choice. You can use the free monthly payment calculator found right here to help you with that.
Step #2: Shop Around For The Best Price
Don't settle for the first offer you find -- shop around a little, because you might find a better one. Dealerships tend to provide their own discounts, which vary from location to location. If you have completed the first step and done your research, you should have an idea of what a fair price for your vehicle would be.
If you found a dealership you like, make sure to pay them a visit and talk to a salesperson right away. Be clear upfront that you have done your research and know exactly what you are looking for in a vehicle, including your desired trim level and options, and you have a calculated price in mind. Be confident in telling them that if they can meet your price goal, you will buy the car right away -- and if not, then you will take your business somewhere else.
Step #3: Discuss Your Price
By this point, you should have the salesperson's attention and be open to talking about numbers. It's important to continue to maintain your confidence here, but be careful not to sound confrontational or arrogant. After all, you are asking them for a favour (to give you a deal on a car purchase) and you should come across as friendly and open-minded.
Be prepared for every possible sales tactic that can be thrown your way, such as convincing you to pay for extra add-ons or discussing the price in terms of monthly payments. Maintain your composure and try to steer the conversation to the vehicle's actual full price before discussing anything else.
The overall vehicle price you should present is the lowest number you can reasonably name. The easiest way to do so is to add three to seven per cent to the invoice price of the vehicle and use the resulting amount as your starting point. If you can show the dealer how you got your numbers, they should be more open to your proposal.
Step #4: Accept Their Response, Good Or Bad
Be prepared for every response a salesperson can give whether it's good or bad. If they accept your price range and you're happy as well with the end result, then congrats on buying your brand-new car!
If they are unable to be flexible on their end, then you have to be confident enough to just walk away from the table and see if you can get a better deal somewhere else. While it's important to be flexible, you also want to be careful not to be taken advantage of. The point of any negotiation is to find a middle ground where both parties can be happy. There are many dealerships, so get out there and find the one that's going to give you the best price.