 It's Opening Day in Toronto. Or, as it's been rechristened by tradition-trouncing bean-counters in cahoots with television executives who probably think a full count is a European nobleman after a really big meal: Opening Day, er, night.
All of which is to say that as of around 7 p.m., when 125-million-dollars-worth of terrific talent takes the field for the home side at the Rogers Centre, and knuckleballer R.A. Dickey lets fly (or lets float) that first pitch -- we will be finally able to utter those three beautiful words: Baseball Is Back.
For Blue Jays fans, it's been a long off-season. Longer than most. Because not only were the faithful pining for the return of the game they so love, they were also pumped-up to the point of near-bursting with anticipation, wildly anxious to see the new-look squad that had been creatively cobbled together in the winter by the team's inventive architect, GM Alex Anthopoulos. Fans, say hello to the likes of the aforementioned Dickey, Jose Reyes, Josh Johnson, Mark Buerhle, Melky Cabrera, Emilio Bonifacio and manager John Gibbons, returning for a second tour of duty.
All in all, a contingent that tops the AL East in many preseason polls. That's right, tops. Ahead of the rebuilding BoSox, the over-the-hill Yankees, the fluky Orioles and even the once-devilish Rays of Tampa.
How high are anticipation levels? Opening Day sold out in about three minutes. You'd have thought the Beatles had been resurrected and reunited. Hey, Blue Jays, they love you, ya, ya, ya. Suddenly it's 1993 all over again and the ballpark is a hip and happening place to be.
BLOG CONTINUES AFTER SLIDESHOW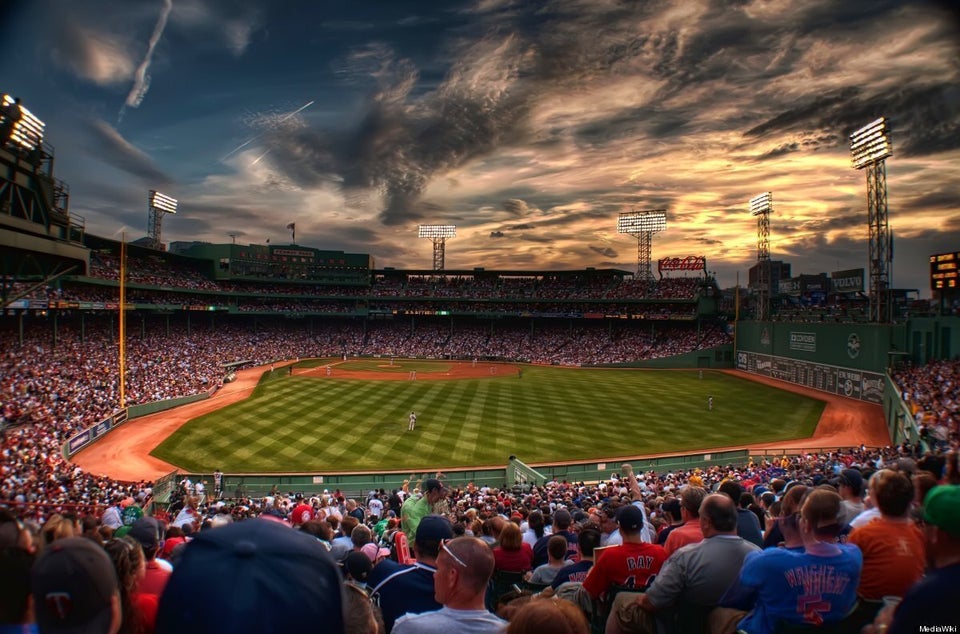 And, naturally, with such anticipation comes equally high expectations. Alas, this is Toronto we're talking about, where fans tend to fall into two categories: unrealistically optimistic ("Forget the World Series, man -- can you say Ming? -- yeah, this team's an instant, automatic dynasty!"), and hopelessly pessimistic ("This team will suffer a few key injuries and become the under-performing laughing stock of the American League East Division, if not all of Major League Baseball.")
Truth be told, it's high time to bust out the platitudes about having to actually play all 162 games before anything is decided, and about how no team wins anything on paper. And tonight is just Game One. Granted, given the 100-plus-year tradition of Opening Days in baseball, it's a bit more than just a game. It's a game that will become, win or lose, part of team lore -- and, face it, you can't automatically say that about, say, the second game of the season, or the seventh, or the 53rd, or...
Opening Day makes old-timers turn misty. They remember the Blue Jays inaugural home opener at Exhibition Stadium in the snow like it was yesterday, or, at least, 13,500 yesterdays ago (37 years ago -- April 7, 1977 -- for those not up for the advanced calculations). They remind how the fans chanted not for stellar pitching, or the long ball, or even the home team, so much as for... beer. Exhibition Stadium, you'll recall, was a dry venue at the time; no matter, the suds would have just froze anyway.
Blustery broadcasters will tell you that Opening Day "sets the tone for the season." But that's just gasbags adding gravitas where it doesn't belong. Are they seriously suggesting that if you blow Opening Day, the "tone" for the next 161 games is in jeopardy? That said, blow Opening Month and all that anticipation you built-up over the winter starts to deflate.
Because there is a point where Blue Jay fans -- the unrealistically optimistic and the hopelessly pessimistic -- converge. And that's at the point of fickleness. Get off to a bad start, get spat upon by Lady Luck, get behind in the standings, and emergency wards across The Big Smoke will be filled with orthopedic cases. Fans hurt and hobbled. Sprained ankles. Twisted knees. Busted legs. The sort of injuries incurred when... leaping off a bandwagon.
Opening Day, er, night. OK, Blue Jays, let's (finally) play ball.