Late tomorrow afternoon at Mosaic Stadium in Regina, the Hamilton Tiger-Cats will clash with the Saskatchewan Roughriders before a capacity crowd of some 50,000 ardent and indubitably intoxicated fans to decide the 2013 Canadian Football League Champion in the 101st Grey Cup.
For those readers living in Toronto, where people tend to think of Western Canada as Etobicoke, or maybe Mississauga, Regina is about 2,685 kilometres west of Rob Ford.
When it comes to the CFL, and its storied championship game, there are basically three types of people. First off, there are the vocal anti-fans who each year avoid the league and its big game -- and are sure to let everyone know it -- because they're biased and oftentimes ignorant snobs who believe the Canadian game is bush compared to the bigger, flashier, louder league down south.
Second, there are the rabid fanatics who love the Canadian game of football more than they love probably anything on Earth -- with the possible exception of a tailgate party. Or a hot Tim's coffee on a cold day. Or, a good Don Cherry rant on any given Saturday night.
Finally, there are those who don't give football on either side of the border much thought for 364 days each year. But on the morning of the Grey Cup they wake up and think, dang, I'd like to be a part of this nationwide shindig. And so they somehow find themselves a part of the astonishing six million viewers who tune in for the big game even though they'd be hard-pressed to name the teams competing for the Cup, or identify a single player on either side. Honestly, these people wouldn't know a rouge if it kicked them, and they're inclined to utter unintentionally hilarious things throughout Grey Cup Day, like: "Oh, I hope Beyonce is doing half-time again this year!" Or, "I wonder who's going to throw out the first pitch." Or, "What rhymes with guacamole?" Or, "This game reminds me, I need to change all my lightbulbs to CFL bulbs to save energy and money..."
It's been a wild week in Regina, where the locals don't need much of a reason to party. And the Grey Cup game is a huge reason to... party. Hey, you do the math.
Hell, everybody's gotten into the spirit(s). National Post scribe Sean Fitz-Gerald even found a lingerie shop that reflected "the mood of the entire city" with hometown-team-inspired naughty knickers on mannequins in the window of the downtown Love Plus store. Sex also reared its head early in the week when the always-asked question was fired in a press conference featuring the Cup's two coaches: "Hey, coach, should your players have sex before the big game?" Roughriders coach Corey Chamblin brought down the house with his response: "They win the championship, they'll have a lot of it. Trust me."
Another recurring theme during the week has been the weather in Regina. The kind of weather that makes people think that Al Gore is full of crap. Seriously, how low did temps go? So low that a Ticat playbook binder actually shattered in the cold. Oh, and a few Ticats suffered frostbite during practice. In NFL circles, they talk with reverence of "the frozen tundra of Lambeau Field" (where the Green Bay Packers play their home games). Well, this week, Lambeau would have been Sun Life Stadium in Miami compared to Mosaic Stadium in Regina.
Did the cold freeze out any enthusiasm for The Big Game? No way. Consider: Since the city was experiencing a shortage of hotel rooms for the incoming hordes, fans just... camped out in the parking lot beside Mosaic Field. In RVs. And one big ole fishing tent, doubtlessly replete with a wood stove and a whole lotta booze. Overnight temps for the hardy campers apparently felt like -29 C. For our American readers, that's, well, that's unfathomably effin' cold.
Thankfully, so the game doesn't turn into a frozen fiasco, temperatures are supposed to rise tomorrow for kick-off. Ah, even if they stay c-c-cold, old-timers will just sit around fondly recalling Grey Cups that were way (take your pick) colder, windier, wetter, foggier. Cause this game's got game. And this game's got history -- now more than a century of it.
And unless you're one of those who just inherently hates the Canadian game while worshipping its American cousin, you're in for a treat tomorrow. Because unlike the Super Bore (er, Super Bowl), the Grey Cup is almost always a great game.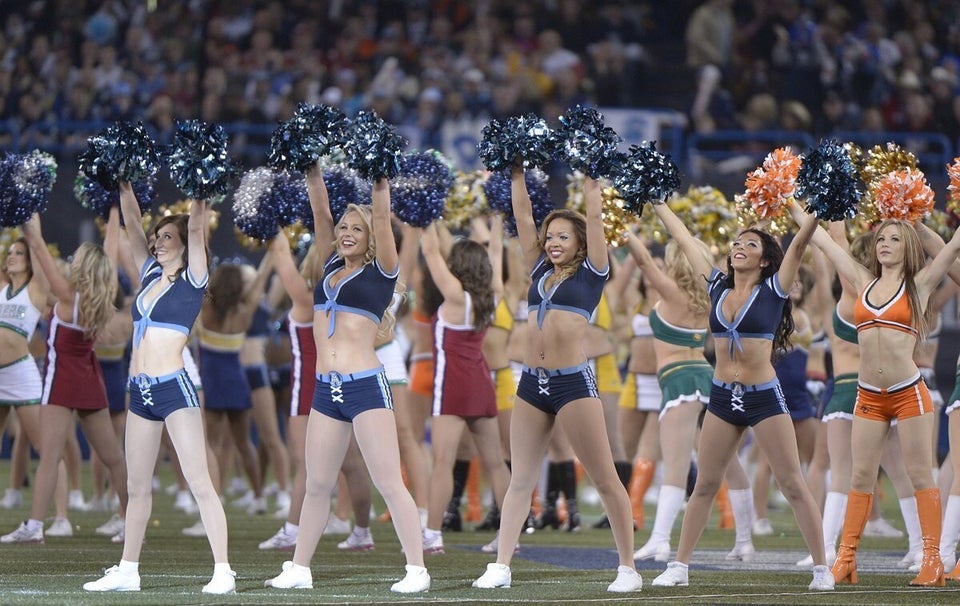 11 Ways The Grey Cup Is Better Than The Super Bowl