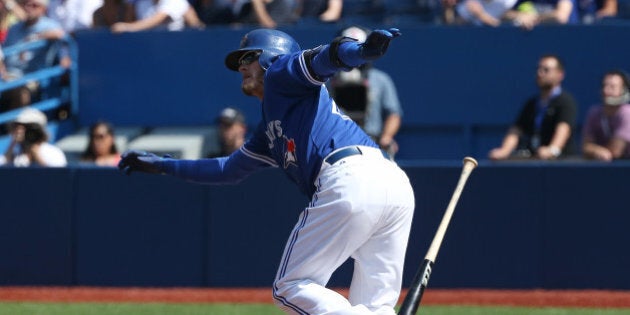 Love is in the air. Mind you, it's not your average, everyday, run of the mill, lower-case love. No, it's that most powerful, poignant, pure and upper-case of all Loves. It's the Man Crush, a.k.a. the Bromance.
By Josh, as the summer of (bro) love has evolved, men across our great country have gone gaga, tumbling head over heels over the bringer of rain, the Toronto Blue Jays' charismatic, ultra-intense third baseman, and probable the American league's most valuable player, Josh Donaldson.
Although it was love at first sight -- or, at least, love at first word that Jays General Manager Alex Anthopoulos had secured the star last November in a larcenous trade with the Oakland Athletics -- it was at once a love that subsequently blossomed like nobody's business. To the point where it's become all-encompassing, all-consuming and, at times, well, almost embarrassing.
Men can be found in coffee shops and bars writing poetry about Josh (when you made that catch, diving head-long into the stands, I knew you were great, and all kinds of, ah, grand.) Men can be found scratching their heads over everyday conundrums (like, say, if they catch a foot in the gears of a combine) and asking aloud: "I wonder what Josh would do?" Men in the media, paid handsomely not to be homers, can be heard gushing adoringly at Donaldson's homers. And, the biggest telling factor? In conversation, men are starting to put an egregious 'y' or odious 'er' at the end of Donaldson's first name.
It's a sports thing. It's a guy thing. When a man starts to fall into Bro Love, he can't stop himself (it's a sickness, really) from adding the dreaded letters to the end of his idol's name to affect an air of affinity and closeness. For example, guys who are gaga over New England Patriot quarterback Tom Brady, often refer to him as Tommy; yep, in the world of Bromance, the Tims, Toms, Bills, Bobs of this world just naturally become Timmy, Tommy, Billy, Bobby... Worse still, in talking about Wayne Gretzky, guys who have never met Wayne, let alone had a fast friendship with the Great One, call him... Wayne-er. As in, my buddy Wayne-er; or, I was just talking to the Wayne-er the other day about motor oil...
Mind you, it's not just men who have fallen in love with Donaldson. I recently overheard three young women who were all giddy-gosh about Josh. One said he makes her melt. Another said she wanted to bear his children. And a third added, rather dreamily: "It's his hair."
My word, the hair. Those locks have taken on a life of their own. Women adore the haircut, and men are emulating it. And although it hasn't quite reached, say, Farrah Fawcett or Donald Trump iconic hair levels, it's getting close. How to describe this daring do, known alternatively as The Donaldson, or the WTF? Semi-samurai? Fudged fauxhawk? Words cannot describe.
Listen, don't get me wrong. Donaldson deserves all the love he's getting. Off the field he's reported to be a mentor to the young guys and, to boot, the social butterfly who keeps the Jays' clubhouse loose and laughing. On the field, he's a leader, all grit and fiery determination. Further, the guy who set a MLB record with more than 14 million fan votes in all-star balloting -- his numbers goosed by a ringing endorsement from none other than Don Cherry who says Donaldson plays baseball like a hockey player -- is having a career season. A defensive dynamo. An offensive juggernaut. Truly the bringer of rain, for the way his monster homers threaten to fly out of the Rogers Centre and bust open poor, unsuspecting clouds.
As one fan understated online: "Josh Donaldson is literally a god."
Well, obviously. Granted, he's probably not God, but he's certainly a god... Women want to bear the god's children. And men want this god to be Matt Damon to their Ben Affleck. Honestly, they just want to become Josh Donaldson's inseparable soulmate. From now till eternity. That's all.
So it goes in this, the Summer of (bro) love.