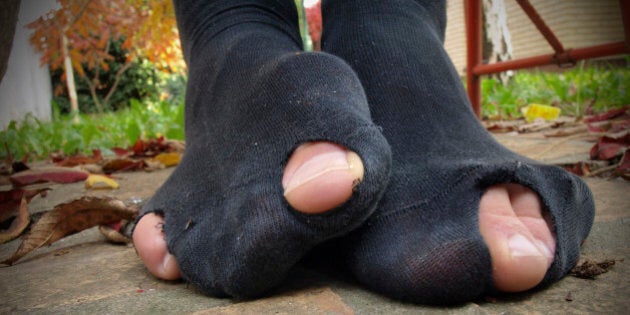 It's winter in Canada, which means the middle class becomes so cold that it starts to feel sympathy for the homeless. We start to imagine what it might be like to be caught in the jaws of this cold snap without a Canada Goose parka or long johns. It's a humbling thought -- one that might even spur the most staunch Libertarian to donate a little. But rather than embrace the giving spirit, critics are unfortunately focused on the right way to give.
At the centre of the debate on how to solve poverty is plain ol' socks. CBC's The Sunday Edition recently aired a mini-documentary about why the homeless need more of them. A raspy-voiced woman named Kiwi explained, "you don't realize that sometimes socks can be more important than bringing people food." When the shelters close, many homeless people walk all day just to eat (one man in the documentary says he walks 50 km a day). Socks are a lifeline. Without them, feet become infected and blistered to the point where people limp or can no longer walk. Shelters have a constant shortage.
It seems only logical that people should donate to organizations that buy socks for the homeless (this is more cost-effective than buying them yourself). But Judy Haiven, the chair of the Canadian Centre for Policy Alternatives-Nova Scotia argues in the Halifax Media Co-op that the pieces of fabric are a band-aid solution to poverty. Donations "make the giver feel good" and act as poor substitutes for much-needed political action: "the middle class seldom calls for an increase in welfare, a guaranteed annual income or permanent housing for the homeless or the poor," she writes.
Last year, street nurse Cathy Crowe wrote for Rabble.ca that a person must equally divide his or her time between charity, political activity and advocacy to really fight for a cause. These social advocates have little faith in socks.
Obviously, a piece of fabric doesn't have the strength to solve poverty. No threads to pick there. But what the argument fails to acknowledge is that small gestures such as sock-giving are the gateways to deeper commitment.
We're selfish. Most people need to care about a cause on a personal level before they support it politically. If that wasn't true, we'd probably be further along in the fight to stop climate change. But somehow, the idea that we're ruining the environment and economy for future generations is too abstract. Adam Corner, who works for UK-based charity Climate Outreach and Information Network (COIN) wrote in VICE that studies show people respond better to "your house would be less freezing and expensive to heat if the government subsidized you to get some double-glazing" than the idea of "climate change as an existential crisis for the human race."
Too many people don't feel a personal connection to homelessness. Instead, many of us think of them as fundamentally different from us, as if being on the street is always the result of poor character (too lazy, too indulgent) rather than unfortunate circumstances. But when we acknowledge that poor people need socks (or food, or company for that matter) we acknowledge their humanity. We acknowledge that though they live on the street, they have the same basic needs as the people who breeze by them with shopping bags. That empathy is the foundation of a person's commitment to a cause. Without it, we will never solve poverty.
Before Tom Costello Jr started The Joy of Sox, an organization that collects donations that go toward covering street people's feet, he was a self-described "homelessphobic." The nonprofit's website details Costello's panic attack when his wife dragged him to a Philadelphia shelter in 2007. A few years later he faced his fear and returned to give out socks. His heart melted when a woman began to cry after he handed her a pair. They hugged. Before that moment, he hadn't thought about homeless people's emotions. Now, helping the homeless is his life.
Socks can act as a stepping stone to a deeper engagement with poverty. They were for Pete Cassidy, a recently deceased street outreach worker in Ottawa. The former addict gave out items such as underwear, socks and, most famously, hugs, to the homeless as part of his Street Smarts program. Through this work, Cassidy became an advocate for, among other things, a better shelter system. Last winter, I took a few trips with a Toronto outreach van that stopped to hand out sandwiches, coffee and - you guessed it - foot warmers, to the homeless. I now co-run a writing group at a mission with the outreach worker who drove that van. As a journalist, I regularly write about income inequality issues such as the guaranteed annual income, affordable housing and child poverty. Any politician focused on those issues has my vote.
Anyone interested in social justice should encourage people to give the homeless socks. No, that act it itself will not solve poverty. But charity doesn't exist in a vacuum. It's part of human nature to give in small ways before we commit on a bigger level. As one commenter wrote on sock-skeptic Haiven's post: "Refusing to give to food banks because you want welfare reform is like refusing to support MSF or UNICEF until there is total world peace!!" On the road to solving poverty, socks are a great first step.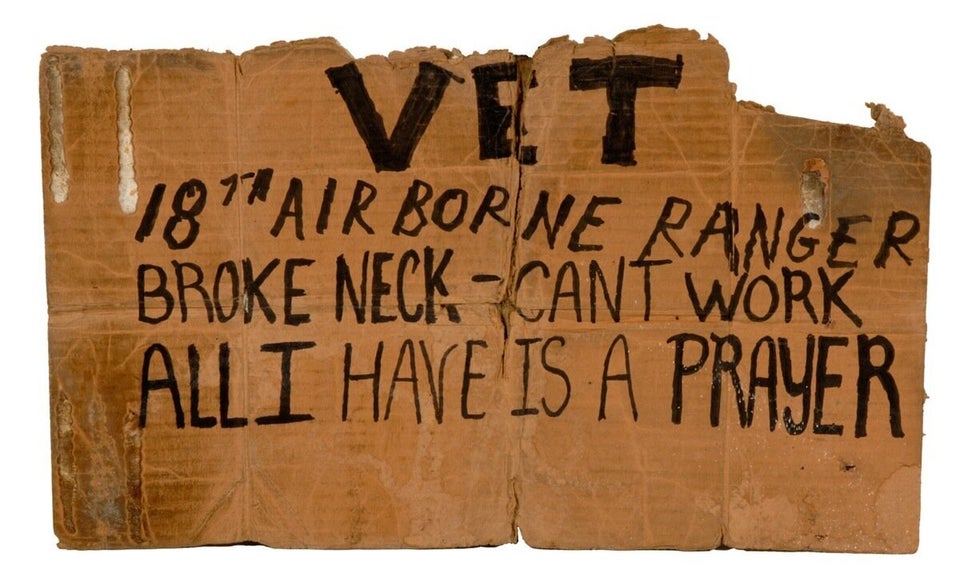 Artist Spends $7,000 Buying Homeless People's Signs For Good Reason