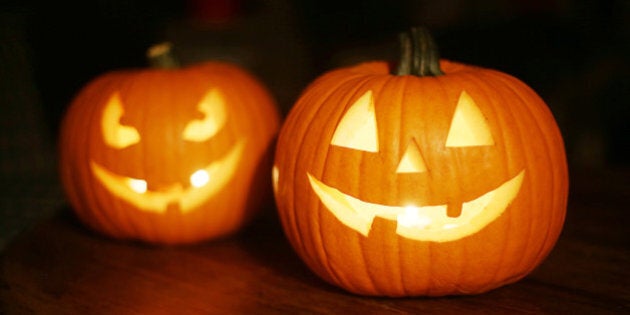 If you're like us, most occasions 'creep' up out of nowhere. It's as though one minute you're commenting, "ohhh that would be such an awesome Halloween costume this year," and the next moment you're scrambling to figure out what you can create with the store leftovers.
The same rings true for any sort of festive decorating.
Usually we can get away with skimping out, but, this year -- it being our toddler's first Halloween where he understands what's happening-- there's no way out. So, in a last minute hustle, we tracked down the happiest, trickiest, treat-i-est Halloween decor this side of the tombstone.
(1) Inflatable Archway Ghost House Halloween Decoration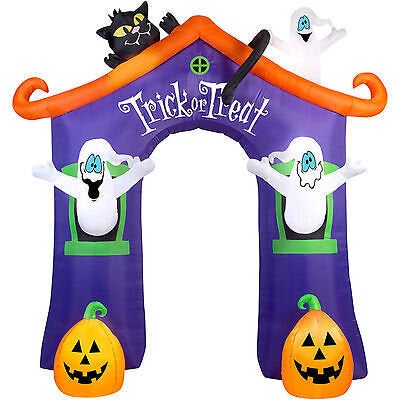 This is the Gemmy Airblown Inflatable Archway Ghost House Halloween Decoration (crazy long name but just in case you wanted to search for it). It's even more awe-mazing in person. Aside from the bright colours and light up element, it self-inflates/deflates in seconds. It's the quickest way to transform the front of your home into an instant "haunted" house that's ideal for young kiddos. It measures 9′ X 8.5′ and costs $99 at Walmart.
(2) Halloween Inflatable Skeleton on Train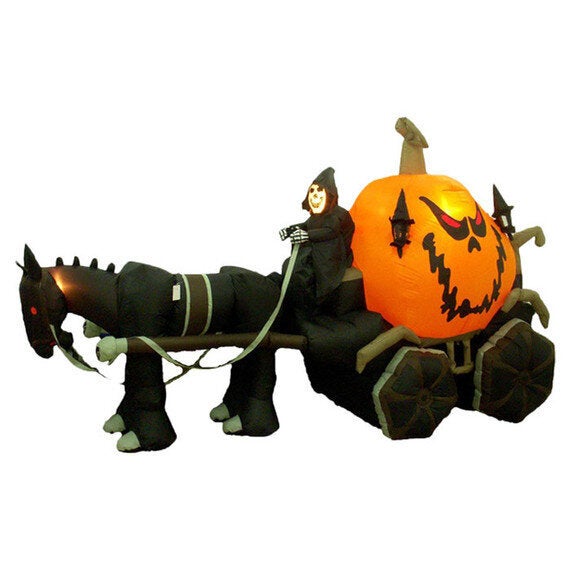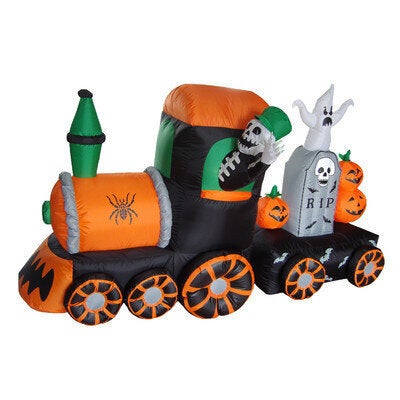 These creatures on trains/carriages inflatables are the best things since walking zombies. They're by far the easiest way to set up an impact, statement piece and call it a day. If your kids are older and nagging you to get into the spirit, just order one of these mammoth beasts and you'll be the neighbourhood hero. We found these options on Wayfair.ca which means they'll get delivered to your door. Prices start around $150.
(3) The Inflatable Pumpkin Patch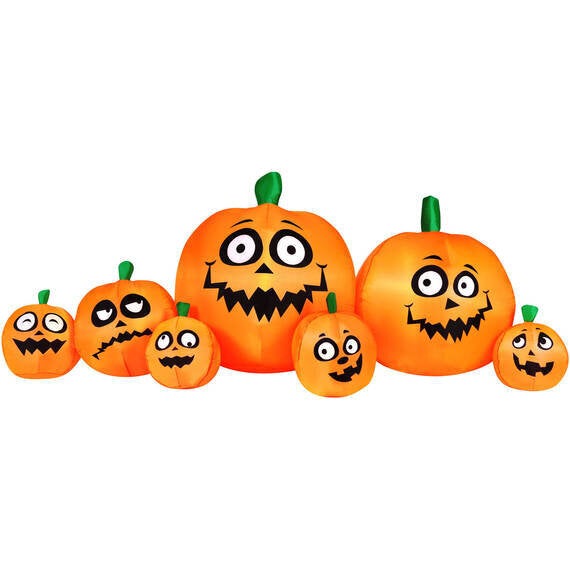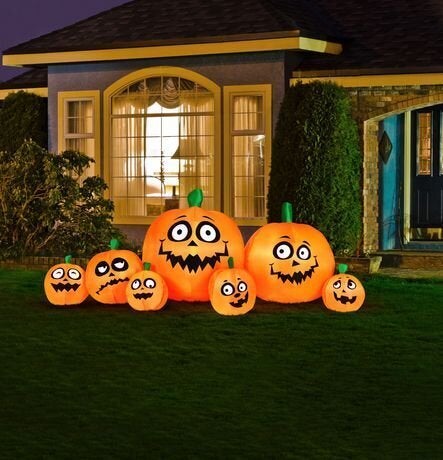 This 8.5 ft inflatable pumpkin patch is our favorite pick for little ones. For less than $70 (we found it at Walmart) you can transform your home into an adorable pumpkin patch. They're all connected together which makes for a simple set up. In terms of money well spent, this is the holy grail of Halloween bang for your buck, Like the other inflatables we've listed, they inflate and deflate in seconds so all you need to do is tether it down and you're good to go (and it can live in your play room afterwards).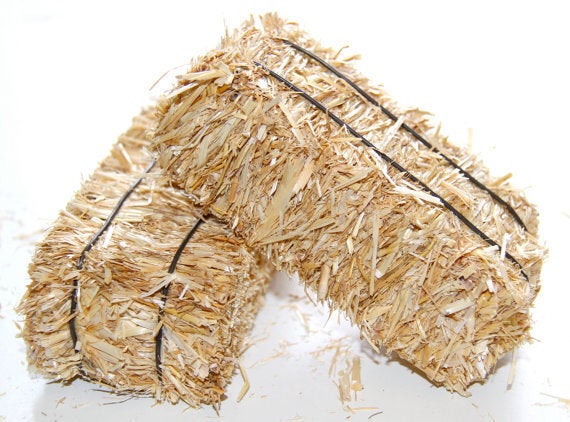 Ok, this might not seem all that glamorous at first glance, but when it comes to Halloween decor, nothing says "creepy walkway" or "rat nest" quite like hay bails. They're such an easy way to transform your front porch or pathway into something other-world. Both before and after the big day, you can use the bails in your gardens, create a door wreath or simply stack them up and add some fall decor to your home. You don't need to head out of the city to buy them and they're priced right ($15.99/bail at Canadian Tire.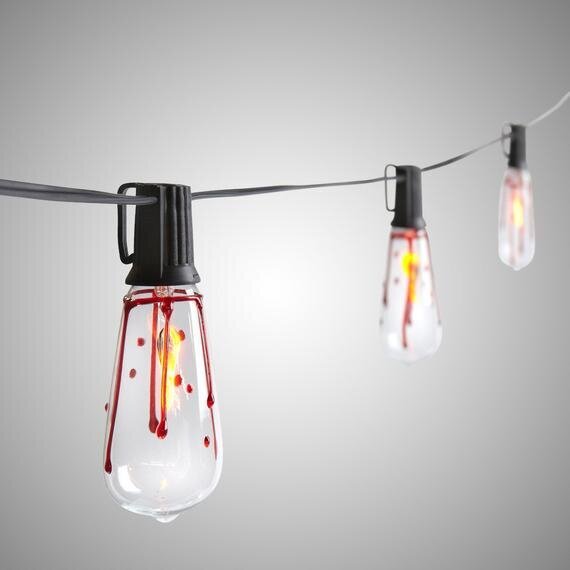 You don't have a lot of room? You live in a condo? There's no access to power for gigantic inflatables? You want to be festive but not that festive? Simply adorn your windows, front doorway or bushes with some creepy lights. And, forget those pretty twinkling holiday lights. For a mere $12.99 - $39 a strand (we used Amazon.ca and Canadian Tire) you can get strands of grisly, blood dripped lights or miniature, bendable orange wire lights that scream Halloween.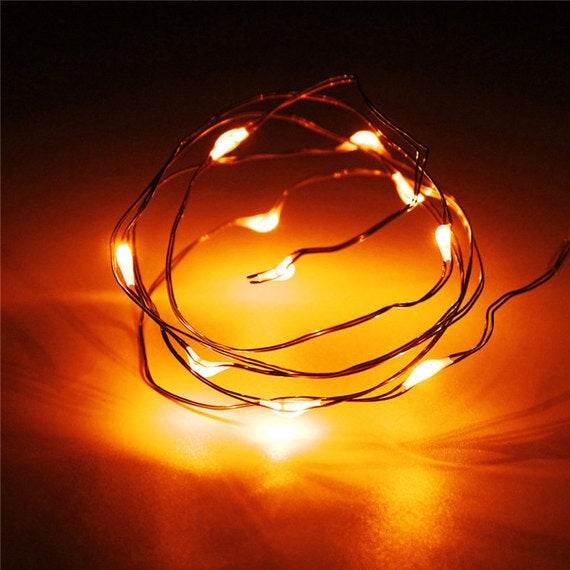 One of the best parts about waiting until the last minute to decorate your home is the deals you'll score. If stores are sold out, check their websites (delivery to your home is the best). We've already found prices on some of the above items slashed. Happy Halloween and Happy shopping.
Follow HuffPost Canada Blogs on Facebook