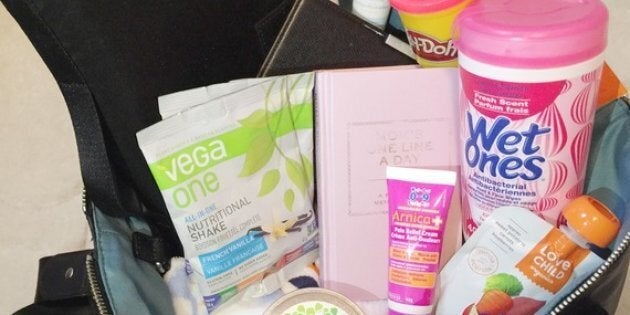 If you're searching this subject, you've likely got an upcoming flight with kids. We've been there, done that and we've found that one of the main, first tips is...
(1) Don't over think things
Regardless of how many issues you face during your travels, the bottom line is, you'll get there. While it's great to be proactive, most travel issues can rarely be predicted.
Contrary to the above, you'll want to make sure your prepared in some way. For each three hours in the air, we suggest planning 10 activities (especially with young children). Don't expect kids under five to sit still and watch the in-flight entertainment the whole time.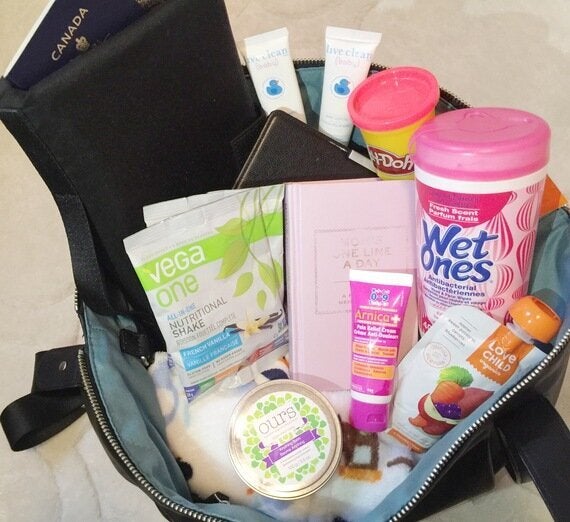 We often bring my mom with us and she always has "Grammy's bag" packed with dollar store trinkets. Throughout the flight she lets the kids rummage through and discover something new
(3) Leave enough time for the airport
It takes longer to do everything when you're with kids - from check-in and security to snacks and washroom breaks. Rushing them will only add stress. We usually add a half hour.
(4) Don't leave too early for airport
Contrary to the above, if you leave too early, you might use up all of your kids' patience in the gate area. We've seen kids burn out before take-off and it's not pretty.
(5) Don't focus too much on the other passengers
A lot of people worry about those around them and spend the flight apologizing. Use that energy to focus on your family instead.
(6) Don't disregard the other passengers altogether
Be courteous to those around you and remember that they've paid for their seat too. While you can't always control your kids, you can definitely try to contain them.
I flew from Toronto, Ontario to Orlando, Florida with a young kid kicking my seat-back the entire time. I let it go for the first hour or so but when he leaned over the seat and yanked my hair, I was ready to drop the mitts and battle it out. Only then did his parents explain that he had autism and the flight was difficult for him. It might have helped to know this when we first boarded. By the time they explained things I was already ticked off...
Airlines rarely offer meal service (especially on short flights or discount airlines) so make sure you plan out your travel day. Prepare and pack food (we opt for sandwiches, crackers and fruit) for any meals that you'll miss in the air.
(8) Avoid toys with small pieces
Unless you want to bend over the entire flight picking Lego out of the air vents, it's best to avoid small toys or games with little pieces.
(9) Make friends with flight attendants
Some people get so caught up in themselves that they disregard flight staff. You'll never know when you'll need a bottle heated up, extra beverages or an extra set of hands.
I flew solo with my infant from Chicago, IL to Toronto, ON. I figured it would be easy since it's a short flight. But bladders don't have clocks. I had to go. There was no way I could squeeze into the small bathroom and hold my infant. Thankfully, I had interacted politely and friendly with flight attendants who then offered to hold my son.
Depending on your budget and the duration of your flight, you'll want to ensure you have enough space. Although kids under two fly free, it doesn't mean that all kids under that age don't require their own space. Some toddlers are quite large or move around a lot so laps aren't the best option in this case. Once a baby reaches 10-months, it's hard to keep him or her seated on your lap for longer flights. If points or budget permits, opt for the extra seat.