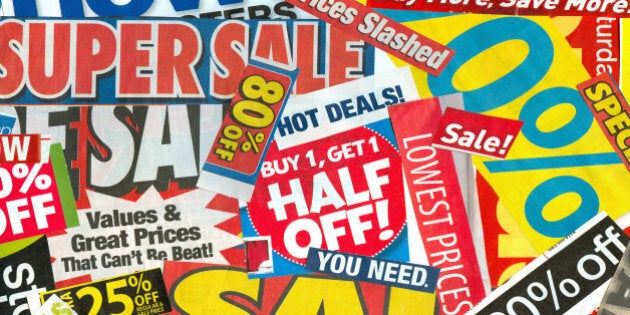 We better hold on to our wallets and credit cards with a vengeance because things just got a little more interesting. Black Friday shoppers are getting an early surprise. USA Today just announced some major retailers will start offering Black Friday sales this weekend, deal of the day and other promotions to get us to spend, spend, spend. This shift in strategy isn't good news for those of us trying to pay down debt, save more money for our goals, and trying not to engage in impulse shopping.
The shopping surprise among the big retailers is big news, which may start a trend north of the border in Canada. Over the years, it wasn't uncommon to see retailers having Black Friday sales leading up to the American Thanksgiving and after. Historically, Black Friday always takes place the day after U.S. Thanksgiving which is November 28 this year. Welcome to November, a month long shopping extravaganza.
Canadian Retailers are going to have to react quickly to this news and mobilize in order to keep Canadians from spending their money south of the border if they want to grab share of the ~$407 spent per person during Black Friday sales last year.
The Internet is the great sale equalizer because you can shop anytime. Who wants the headache of traffic and long line ups anyway? Besides, many cross-border Canadian cities have built outlet shopping malls to keep Canadians on our turf during non-peak and holiday shopping seasons.
Last year and around this time, I posed a question to readers about their Black Friday shopping intentions, and I will pose it again this year because the stakes just got a little higher. But for me, I want all of us to answer the question "do we really gotta have it?"
Both sides of the border will be vying for our hard earned money. We are going to have to get smarter and more strategic on how we spend and on what. Retailers will try to entice us to spend our money and play on our weaknesses and vulnerability of "not being able to pass up on a good deal." Remember, it's only a good deal if we have the money sitting around to spend. But most of us spend based on expected earnings or future bonuses. It's not a good deal if the only payment option is credit.
It is easy to be persuaded to buy when we are feeling emotionally drained or stressed. It is harder to be influenced or tricked by persuasive marketing ploys, when we are feeling in top form. Research tells us that 50 per cent of people have buyer's remorse after impulse shopping and seek to return the purchase. Don't waste money on things that collect dust and create clutter at home.
Are you a spender, and spend when you can't afford to spend money?
I think most of us do not realize how much money we spend on stuff that is unimportant in our lives. Do any of us really think having another watch will make our lives better, when we can only wear one watch at a time? When we take a value centred approach to our lives we are capable of engaging in more mindful decision making, and making conscious decisions around our spending. When we live by a set of values, decision making or spending is strategic and well thought out. And shopping will not need to be an impulsive need.
If you can't resist shopping this month, here are some helpful hints to help you shop better, avoid buyer's remorse or headaches from over spending, and keep your cool.
1. Set a budget. Define what you really can afford to spend. If you have no idea, resist the temptation to shop. Make a list and stick to it.
2. Pay cash or use debit. Don't use your credit card unless you can pay off your balance next month in full. Remember to track your spending. Keep receipts in an envelope and make sure to add them up.
3. Define value. Everything in life has some form of value. It is important to define what you value and spend accordingly. When you look at something, think about its real value.
4. Be strategic. Hone in on big ticket items that could offer the greatest amount of savings. Forget the small ticket items. The savings won't be as great. Tablets and big screen TVs were the highest demand items last year, and offered some of the best deals.
5. Make an informed decision. Conduct your research now. There are many websites that will do the comparison for you. Check out www.blackfriday.com. Or you can do it the old fashion way and identify three retailers who carry the item you seek and monitor pricing daily.
6. Manage your time. Shop online. Don't waste time lining up at stores. Your time is valuable. There is never enough. With a strategic list in hand, you will get your shopping over quickly and can spend your time on more enriching activities.
7. Park your emotions. Try not to get emotionally attached to something and lose your judgement.
8. Be smart. If the deal is too good to be true, it probably is. Remember the phrase "buyer beware." Make sure you know what you are buying so that there are no surprises or "gotchas."
9. Avoid the shopping meltdown. Try not to allow kids, or anyone pressure you to buy. Try not to cave in. It's easy. I know. You don't gotta have anything. Really.
Keep your cool. It's easy to get caught up in the hype, excitement and euphoria of great deals. A deal is only good if it is something you really need.