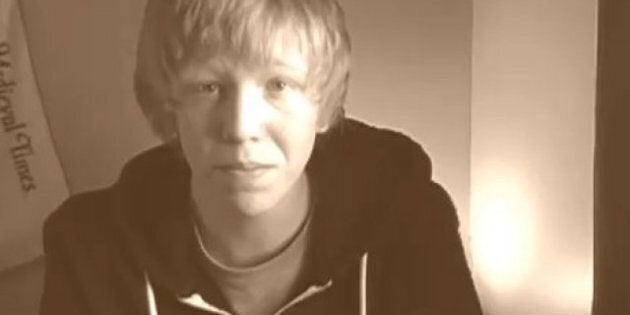 Jamie Hubley was the only openly gay kid at his Catholic high school in Kanata, in suburban Ottawa. Last week he gave up and killed himself. Jamie Hubley was 15 years old. His father, Ottawa City Councillor Allan Hubley, told CBC News that Jamie suffered from depression and had been bullied for years.
The start of a new school year is an especially tense time for students, full of pitfalls and disappointment. For "normal" kids it can be horribly stressful and even frightening to go back to school. It is vastly more scary for LGBT kids. Many gay and lesbian kids report feeling most unsafe in school change rooms, washrooms, halls and buses, according to EGALE Canada. Suicide is the second-leading cause of death for Canadians between the ages of 10 and 24. It disproportionately affects gay, lesbian, bisexual and transgender youth. That is not new. But we live in a time when we can actually do something about the suffering of those who are "different."
Jamie Hubley tried. He started a rainbow alliance club for LGBT youth. The posters were torn down.
Hubley had been hassled since grade school for being a figure skater, for the way he dressed, for his singing and acting. We can only imagine how hellish leaving the house must have been for him.
In Quebec we hear kids say "maudit fif," "tapette," "what a fag," "that is so gay" -- kids say this stuff all the time. Raucous packs of kids on the bus and metro throw these words around all the time. This homophobic language has come to mean "loser" and "dork." Some of the kids who say this stuff probably don't mean it, don't really understand what they are saying. But words are weapons. They have power and meaning. They wound.
I didn't know the shy smiling young person in the photo beside his proud dad. There are gay and lesbian people in my family, and I am pretty sure there are in yours as well. If you look around you I am absolutely sure there are people of various sexual orientations living and working nearby.
It is very tough to be gay or lesbian in this society, even now. To be openly out requires personal courage, a kind of courage that a lot of us lack.
Jamie Hubley was brave. He just didn't think it would get better for him, despite all the "It Gets Better" videos, and the increasing acceptance of gay marriage for adults. He seemed to have his own issues, on top of being gay and open about it. He shouldn't have had to fend off constant attacks about his sexual orientation.
In his last note Jamie Hubley asked people to remember him as a unicorn, the symbol of purity and grace. He was young and wanted to be loved, and accepted. Those are pure things, and full of grace.
Our LGBT youth, the children of our friends and families, our own children, all need a safe space to become themselves. We all need to help make that happen.