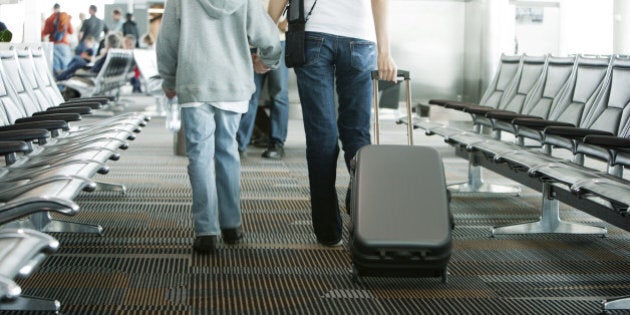 Knowing your rights -- and your travel insurance options -- can go a long away at the airport.
It's a worst-case vacation scenario -- you've been waiting for hours at your airline's gate with your tropical itinerary and (increasingly cranky) kids in tow, when they make the announcement: your flight will not be taking off as planned. Flight cancellations are often panic-inducing, especially if there are connecting flights, ground transportation and hotel reservations on the clock -- and your dollar.
Fortunately, you don't have to join the airport chaos. Being a savvy and well-prepared traveler can mean the difference between hours of stranded misery and salvaging your vacation. The trick is knowing your rights as a passenger -- and covering yourself when the airline isn't obligated to compensate you.
The Cause for Cancellation Makes a Difference
Airlines cancel flights for a number of reasons, and the cause will impact what you're entitled to. If the delay or cancellation is the fault of the airline (like mechanical failure or crew hours expiring), passengers can expect to receive some compensation. In these cases, airlines generally have to provide passengers with food vouchers every four hours, and pay for hotel accommodations should you be stranded away from your home city overnight for over eight hours.
Depending on the airline you may also receive additional benefits such as free phone calls, toiletries, ground transportation, etc. Check with your airline before you fly to determine what exactly they offer in a cancellation / extended delay situation.
Your Ticket is a Contract
The airline is bound legally to get you from point A to point B -- or refund your money altogether. Their first course of action upon cancellation is to rebook your flight, either on a later departure within its fleet or by purchasing a seat for you on a partnership airline. But that's where the guarantees end; while they'll try to get you out as soon as possible, this can vary widely depending on weather conditions and the frequency of flights to your destination. In many cases, you may not be guaranteed to get a seat in the same class on your rebooked flight.
However, you're out of luck if weather is to blame; in Canada, the airline is under no obligation to feed you or find you accommodation while waiting to be rebooked, leaving travellers to their own resources. Fortunately, there are a number of travel insurance policies that can ease the pain of weather-related delays and cancellations. Remember, these coverage types are usually considered to be add-ons; at a bare minimum, you should have adequate travel medical and accident insurance for yourself, spouse and any dependents travelling with you.
TIP -- Even if your flight status is delayed, it doesn't mean you can leave later for the airport. You could miss your flight and potentially void any delay coverage you may have!
Should your flight be cancelled or delayed for any reason, this coverage can ensure your comfort and peace of mind while awaiting your new travel itinerary. It allows the policy holder to reimburse any costs that arise from their delay, including:
Meals
Hotel stays
Clothing purchased
Ground transportation
Any deposits you made for other components of your trip (e.g. missed hotel stays)
Questions to Ask Your Insurer
Is there a minimum delay length before the insurance is valid (e.g must be stranded a minimum of three hours before purchases can be made and reimbursed)?
Are there any types of purchases that won't be covered by the policy, for example, books, maps, toys, etc.
Is there a maximum I can spend daily on accommodation or meals for reimbursement?
How soon after my trip must I provide receipts for my purchases to receive reimbursement?
Trip Interruption Insurance
This coverage will reimburse you for any unused, un-refundable part of your trip should you have to return from it early, or are delayed along the way and need to catch up. For example, if you fall ill or are injured while on your trip and must travel home and miss your pre-booked tour and hotel stay, or miss your arranged ground transportation or hotel check in at your destination due to a flight delay.
Questions to ask your insurer:
What types of delays are eligible for re-imbursement should I miss a connection and incur additional travel costs to catch up on my trip?
Are there any scenarios where my trip interruption insurance is void (e.g. should you miss your cruise's departure because you lost track of time).
Could my coverage be void if I have any pre-existing health issues?
This covers you in the case you must cancel your flight before your departure (not in the case of an airline cancellation). It generally covers you if you cancel due to:
Unexpected illness or hospitalization of ticket holder, spouse, or dependent
Death of ticket holder or close family member
Jury duty
Military service
Where can you find additional travel insurance coverage?
There are a number of travel insurance providers offering a variety of policies in Canada. It's smart to compare what they offer when choosing the right coverage for your trip, especially if you're travelling at a time of year (like March Break) when weather and overbooking can lead to airport headaches. Try a great resource like Insurancehotline.com to compare policies. Some travel rewards credit cards also offer additional insurance perks - regardless of how you obtain your policy, knowing the extent of its coverage can give you peace of mind - whatever you encounter along the way.
Follow HuffPost Canada Blogs on Facebook