"When I was back in Kenya, I'd heard Canada was cold and I thought PEI, being an island, would be warmer," singer/songwriter Ruth Mathiang remembers with a laugh.
Juno winner Lorraine Klaasen similarly recalls her impressions of Canada. "I came in 1978 at the height of René Lévesque in Québec," she said. "I was coming from a country divided by apartheid." It was an unsettling welcome for the South African singer.
Coming to Canada from across the globe represents a giant leap of faith in this country -- a faith with sometimes shaky foundations. Newly-arrived African and Caribbean artists find themselves joining a growing yet largely unrecognized contingent of immigrant musicians trying to carve out a living.
"It's not easy to survive as a musician," says Zimbabwean multi-instrumentalist and songwriter Tich Maredza. His career got a boost from another Zimbabwean -- popular singer and band leader Oliver Mtukudzi.A chance meeting with Mtukudzi's promoter at an event in Dallas led to Tich playing as a guest artist for Mtukudzi (or Tuku, as his fans call him), a practice that continued after Tich settled in Toronto in 2008. In Zimbabwe, the music legend would be surrounded by an impenetrable entourage. "It was easier to connect with him here than back home," Tich says.
Parental disapproval knows no geographic boundaries. "The challenges -- they're different but they're the same," says Congolese-born singer Blandine.
"Music is part of everyday culture. In Africa it's as important as a background in letters and sciences -- but -- as a background, not a profession," she cautions. "At home, my family was very conservative. It's only here in North America where you can do what you want."
"There was still a lot of opportunity in my country; art is appreciated much more than here in Canada," says Haitian artist Wesley Loussaint, "but to make a living in music in Haiti is difficult because it's a poor country. The people who like us don't have the money to buy our albums... being down there we always thought Canada had so much more opportunity since there is a system where you could make money, but the reality is really different on the ground."
Wesley arrived in 2008 at the height of the economic downturn. "It was very difficult for me for a couple of reasons," he says. "I had arrived when the industry was in a crisis. It's hard to get established here because I didn't have the academic background to communicate with musicians from here, where 90 per cent of them did."
Despite rocky beginnings, he's toured extensively under his band name Wesli and gone on to win a number of awards in Canada and in France. Having played in France with West African reggae star Tiken Jah Fakoly, Wesley took the opportunity to reconnect with him when he toured North America and the two recorded a song, "Colonisation," that ended up on Wesli's 2011 release, Liberté dans le noir.
A TV star at age six in his native Sudan, Waleed Abdulhamid came to Toronto and started playing the subway in 1992. Making a living at music didn't come easy, but after a going through a few labouring jobs, he made a decision: "I am a musician. I'm going to play music," he told himself.
From that moment, he began busking full-time and jamming with whoever he could. "There is nothing impossible in my mind," he says.
Nowadays he teaches in the music department at Toronto's Humber College and is an artist-in-residence at the Young Center where he often plays for the Soulpepper Theatre Company, in addition to a busy playing schedule.
Lorraine Klaasen began performing on this side of the Atlantic in a musical in 1986; she recently celebrated a Juno win for World Music Album of the Year for her 2012 release, A Tribute To Miriam Makeba. She appreciates the recognition -- but it was a long time coming.
"Perseverance and endurance; it's one thing to say it, it's another thing to live it," she says. Lorraine also often wonders about the Juno award that is now on her shelf. "Okay, now that I have you, what does it mean?" she wonders.
There just isn't any infrastructure for music beyond the mainstream in tiny PEI, where Ruth Mathiang found herself.
"There was no one to compare myself to. It's hard to develop. But, I got a lot of support there," she remembers warmly. She's found a welcoming community in Toronto -- along with more opportunities. "It's been the support from the African community; for me, it was mostly Nadine."
"There is a great audience in Canada. People want to learn our music; they want to travel through our music. But the system makes it hard for professional Afro musician," says singer Muna Mingole -- the Blue Flame of Cameroon.
"People only have access to our music through CBC radio, schools, African radio networks or community networks. Although we work hard we do not have the vehicle for our music to be heard. But if we we're not important to Canada's culture, why would there be so many world, jazz and folk festivals doing so well?" she wonders.
"Audiences don't know what to expect and not enough are ready to buy a ticket because of that," Wesley says. Without radio play or media attention, it's that loose network of organizations and mainly summer festivals which have become the main vehicle for many of these artists to reach larger audiences.
Muna Mingole at Afrofest 2010
There is one statement about being an artist in Canada that all the musicians mention.
"I have to tip my hat to the people of Canada. Even when they don't understand the words -- they must have a big heart to open up to other cultures like that," Lorraine says. "The best is the people in this city; Montreal is a very intimate, cosmopolitan city."
Waleed is effusive. "This country has the most beautiful, brilliant humans," he says. "The system is always crap. It would be nice to have a good mayor. But this city [Toronto] is beautiful."
Waleed (guitar) plays with Ruth Mathiang at Toronto's Afrofest in 2011: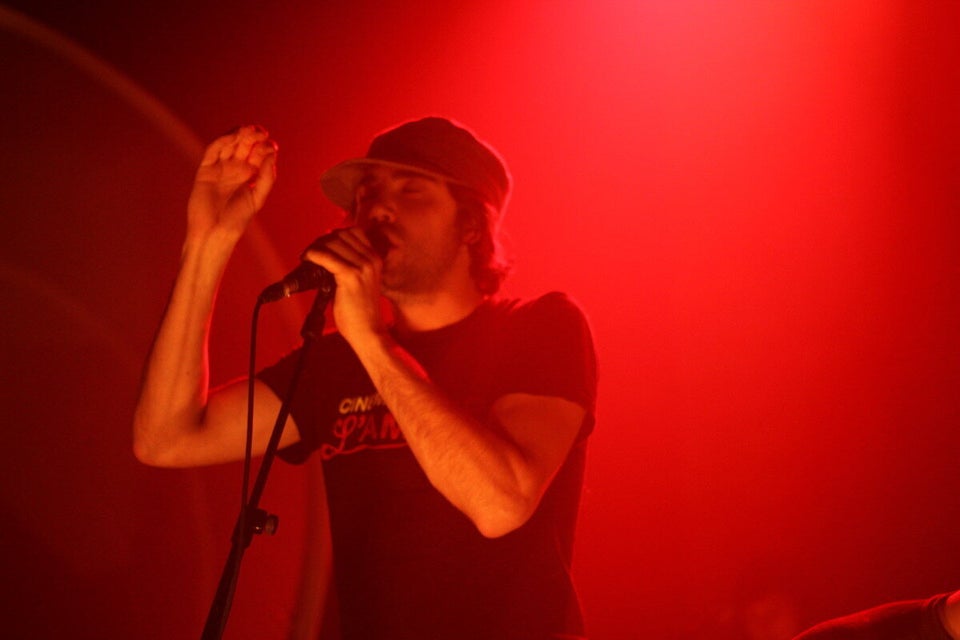 Best Canadian Songs Of 2012