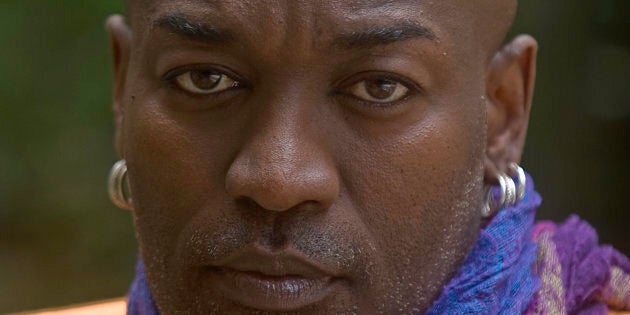 "The last three years have been difficult, especially the last two," says Jeanguy Saintus, professional name of Haitian-born and internationally renowned choreographer, dancer and dance educator Jeanguy Saintus Riché,. "In 2010, it was a shock to everyone. We didn't know what would happen."
On January 12, 2010, the earthquake shattered much more than buildings in troubled Haiti and more than three years later, the Caribbean nation is still struggling to rebuild even essential services.
I first became aware of his work, ironically or not, right about that time. When the earthquake took place, Jeanguy was in the middle of choreographing a piece that would be performed by Toronto's COBA (Coalition of Black Artists). The show had to go on without Jeanguy's last minute help at rehearsals when a flight north proved impossible to arrange in time for the February 2010 performance.
What struck me about his work was its cross cultural richness and theatricality - the way he uses physical intensity to evoke dramatic and spiritual dimensions. International reviews also note the emotional intensity and impressive physicality of the dancers in Ayikodans, his dance company; they have been highly acclaimed in the Miami press among others.
The quake left cracks in the walls of the building housing Artcho Danse- the studio and school he founded a quarter of a century ago as a home for Ayikodans- and more significantly, left fissures in an already difficult situation.
He got an abrupt awakening to one of the new realities of post-earthquake Haiti: skyrocketing rents. "I've been using a space for 16 years. I've paid the landlord close to $300,000 in rent," he says. A week after the earthquake, the landlord contacted him to ask when he'd be vacating the premises. "It was a shock for me. Rents were high. The NGOs with their millions rented a space for a parking lot." The effects of NGOs and their operating cash flows on rents and the availability of property of all kinds has been much discussed in the media.
"Homeowners went crazy." Jeanguy inquired about buying the property Artcho Danse. "The owner wanted $3 million," he says. "I thought I was about to lose everything that I had worked for."
"Forget about $3 million - that I will never, ever find," he told himself. The only solution seemed to be financing the purchase of his own property. He resisted the pressure to move until the end of 2012 while making plans.
Jeanguy had two things working for him: his own iron-willed determination to keep making dance in Haiti and the help of some friends. "When I was younger, I thought I could do everything myself," he says. This time, he went looking for help. At first, he tried various levels of government and even the NGOS that were flooding Haiti but came up short. Eventually he found it among people like John Yearwood, the World Editor of The Miami Herald, who was instrumental in bringing Ayikodans to the Adrienne Arsht Center for the Performing Arts where they've performed their last three seasons. The administration of the Arsht Center organized fundraising events and helped to raise the capital he needed. Others were also generous. "The architect started working even without payments," he says.
"After April 29, when we opened the new studio, it's like we're just starting again. It's true that we still owe money," he acknowledges . "It's frustrating. It's a marathon project. (But) after 25 years, I have my own studio," he says. He's also grateful for the Arsht Center's continued support. "The most important thing was to keep the dancers in dancing. At least we have a season."
He's already planning a second studio that will include performance space - solving one of the real problems for his and any other performing company in Haiti. "There are no theatres here," he says. It's just one of the elements that make running a dance center and performing company in Haiti a never-ending challenge.
"The people we bring here -people just can't imagine that we'd be fighting to do something here in Haiti when we could be in Europe, North America," he says.
He admits that there are times when even he questions his devotion to staying in his native country when it's so difficult to accomplish even the most basic of operating tasks. "We don't have a theatre - why have a dance company?" he wonders. "We don't have social security here. We have no health insurance for the dancers. So why stay here?"
"Everybody here talks about the richness of culture. But the reality is that no one is here to support you. Now, I'm trying to see how I can work with institutions here," he says.
"The biggest problem we have here is - we have cultural institutions, mais c'est quoi la priorité?" (but what's the priority?) he asks. He acknowledges that the arts and culture drop down on the list when the basics of society are wanting. "I used to buy that argument," he says. "We don't have a great hospital, not everybody is eating. When they used to tell me, art and culture is not a priority, I used to agree. But now I think it is an excuse."
"Because they're not feeding people. We have no hospitals."
Touring the world with Ayikodans and coming into contact with European and North American dance companies only brings the drastic nature of his situation at home into sharper relief. "They tell you they have a grant for 'only' $200,000. I say - and you are complaining?"
It's been equally difficult to get any media exposure for Ayikodans beyond the immediate areas where they perform. "An Italian photographer was here and took some great pictures of the dancers. But they told me, these will never sell," he relates. "If it's not kids dying, if it's not misery, they won't buy it. They don't even like it when I speak English. They want someone poor and dumb to help."
So why persevere in the end? When his dancers ask the same question, he tells them they're not dancing because they're living some ideal dance fantasy in New York City - they're dancing for the beauty of the dance and their Haitian culture itself.
"That's what keeps me alive; to prove not just to Haiti but to the world that we can do something here."
Jeanguy Saintus founded Artcho Danse 25 years ago as a dance and dance training center for children and adults in Port-au-Prince. Guest artists from around the world teach at Artcho Danse, just as Jeanguy takes his singular choreographic sensibilities all over the world by teaching master classes. In 2008, he received the high profile Prince Klaus Award in The Netherlands.
Among others, Ayikodans has performed at Carnegie Hall in New York City, Tropentheater and Muziekgebouw in Amsterdam , the Rose Hall in Montego Bay, Jamaica and many other venues throughout the Caribbean and as far away as Tokyo. Artcho Danse - Home of Ayikodans is located at 7, rue Joe Assali in Port-au-Prince