alamy
A few years ago, I tuned out the news. It wasn't really meant to be a permanent decision, but nonetheless I did make a clean break with TV and radio newscasts, newspapers, and news magazines (although it's virtually impossible to entirely escape headlines when you're on the Internet). Around the same time, I started writing and blogging about the arts on a regular basis.
Nowadays, I'll mention to friends and acquaintances that I'm much better informed being plugged into the arts than I ever was from watching or reading the news. The reaction is either a tolerant smile or a puzzled look, as if they were trying to discern some hidden or deeper philosophical meaning in the comment. I mean it quite literally, however, and now I have the proof.
NewsWatch Canada, an independent news research group housed at the School of Communication at Simon Fraser University recently released their list of the top 25 under-reported news stories of 2010-2011. It's an interesting list of stories that couldn't get past the Kardashian factor -- or didn't have enough Kardashian factor -- to get a lot of coverage. You can check out the full list at this link.
Stories about the oil sands, the Alberta natural gas industry, and Canadian mining companies may not have made it to the news, but as it happens, many made it to my own arts and culture blog, where I found them in the stream of media releases that fill my inbox daily.
Indie films and film festivals are golden opportunities to learn about our world. Keepers of the Water is a short film by Ayelen Liberona that focuses on the kids of Fort Chipewyan, Alberta, a First Nations community directly downstream from the Alberta tar sands.
They talk about not being able to play in the water that now turns their skin orange, among other things. Liz Marshall's film Water on the Table (about Maude Barlow) also touches on the oil sands, and Wiebo's War, a National Film Board documentary, in its look at controversial figure Wiebo Ludwig, reveals a host of unanswered questions about the effects of sour gases and the Alberta oil industry -- questions that aren't even asked in the mainstream media.
Toronto's Aluna Theatre produced an original multimedia piece last year called Nohayquiensepa or No One Knows: A Requiem for the Forcibly Displaced. It's an abstract look at the lives of the people in a South American village after a Canadian mining company moves in and body parts start washing up along the river banks. The piece is based on events that occurred in Colombia and uses real documentation including a long list of the dead and missing. (You'll find these events mentioned in this York University report on page 22.
American filmmaker Jamie Moffett toured North America with his film Return to El Salvador in 2011. While he was in Canada, he included a stop in Ottawa in September where he met with MPs in support of then newly proposed Bill C300, which dealt with corporate accountability for the activities of mining companies who operate internationally.
Stephanie Boyd's film The Devil Operation is another documentary that details horrific stories about paramilitary thugs, disappearances, and murders that happen when locals dare to object to the destruction of their Andean landscape by mining companies.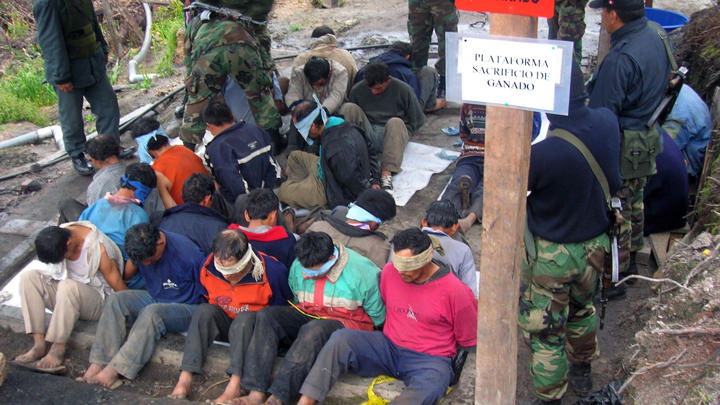 First Nation's folk/rock musician Leela Gilday sings about the disappearance of Aboriginal women and other injustices. First Nations issues in general are seldom covered in the news except when they make sensational headlines, but a visit to the growing imagineNATIVE Film + Media Arts Festival, held yearly in Toronto, offers a broad and global perspective.
The list of current events and recent history I've learned about via culture is substantial, even staggering. I grew up during the time of the Southeast Asian conflicts of the 1960s and 70s, but never understood the Khmer Rouge and the so-called "Killing Fields" in Cambodia -- the perpetrators of which are just now coming to trial -- until the Hot Docs film festival gave me the opportunity to review Enemies of the People, a documentary about a journalist's quest for answers about what happened to his family.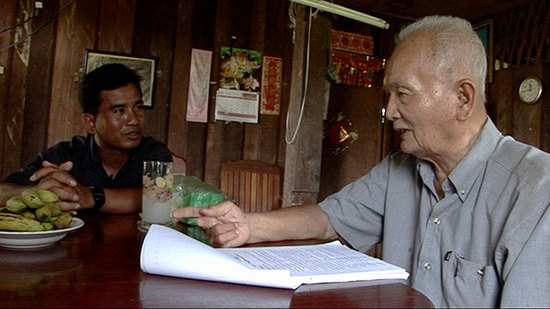 The arts offer a view across cultures and geography, and sometimes, seeing the "other" point of view can be startling; what we call the Vietnam War, if you're from Cambodia, is known as the American War.
And I was certainly alive and living in North America in 2000, but don't recall hearing a word about the Cochabamba Water Wars in Bolivia -- a time of civil unrest brought on by attempts to privatize the water system -- until I interviewed screenwriter Paul Laverty about the film Tambian la Lluvia (Even the Rain) during the Toronto International Film Festival in 2010.
More recently, when Gaddafi was said to be contemplating a flight to Niger, I knew where the city of Agadez was because it's also the name of an album released by Tuareg blues guitarist Bombino earlier this year. The only reason I know anything about any of the many African cultures is from exposure via the arts and the artists themselves.
I get to learn about issues of real importance and the people who inhabit them; the world is more tightly connected. That's what art will always have on corporate news.