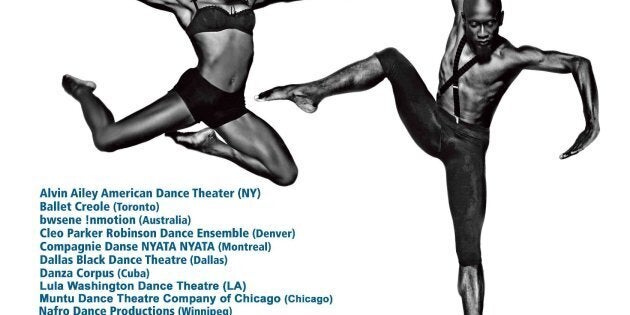 "The platforms for black dance are so narrow," states acclaimed Australian independent choreographer Bernadette Walong-Sene.
It was a sentiment that echoed over and over in the panel discussion I attended at the 2012 International Association of Blacks in Dance (I.A.B.D.) Conference that just ended Sunday, January 30 in Toronto -- comments that were similar no matter where the locale. Even in 2012, with a collective body of work that's dazzling in every respect from technical and athletic prowess to expression, the playing field for black dancers and choreographers is nothing like level.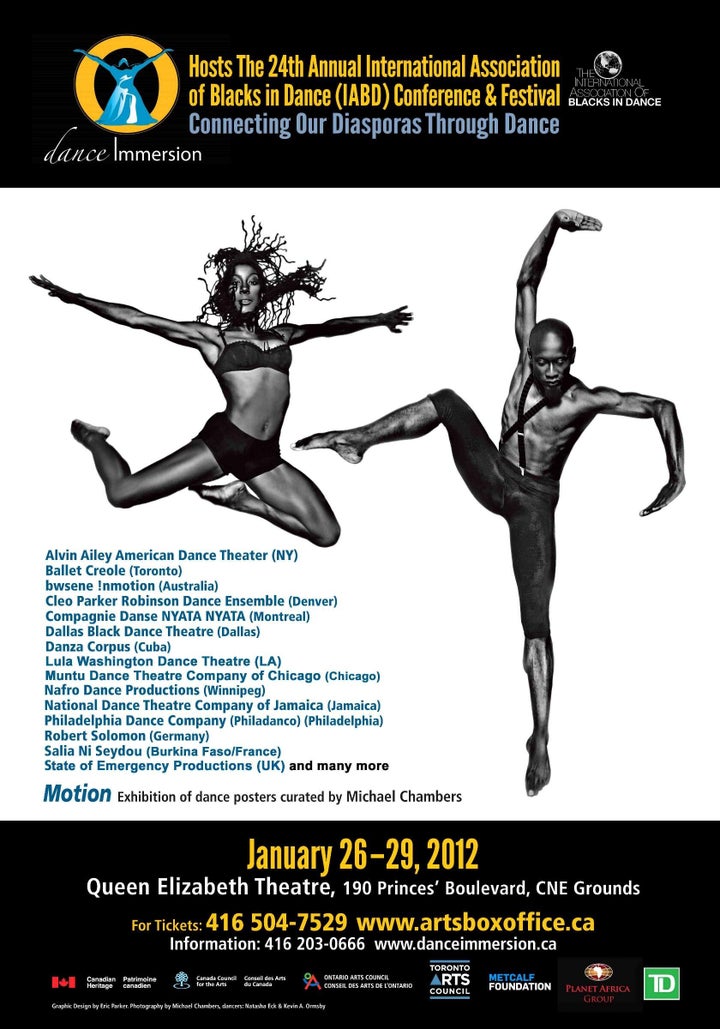 From Alvin Ailey in the 1950s to people like Bernadette, who's currently in the process of setting up a company under the name bwsene !nmotion Australia, the answer has been to create opportunity where none is on offer.
Deborah Badoo set up the U.K.'s State of Emergency in 1986. "At that time, there was a growing body of black choreographers who weren't being heard," she says. "It's our mission to change the landscape of dance in the U.K." That includes setting up The Heritage Project to record the history of black dance in Great Britain. A study that interviewed prominent black artists and choreographers just last year confirmed that, while some things have definitely changed during the company's 25-year existence, some aspects have not. "There's still a sort of glass ceiling as far as black choreographers are concerned."
The mission of bwsene !nmotion Australia is similar: "To increase the level of support for non-European traditions in a contemporary dance context," explains Bernadette. Reinforcing the importance of those traditions to the larger Australian culture goes hand in hand with that goal.
She described a frustrating dance environment where there is basically one "official" black dance company and seemingly no room for others when it comes to funding or touring, particularly one whose work doesn't fit into a narrowly defined category of traditional dance. Add to it the fact that work which involves storytelling and social commentary -- a common theme in the group -- is often discouraged, especially in academia. "I'm considered outspoken and angry," she admitted, and later in response to a question from the audience as to whether she felt isolated, she answered with a resounding, "Yes!"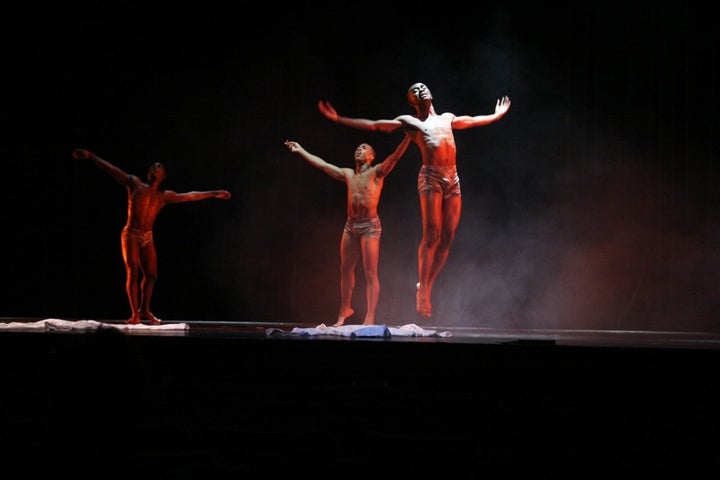 Here in Canada, we've got our own flavour of inequality. "Canada has a lot of problems dealing with race," states Charles C. Smith bluntly. A lecturer at the University of Toronto Scarborough with a history of community work, including serving as the first Equity Advisor to the Law Society of Upper Canada, he's also a published poet and author. He was at the conference to talk about The Wind in the Leaves, a multi-disciplinary performance project that includes dance among its many components. The lack of recognition of racial issues came as a surprise when he arrived from New York City in 1980. He pointed out that black Canadian history is largely unknown, particularly the story of slavery in this country. "There still is a major, major barrier to Canada recognizing our contributions. Our stories are foundational to the country we call Canada."
In the meagre overall landscape of arts funding, all the panelists agreed that non-European based dance companies operate at a distinct disadvantage. "We have massive problems," Charles says.
The dream of dance is a potent one, however, and so strong that the art itself flourishes no matter what the hurdles; the conference's nightly showcase events were ample evidence of that. I caught Saturday's International Showcase, a feast of 12 companies who seemed to cover every permutation of black dance.
While Chicago's Muntu Dance Theatre offers traditional dance with a modern sense of visual display in energetic and elaborately costumed pieces, some, like Cuba's Danza Corpus, Salia ni Seydou of Burkina Faso, and Lula Washington Dance Theater's The Healers take those traditional movements and reworks them into a fresh and dramatic sensibility. Even an excerpt of The Healers impressed the audience with its athleticism driven by an ecstatic response to the drum.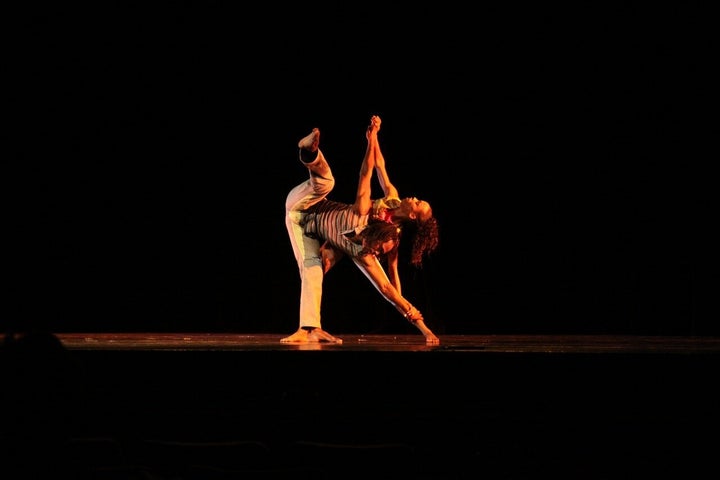 The drum was central to many of the works performed, and in some the time-honoured movement is only the basic outline of an entirely new interpretation, as in the mesmerizing work of Montreal's Zab Mabougou/Compagnie Danse Nyata Nyata. In bwsene !nmotion's piece, an excerpt from Hover, tradition is transported to an avant-garde present in a hypnotically theatrical performance.
Bob Marley got an electronica remix in Urban Fissure, performed by the National Dance Theatre Company of Jamaica, with a hip shaking swagger and physical flair. Choreographed by Namibian Gregory Maqoma, State of Emergency's Desert Crossings explores the common geological history of the Jurassic Coast in southwest England and Namibia's Skeleton Coast with a decidedly contemporary vocabulary.
In many companies, dance defies any kind of cross-cultural definition. The Philadelphia Dance Company brought the audience to its feet with the athletically elegant, "Guess Who's Coming to Dinner?" Alvin Ailey American Dance Theatre's "The Evolution of a Secured Feminine" is a sexy and sophisticated homage to American dance forms set to the classic jazz recordings of the likes of Ella Fitzgerald and Nancy Wilson. Dallas Black Dance Theater and Denver's Cleo Parker Robinson Dance Ensemble performed pieces that were both timeless and contemporary, combining physicality and expression in perfect proportion.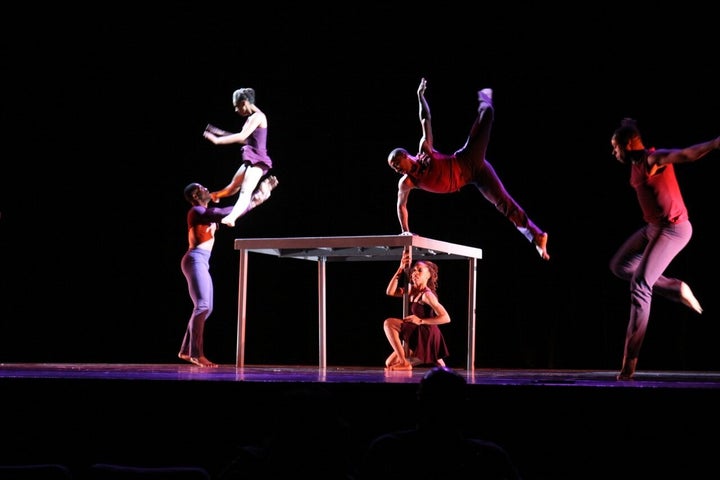 With such a wide ranging repertoire even in the one showcase I took in, it's hard to understand a rationale for the lingering reluctance of mainstream society to truly embrace the work of people of colour as an essential element of its own culture -- not an exception, not as a special category forever locked in a time vault of supposed historical purity. The era of homogenous cultural expression is long gone.
Poster image by Michael Chambers.
Images by Christopher Cushman: Lula Washington Dance Theater, National Dance Theatre Company of Jamaica, Philadelphia Dance Company. The images were taken at the International Showcase on January 28, 2012 and are posted here with permission.