ASSOCIATED PRESS
Due to effects of the Syrian war and the rise of the Islamic State in Syria and Iraq, there has been a dramatic influx of millions of people seeking refugee status in countries of first asylum such as Turkey, Lebanon and Jordan, as well as European nations including Greece, Germany and Sweden. This refugee crisis is the result of failure in dealing with Syria and Bashar Asad's dictatorship, not to mention ISIL. Now, the humanitarian effort is failing, too.
The Islamic State (IS), a self-declared aliphate, is a militant group, predominantly composed of fundamentalist Sunni Muslims from Syria, Iraq, and recruits from around the world. The group demands religious, political and military authority over all Muslims. It became notorious in 2014 after overrunning Mosul and mass executions of civilians as it advanced to Baghdad. Since then, IS has continued to invade and attack cities across Iraq and Syria, committing grave crimes against humanity including torturing, executing and beheading thousands of soldiers and civilians.
The organization has been known to direct violence against minority groups in Syria and Iraq, including Shia Muslims, Alawites, Assyrians, Armenian Christians, Yazidis, etc. IS and its associates have been producing refugees since they came into existence. Thousands of women and children fled their homes to find a safe place. On the other side, the Syrian government has also killed many civilians and forced thousands to seek asylum.
According to UNHCR, since 2014 the number of refugees has continued to rise with 1,113,941 Syrian refugees fleeing to Lebanon, 629,245 to Jordan, 250,408 to Iraq, 132,375 to Egypt, and 1,938,999 to Turkey. Europe is also expected to host a great number of asylum-seekers with some 800,000 asylum applications to Germany by the end of 2015, and thousands more arriving at the ports of Italy and Greece daily.
Despite the fact that these refugees have left their war-torn homes for a better life, their lives continue to be an uphill battle. A UN inter-agency vulnerability study found that 70 per cent of Syrian refugee households in Lebanon live below the national poverty line -- an increase by 50 per cent in 2014. Many of these refugees are often forced to live on the brink of starvation and have to resort to begging in order to survive.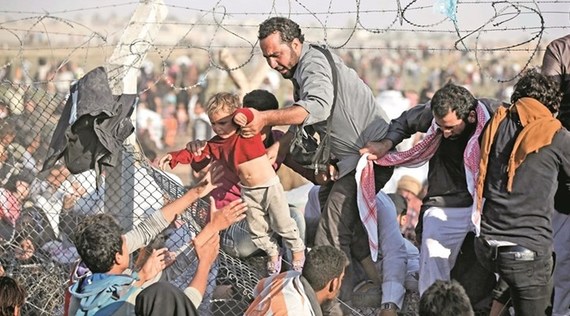 Similar conditions can found among Syrian refugees in Jordan and neighboring countries. The story is not much different in Europe where refugee camps such as those in Greece and Italy are overpopulated and suffer from staff shortages and lack of infrastructure, making living conditions for the inhabitants extremely bleak.
A UNHCR statement says the Syrian refugees are now the world's largest refugee population under UNHCR care, second only in number to the decades-long Palestinian crisis. The Syria operation is now the largest in UNHCR's 64-year history.
We urge the international community to consider the conditions which the victims of war in Syria and Iraq are being forced to live under, and to initiate international operations to increase funding towards assisting asylum seekers in the Middle East and Europe. With the assistance of member nations from around the world, the refugees fleeing from devastating conflicts in the Middle East for at least the past decade may be properly protected and given the dignity and respect that are their fundamental human rights. The rise of Islamic State, and the events that preceded it, amount to one of the biggest atrocities in the 21st century.
It would also be great to see European countries assist the UN in accepting fleeing refugees to their countries. The German government has already pledged to receive a lion's share of refugees. The German interior minister, Thomas de Mazière, predicts that around 800,000 refugees will arrive in Germany this year alone.
António Guterres, the UN High Commissioner for Refugees, said the Syrian crisis "has become the biggest humanitarian emergency of our era, yet the world is failing to meet the needs of refugees and the countries hosting them." He added that the response to the Syrian crisis had been generous, "but the bitter truth is that it falls far short of what's needed."
Due to the acts of aggression and terrorism enacted by IS and other similar organizations, in addition to years of war, we now face the largest exodus of people since WWII. It should be a priority of the UN and member states as well as EU to ensure refugees fleeing from Syria and Iraq are being welcomed in their countries of asylum with dignity and appropriate protection.
The UN should ensure adequate facilities for refugees at each asylum site including staffing, food and shelter to maintain reasonable living conditions for incoming refugees.
We at the ICHR -- the International Center for Human Rights in Canada -- are approaching member-states to accept more refugees and assist the UN to provide them with shelter. We cannot simply remain silent, it is our obligation to ask our governments to help these asylum-seekers and hold the Syrian government and ISIL accountable for the torture, executions, killings and displacement of millions of people.
Donate to UNHCR or contact us to learn how to support refugees at info@humanrightsintl.com.
MORE ON HUFFPOST: