Ashley Peoples is a Brooklyn born Toronto-raised actress who recently starred in Abigail, a film that is a finalist for The Cinéfondation Prize at the 2012 Cannes Film Festival 2012. She will be chronicling her time at festival for Huffington Post Canada. Her first entry, about having to spend the festival at a nearby campsite, is here.
I made it. Little bumps along the way and some surprises at this end, but all is well and unpacked at the "Phoenix" (given name) mobile home.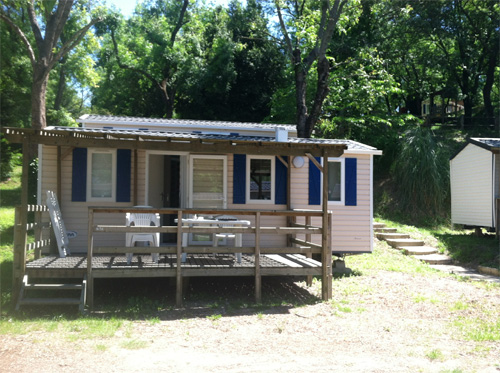 One of the bumps was an email I received yesterday, from Parc Bellevue, stating "No more mobile homes anywhere." When I replied, asking if they could confirm my reservation was intact, they replied, "We are sorry. No more anywhere." So it was a wonderful surprise to arrive and not beg and cry, but be welcomed and driven immediately, a la golf cart, to my new home, the Phoenix.
After my golf cart executive service, I dumped my luggage inside and took a seat on my porch in the 5 p.m. sun -- content that this was also my favourite time to paddle up to a new campsite on canoe trips past. I wanted to sit there all evening and drink champagne and have dinner served to me, but these are not the rules of the woods. Instead, I walked the highway to the greatest shopping centre of all time, "Le Carrefour" (meaning "the crossroads").
If you could combine the most incredible aspects of Canadian Tire, Dollarama, Lowblaws and Joe Fresh, add a French twist, a bar and a hair salon, you would almost have Carrefour. Visiting these deluxe Canadian superstores prior to camping or cottaging was always a highlight; so imagine my delight to discover Carrefour.
It took a lot of self-control to only buy essentials, and not neon pink lawn chairs, whole fresh fish, or Disney-themed dishes with French expressions comme, "Winnie Le Pooh." Past Canadian Tire trips have led to a large collection of wolf-themed apparel. Instead, I was good and am now prepared to eat granola and drink green tea every morning, pack a small snack for the day and make occasional dinners with frozen vegetables and instant boil-in-a-bag quinoa. I ate granola for almost 50 days in a row once so I am hopeful I can go two weeks. I did buy eggs, but they weren't refrigerated at the store, and I'm not refrigerating them now, and I'm not quite sure how I feel about that. Eating them could be a bump or pleasant surprise. TBD.
Another excellent surprise is that the Phoenix is brand new! The proprietor/cart driver was very proud to tell me this, and I am almost sure I am its first occupant. The knives are in plastic casings and the wooden spoon has no weird stains. However, everything is new, but not everything I expected is here. Number one: no sheets. Hmmm. Should've stuck to my camper roots and packed a sleeping bag. Instead, there is an old fleece blanket (which I have converted into a sheet) and a light duvet with a reversible flower pattern. The pillowcases provided look like paper used to make hospital slippers, and feel like it too. There are also no towels, no soap, and one role of toilet paper. Le Carrefour, I will be back.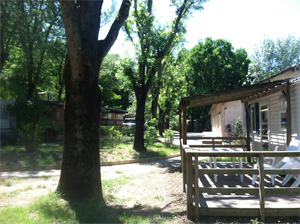 My quiet neighbours and the drone of the highway lulled me to sleep last night. Everyone who walks by looks calm and friendly and not like trailer park axe murderers. This is reassuring because unlike canoe trips, I cannot sleep with my axe and bear spray.
Now that it is morning and I have caught up on sleep, it is time to take on the Festival. There is no full-length mirror, so let's just hope I look good and feel confident enough to meet that French producer. A bientôt.