I am a Canadian actress living in New York on my way to a trailer park in Cannes. From there, I will venture out to the glamorous Cannes Film Festival, hoping my heels don't get stuck in the grass. When they do, I will be asking the same question you may be now, how did this happen?
Last summer, I played the lead role in an NYU student film, written and directed by Matthew James Reilly. The film, entitled Abigail, is now a finalist for The Cinéfondation Prize at the Cannes Film Festival 2012, held May 16-27. Reilly and I have been invited to attend the screening and Awards dinner. I have decided to attend the entire festival.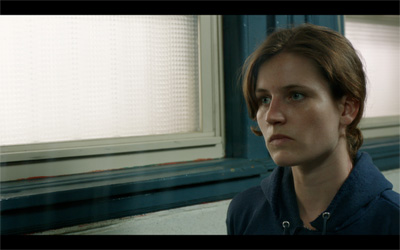 When I received the invitation, I knew I had to make the most of it. I see it as a huge learning opportunity and "career builder." It also takes me at least two weeks to get a tan, since my Scottish roots force me to wear SPF 50. As an actress still preparing to make the big bucks (but with limited funds), I had two options.
I could go for the few days when the Cinefondation competition takes place and sleep in a nice hotel, OR I could stay at the elegant-sounding Parc Bellevue -- a mobile home trailer park 6km from the Palais des Festivals. At this point, I know my trailer is called the Phoenix and has a porch. Some may feel this is a ridiculous place to prepare for red carpet events, but I feel, it is perfect. I have the chance to glamourize my favourite lifestyle -- camping.
Until two years ago, I spent most of my summers at either Camp Wapomeo, a canoe camp in Algonquin Park Ontario, or in the Ontario/Quebec wilderness "on trip" -- traveling by canoe and sleeping in a tent for up to 50 days at a time.
There were times when rain pools formed in the bottom of our tent, and we slept atop a pile of lifejackets, dreaming that our sleeping bags were not soaked through and our MEC fleece outfits were not still wet from the stormy day. I remember those times fondly, so you can only imagine my excitement at a trailer with a real roof, floor and door.
I am staying at "Le Camping" -- as the Festival organizers call it -- because I have to, and lucky for me, I kinda want to.
I have no idea what to expect -- I could change my tune if it happens that my hair dryer adaptor plug blows the fuse box, the bathroom is across the parking lot and there is nowhere to "steam" the gorgeous dresses loaned by Canadian designer Chloé comme Parris (which I am bringing in a giant backpack.)
My only concrete plans for the Festival are to attend the Abigail screening on the 24th and the Awards dinner on the 25th. I will be attending a couple of marketplace screenings and panel discussions. I hope to attend fancy parties, preferably on a boat or two, and I hope to meet a French producer or director who needs an English-speaking character who looks just like me. Or, maybe I will meet the big studio director ready to make a canoe action-adventure set in the 17th-century and starring a female Voyageur.
If this is too much to ask, I look forward to meeting fabulous and interesting people and learning a lot about the film industry. The only advice I have been given so far is to purchase overpriced champagne, sit on hotel patios and, as smoothly as possible, strike up charming conversations with people I have never met.
I will likely say something devotedly inappropriate to at least one celebrity, and I plan to keep speaking French even when the locals reply in English; but I think I may be forgiven when I tell them about my awesome trailer.