The post-Cannes depression has finally worn off and I am ready to report with enthusiasm about this Canadian actor's New York adventures. I know, I can hear you saying "Boo Hoo, post-Cannes depression," but how would you like you to go from drinking free champagne and eating the best food and watching world-class movies in the land of the French Riviera sun, back to sweeping muffin crumbs and spraying yourself with hot milk, when you hate milk? In Brooklyn, I work at a cafe.
I actually like the cafe, love the food, and the regular customers, but it was -- well -- a shock to return. Somewhere along the red carpet, latte art lost its appeal.
But steaming drinks and making change is not all I've been doing. Springtime in NYC has perks.
Music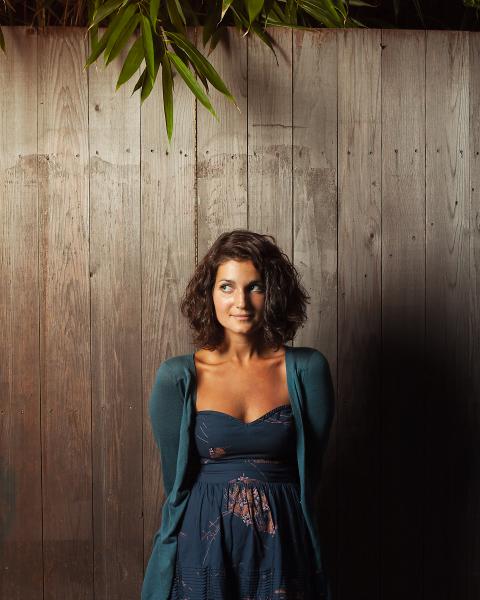 The coffee shop pays off. One of the regular customers, Rachel Brotman, is an up-and-coming jazz musician. She performed in New Orleans while she attended school, and now has a band that performs regularly in the city. I checked out her show at the famous Living Room and was electrified. Rachel's voice is smoothly soulful, the lyrics and phrasing are unique, and the band, incredibly talented and in constant conversation with each other. NPR reported on the event.
Bicycles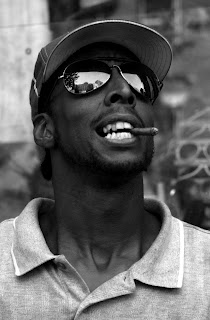 I am now the proud owner of a black used Schwinn, and an unfortunately large white helmet with a red brim. Why do all helmets have brims now? Is this a function of style or safety? Together we have clocked at least 100 km together -- back and forth over the Brooklyn and Manhattan bridges and up the west side highway. In the rain and the sun. My helmet makes me sweaty and my bangs look awesome, but I feel safe and part of the Brooklyn bicycle elite. I bought my bicycle at the Brooklyn Flea Market from the infamous possibly 7 foot tall "Shane da Bike Jack." I was with some Canadian friends who were visiting when I made my purchase, and they fully supported Shane, and the fact that a bicycle gives you a freedom lifestyle choice, and we ate donuts to celebrate. We ate donuts together, and of course I felt closer to home.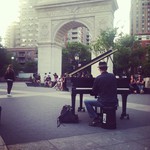 After my Canadians left I felt lonesome, but found this stranger playing piano masterfully for the masses in Washington Square. A grand piano that he had somehow rolled there. Motivation and inspiration.
Party Down goes global
The café I work at also caters. So I fulfill the actor cliché once a week, aligning with other actors in the city to carry around trays of carefully prepared endive leaves with poached figs and orange-scented goat cheese. Lucky for me, I often cater interesting events. One party was for IMG models where the only hamburger eater was one model's dog.
Most recently, I helped cater an event celebrating RISC (Reporters Instructed In Saving Colleagues) at the Brooklyn Navy Yard. Working at the RISC event was an honour. From the program:
Journalist Sebastian Junger founded RISC in 2011 after his colleague, acclaimed photographer Tim Hetherington, died while covering hostilities in Libya... Junger later learned from a combat medic that first aid might have saved his life during the short ride to the hospital. But none of the journalists with him were trained in first aid. Nor are the majority of journalists covering conflict today. RISC seeks to change that.
The organization now trains and equips freelance journalists in all media to treat life-threatening injuries. To learn more, visit www.risctraining.com. A powerful photo exhibit by war photojournalists accompanied the event, curated by Christopher Anderson. If you live in NYC, go see it.
Canadian Actor Connections
A fellow Canadian actress and friend in the city, Caitlyn Sponheimer, performed Dog Sees God: Confessions of a Teenage Blockhead at Theatre Row. The play portrays Peanuts characters as teenagers with more than their share of personal problems. The entire cast gave fearless performances, but Caitlyn was exceptionally funny. I have a feeling I will be writing about her future performances on stage and screen. Also, the show is on till July 23.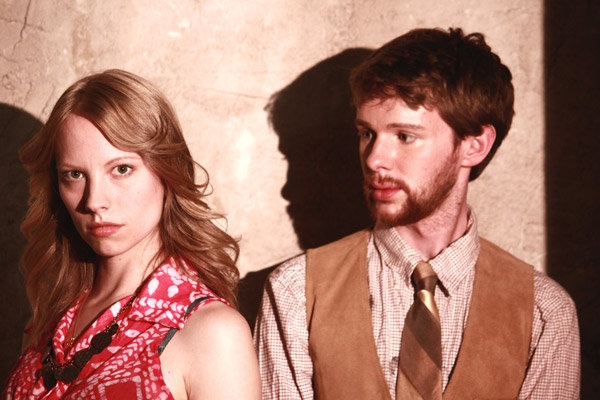 Another friend, Queen's graduate and Canadian actor Ryan O'Callaghan also shared a slice of his success with me in the city. Ryan is currently filming '79 Parts with Hit and Run Productions, directed by Ari Gaub. Serendipitously, I met Ari at an event the week before. He was holding a party for the '79 Parts cast and crew on the roof of the Empire Hotel. My connection to Ryan got me an invite, an evening of meeting other actors, bottle service and a view of the city. Again, keep your eyes peeled for O'Callaghan's name in future films, and posts.
So Cannes was...amazing and I am in touch with many of the people I met there, but New York is not so bad either. Its not Canada, there are no Beaver Tails in sight (whatever happened to those!) but its not so bad.
If you're a Canadian living in NYC or Brooklyn and have an upcoming event, show, party with free drinks and directors looking for new actors, let me know and I'd love to come -- and then blog about it. You can reach me at peoples.ashleyj@gmail.com.