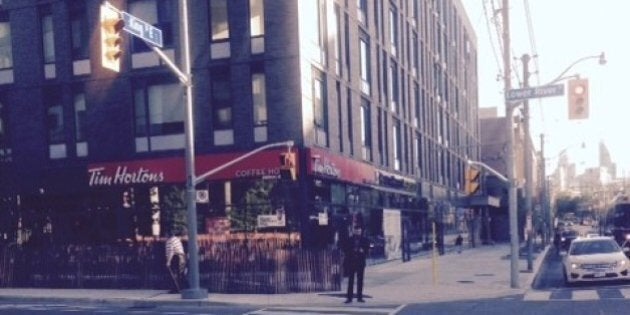 The industrial underdog to the hipster-esque Cabbagetown.
Like Theon Greyjoy who mistakes his sister, all grown up, for a commoner in Season two of Game of Thrones, you would be forgiven for failing to recognize Corktown in its present state. Gone are the construction cranes and abandoned storefronts. In their lieu, the neighbourhood bursts with boutiques, espresso bars and gastropubs.
Today, Corktown is a hot spot of rapid gentrification. Tucked in the northernmost tip of Toronto's newest neighbourhood, the sprawling West Don Lands, at the foot of King Street East and Lower River Street, a formerly mundane intersection has sprung.
Top of mind are the Toronto 2015 Pan Am and Parapan Am Games, which officially kicked off July 10. Beyond that is the rapid gentrification that has changed the face of adjacent neighbourhoods -- the "brunch mecca" (aka Leslieville) to the east, the ongoing Regent Park development project to the northwest, and the Distillery District to the southwest.
So what is gentrification?
It's the revival of declining (and downright shoddy) neighbourhoods ushered in by an influx of middle class families -- and their sterling tax base -- into formerly working-class neighborhoods. In Toronto, this phenomenon (which has swept over the likes of Queen Street West, Little Italy, the Junction, and Parkdale) has been a flashpoint for debate.
On this Saturday morning, King and River Streets are bustling with locals. Nestled on the southwest corner of King Street East and Lower River Street is a Tim Hortons located under a new social housing complex owned and operated by Toronto Community Housing. Directly across the street on the northwest corner is Odin Cafe + Bar on the main floor of an upscale condo building.
It really is a tale of two cities.
We stroll into the boisterous Tim Hortons and find a cramped spot. The demographic is unmistakably blue collar and ethnic. Homeless, bearded men lurk beyond its doors. The scene across the street at Odin Cafe + Bar could fool you into thinking you had accidentally meandered into another city. The space is sleek and modern; its patrons buried in their tablets and dressed to the nines.
These two radically different coffee shops are a microcosm of our neighbourhood -- the result of hasty gentrification we've witnessed since moving into the neighbourhood in the summer of 2013.
We have been indulging in the obvious upsides of our gentrifying hood: We're sipping on aromatic cappuccinos at the Odin espresso bar as we pen this, and we're thrilled the Pan Am Games are putting us on the international stage (the provincial government has invested more than $500 million to transform this once-barren wasteland into a modern mixed-use development project since it nabbed the Pan Am Games bid in 2009). Still, once we started to scratch the surface, the floodgates gave way to our misgivings about the new kid on the block.
Gentrification can crowd out, or displace, communities (typically ethnic) and social networks whilst newcomers transform the very character of our vibrant communities. It is a blow to low-income residents who often move out or stay behind only to pay higher rents. These profound changes inevitably compound the widening gap between rich and poor in Toronto, pushing many residents out to more isolated pockets of the city not accessible by public transit.
According to a 2010 report -- The Three Cities within Toronto -- by University of Toronto professor David Hulchanski, income inequality has risen dramatically in the city from 1970 to 2005, giving rise to three mythical cities structured along income lines.
While numerous factors have contributed to this deepening polarization, unsustainable gentrification stands out. Hulchanski warns that growth rates in certain parts of the city are outpacing others, creating gaps in wealth and triggering displacement virtually overnight. These trends, he argues, can be reversed by making housing more affordable to low-income families, expanding access to transit and services where demand is high, and renewing the beat-up high-rise towers scattered throughout low-income neighbourhoods.
Yet, on the face of it, this is precisely the model that has been attempted in our own neighbourhood. Indeed, as late as June 29, municipal, provincial, and federal officials descended on the West Don Lands to celebrate the opening of new affordable housing. But, once complete, only 1,200 of the new 6,000 residential spaces will be dedicated to subsidized housing. This begs the question: How many of the tell-tale benefits of gentrification will our community reap once Pan Amification sweeps in?
Our hidden agenda is not so hidden: Sustainable gentrification triggered by planned urban development -- not a brazen force blindly driven by dollars -- that protects the most vulnerable in our communities long after the Pan Am athletes pack their bags.
The stakes couldn't be higher. If our newly-gentrified Corktown neighbourhood -- accelerated by the Pan Am Games -- can accommodate mixed-use development, it could become a harbinger for a new order of gentrification in our city.
As the world converges on Toronto, the Pan Am Games aren't the only thing it will be watching.